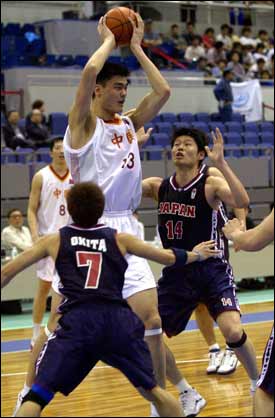 SHANGHAI, China (AP) — He's 7-foot-5, blocks shots as agilely as he dunks and tops every talent scout's wish list.
But Chinese star center Yao Ming said Friday he's faced a surprisingly difficult road to the NBA — and new obstacles keep appearing.
While he cooled his heels back home, other less sought-after Chinese players got there ahead of him.
"Yeah, I was a bit disappointed. All of us wanted to be first in the NBA, of course. But what could I do?" Yao said in an interview with The Associated Press.
The soft-spoken but articulate 22-year-old said he's been studying English for two years in anticipation of going to the NBA. His favorite movie is American — "Star Wars" — but he dislikes rap music because it's "too noisy."
Yao's wanted to play in the NBA since he saw his first televised game eight years ago.
"The game looked more exciting" than in China. "I want to play in the most exciting games," he said.
His way finally appeared cleared last week, when his team, the Shanghai Sharks, reversed two years of refusals and said he could enter the NBA draft — and possibly be the No. 1 pick.
But a few days later, state media said China's professional basketball league had issued complicated new procedures for players to get permission to go overseas.
"People tell me the timing is just a coincidence. I don't think the regulations are aimed at me. But they do create obstacles," Yao said.
Yao can shoot, pass, block and hustle down court — rare agility for a player so tall. He is widely viewed as more talented than the NBA's two other Chinese players — Dallas Mavericks forward Wang Zhizhi and Denver Nuggets center Menk Bateer.
"There aren't many 7-foot-plus players out there, and fewer still with the talent and agility of Yao Ming," said Tony Barone, the Memphis Grizzlies' personnel director.
Barone was in Shanghai last month, one of more than a dozen NBA officials who made the long journey this season to see Yao play.
Yao's delays in getting to the NBA are partly due to the Sharks' reluctance to lose a top ticket draw and a talent the team spent years developing.
But they also reflect a view among Chinese communist officials that elite athletes are national assets.
The Sharks plan to ask the NBA that drafts Yao to send players to Shanghai twice a year to help train their Chinese counterparts, said Li Yaoming, the team's deputy executive manager.
Li said the U.S. team will also be asked to send one of their top 12 players to the Sharks as a replacement for Yao, and to donate money to a fund to help Chinese basketball.
"This will greatly contribute to the development of our teams and players," Li said.
Under the China Basketball Association's new rules, issued April 10, Yao needs the approval of three government agencies, two more than his predecessors, to play in the NBA.
Li acknowledged that the rules raise new difficulties, but he said Yao will still travel Monday to Chicago, where he is scheduled for a 45-minute workout before NBA scouts from as many as 19 teams.
Li said the rules also noted an existing government policy that is starting to draw criticism from media here — the practice of taking half of Chinese athletes' earnings overseas.
Li said Wang and Menk Bateer already hand over half their salaries and endorsements.
The government-run Jiefang Daily reported Friday that a rising outcry has prompted sports authorities to consider reducing their take.
If Yao is the No. 1 pick in the June 26 draft, as many expect, he likely would receive at least $2 million in his first year and even bigger contracts in years to follow.
Neither Yao nor the Sharks will say what he earns now. Chinese sports journalists say the figure is probably around $75,000.
Li said Yao gets no money from endorsements, but team sponsor Adidas does custom-make his size-19 shoes.
Yao's mother is 6-foot-3 and his father 6-foot-10. Their basketball careers were stymied by the political upheaval of the 1966-76 Cultural Revolution, when athletes often spent more time studying Mao Zedong's "little red book" than training.
They now try to attend every home game, often bicycling from their home in Shanghai. His mother, Fang Fengdi, has even appeared at press conferences instead of her son.
"Basketball is what he loves, and that's the same in China and the United States. He'll do well," Fang said.
Yao said his only concern is missing his mother's cooking — especially his favorites, Chinese dumplings and fried shrimp.
Asked what he most dislikes about the United States, he said: the great distances.
"When I was there in 1998, American people kept telling me we were going someplace close. But then we'd sit in a car a long time, driving."
Be the first to know
Get local news delivered to your inbox!