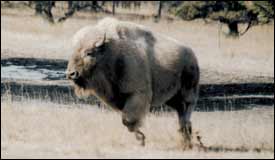 A South Dakota ranching couple will relocate three white buffalo and five supporting buffalo family members to a five-acre ranch 20 miles northeast of Flagstaff on Highway 180 by Christmas.
"We're delighted to be coming home," Dena Riley said. "We were raised in the desert. The creator is sending us to a place where it is cold enough for the buffalo. It's a high enough elevation for the buffalo and sunny and warm for us. It's strange how things do work out."
The births of the three female white buffalo are a fulfillment of a Lakota prophecy, said Riley. According to the prophecy, the most sacred of all buffalo is the white buffalo. When a female white buffalo is born, heralding a time of enlightenment and healing, she will bring all races together in peace, balance and harmony. The prophecy says the white buffalo will return during a period of disaster in the world.
In the spring of 1997, on the edge of the Black Hills of Wyoming, a female white buffalo was born on the Dream Maker Bison Ranch. The buffalo's owner, Jim Riley, rescued her when she was thrown and flipped 15 feet in the air by another buffalo after her birth.
Riley, 58, and his wife Dena, 48, named the baby white buffalo Miracle Moon.
Since then have come the births of Miracle Moon's two daughters, Rainbow Spirit and Mandelia "Mandy" Peace Pilgrim — both white buffalo.
"We have approval and blessings of the Lakotas to move these buffalo," said A.S. Barry, 53, a Sedona artist and promoter who is helping coordinate the relocation project. "All Native American people know about the prophecy because the white buffalo touches people on the outside. The white buffalo will be
born in the midst of chaos and war and it will represent to all people in all nations abundance and healing of the earth."
A Sedona non-profit peace organization, Joyful Living, sponsored a fund-raiser Nov. 16 at the Dreamcatcher Resort in Sedona to help the Rileys with the relocation project.
"We need volunteers for a number of projects and finances to help relocate the buffalo," Barry said.
Joyful Living hopes to raise $15,000 for the relocation and to help the Rileys make the ranch secure and set up a gift shop and healing village surrounding the white buffalo.
"We only had enough money to put a down payment on the place," Dena Riley said. "That's where Barry came in."
One in every 10 million bison births is a white buffalo. The Rileys had their buffalo DNA tested at the Stormont Laboratories in Woodland, Calif., and all three have been certified to be 100 percent purebred North American bison, with no mixture of any other cattle breed, going back 40 generations.
"Our vet suggested it because we didn't have her father," Dena Riley said. "Miracle Moon was tested three times."
The white buffalo will be featured in a ceremony at a sacred earth healing festival in Sedona on April 27, 2002, Barry said. He is promoting the big festival and his desire to have a ceremony with white buffalo led him to his involvement in the relocation effort.
"My intuition told me I was going to have a white buffalo ceremony on stage," he said. I asked around and someone gave me the phone number of the people who owned white buffalo. They said, 'You must be the person sent from God to help us move.'"
Corporate donors to the white buffalo cause will be presented with an earth achievement award for helping to relocate the buffalo to Arizona.
The Rileys plan on naming their new ranch Miracle White Buffalo at Spirit Mountain Valley.
"We believe all three of them were meant to be born in the Black Hills and now they're meant to come home," Dena Riley said. "They will be balanced. Once they were coming home, things just fell into place."
Be the first to know
Get local news delivered to your inbox!