Humidity:

10%

Feels Like:

63°

Heat Index:

64°

Wind:

11 mph

Wind Chill:

63°
UV Index:

8 Very High

Sunrise:

06:00:31 AM

Sunset:

06:55:44 PM

Dew Point:

6°

Visibility:

10 mi
Today
Sunny. High 66F. Winds W at 10 to 20 mph.
Tonight
Clear skies. Low 33F. Winds W at 5 to 10 mph.
Tomorrow
Partly cloudy skies in the morning will give way to cloudy skies during the afternoon. High 68F. Winds WSW at 10 to 20 mph.
A slight chance of rain showers is possible over northern Arizona today.
The National Weather Service in Bellemont says snow will begin falling in earnest in Flagstaff around midnight.
If sun is your thing, there will be plenty of it Friday through the weekend.
The National Weather Service in Bellemont has issued a wind advisory for Friday, with snow on the way through the weekend.
A chance of snow will develop with a storm moving into northern Arizona later in the week.
The forecast calls for warm, sunny weather Saturday, and the slight possibility of showers Sunday.
Despite the blue skies visible through the smattering of clouds over Flagstaff, drivers can expect a snowy route home from work, according to …
Early forecasts are for up to 10 inches in the Flagstaff region starting Thursday night
Residents of the Flagstaff region will likely awake this morning to several inches of snow on the ground, with an inch or more coming later in…
The Coconino and Kaibab national forests will be under a Fire Weather Watch Tuesday and Wednesday.
Rain and thunderstorms are in the forecast for the Flagstaff area beginning tonight.
The National Weather Service has updated snowfall totals from the storm set to hit the Flagstaff region beginning tonight.
All major roads in the Flagstaff area were re-opened as of 2:30 p.m., with Interstate 17 and Interstate 40 open both directions and Highway 18…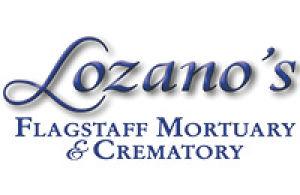 Lozano's Flagstaff Mortuary & Crematory