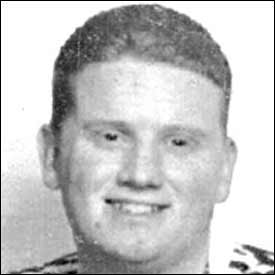 The crash occurred on the first day of school — Aug. 14, 1996. There were 31 students on the bus. The 67-year-old woman driving the Flagstaff Unified School District bus was distracted, went off the road, overcorrected and the bus flipped.
Most of the students came away with non-life-threatening injuries. Two weren't so lucky.
One of those students was Benjamin Jon "B.J." Carlson. He was 15 at the time. The crash left him paralyzed from the mid-chest down. He was a quadriplegic from that day forward.
He sued the Arizona Department of Transportation and the school district. District residents are still paying off the debt.
Carlson died July 23 at his home at the age of 24. His parents, Sally and Jon, say the tragedy of the day of the bus crash has come full circle for their son.
"The headline should now say that one person died in that crash," said Jon. "We've lost a child. This is the absolute worst thing that can happen to us."
According to Flagstaff police reports, Carlson's roommates found him slumped over in his electric chair at about 2 a.m. They tried to revive him but could not.
Cause and manner of death is still pending, but Jon and Sally Carlson are leaning toward asphyxiation. Because of his paralysis, Carlson was only able to breathe by using the muscles in his rib cage. The slumped-over position in which he was found could have contributed to constricting his ability to breathe, Jon said.
So, one could say the bus crash finally ended up killing his son, he added.
More than 150 people attended B.J. Carlson's Celebration of Life service Wednesday afternoon (see related story).
Along with 30 other students, Carlson was on his way from his home in Kachina Village to Sinagua High School. He looked forward to beginning his sophomore year, Sally Carlson said.
That morning, he was a vibrant 15-year-old boy who loved the outdoors and all manner of outdoor physical activity, especially baseball, she said.
According to Daily Sun archived reports, at 7:30 a.m., the driver, Pauline Landry, lost control of the bus while trying to set down a beverage. The bus rolled into the Interstate 17 median about 2 miles south of Flagstaff, ejecting several students.
Five people, including Carlson, Jonathan Dowding, 15, and Landry, were seriously injured and taken to Flagstaff Medical Center. Dowding received a severe head injury. Landry's neck was broken. The remaining students had less serious injuries.
Jon Carlson, who was a paramedic for one of the responding agencies to the crash, rushed to the hospital when he learned of his son's injuries.
"I saw him as they were taking him into surgery," Jon said, adding that he was able to tell his son he loved him.
Carlson underwent surgery for an injury to his spine at the C5, C6 vertebrae.
He came out of the surgery permanently disabled, but the Carlsons, even B.J., wouldn't accept the reality.
Neither parent believed the doctors and the health-care workers when they said their son would never walk again. Sally said she eventually accepted the reality. B.J. did too, she added.
"I never gave up hope," Jon said. "I always thought the potential for some recovery has always been there."
He devoted his life after the crash to combing the medical literature for a solution. Stem-cell research appeared promising, Jon said.
"Initially, we had to get him the best help we could," Sally said, adding that the family met with staff at Craig Hospital in Colorado. "They taught us what life was going to be like."
Carlson would need mountains of help to do even the most mundane chores. For instance, getting out of and into bed would be a two-hour ordeal that would require assistance for the rest of his life. He couldn't cook his own meals. He needed help with so many tasks that people without disabilities take for granted.
Then, there were the countless other small matters that had to be overcome, including access to buildings.
Sally concentrated full-time on keeping her son's medical insurance provider honest, by tracking down and arguing against any denial in coverage of Carlson's medical care.
Both parents devoted huge chunks of time taking care of their son.
"His disability cost me a career," Jon said. "We had to change our lives."
Said Sally, "People don't understand what it's like being quadriplegic. Life isn't really accessible for people with his disabilities."
Making life as accessible as possible was B.J. Carlson's goal.
"He was such a determined young man," Sally said.
Carlson changed his interests from outdoors to indoors, Jon said. He graduated high school. His appetite for technology was voracious. Carlson even sat on the student council's senate.
Their son's mood was generally upbeat and playful. Sometimes he would get frustrated and depressed about his fate, but it wouldn't last. He was universally known as a practical joker and clown.
When he was old enough, B.J. bought a van and had it converted so he could drive it. Before he was 20, he had moved out of his parents' house and into a home of his own with the help of roommates. His roommates would receive free room and board to help him with the day-to-day tasks of living.
His semi-independent lifestyle was made possible through the lawsuit settlement. The settlement prevented Carlson from becoming a ward of the state, Sally said. Their son was fortunate in that regard.
The case was settled out of court in December 1998. FUSD had only $10 million in insurance coverage at the time. The settlement amount was $28 million. The district borrowed the remaining $18 million and issued bonds to cover the debt. More than $13 million was to go to Carlson and his family.
Some residents said Carlson received "too much" in the settlement, Sally said.
Carlson needed $5,000 a month in care costs, and another $500 a month in medications to manage his paralyzed muscles. There were also the hospital visits for injuries or infections to the parts of his body he could no longer feel.
But how can a price tag be put on such an injury? Sally asked. It was an injury her son would gladly give all the money in the world not to have had.
"So the settlement was enough to help him live his life until he was 70 years old," Sally said.
FUSD Superintendent Kevin Brown said Carlson's estate will continue to receive payments from the settlement until 2028. District residents will no longer feel the effects of the settlement on their property taxes after 2008.
The crash turned their son into a philosophical young man, the Carlsons said.
Just after the crash, B.J. Carlson would wonder what he had done wrong to have such a tragedy happen to him, Sally said. At one point, he said he just had very bad luck.
"But he did say he had learned so much, and he was a better man for the life he did," Jon said.
Added Sally, "He never felt sorry for himself."
Regardless, Carlson lamented not being able to just go somewhere whenever he wanted to, not having a girlfriend or being able to go out on dates. And when his friends from school graduated, they went on to college, or got married and moved on.
At the time of his death, Carlson was studying mechanical engineering at Northern Arizona University, Sally said. He worked in the disabilities office, and he had aspirations of starting his own home health-care service for people with disabilities not able to care for themselves.
He already had started the process of seeking certification with the state department of health services.
Through it all, Sally and Jon Carlson said they remembered the community drives to help their son with his mounting medical bills, to help him buy a modified vehicle. They remembered their compassion and their efforts at friendship with their son.
"The support of the community has been tremendous," Sally Carlson said.