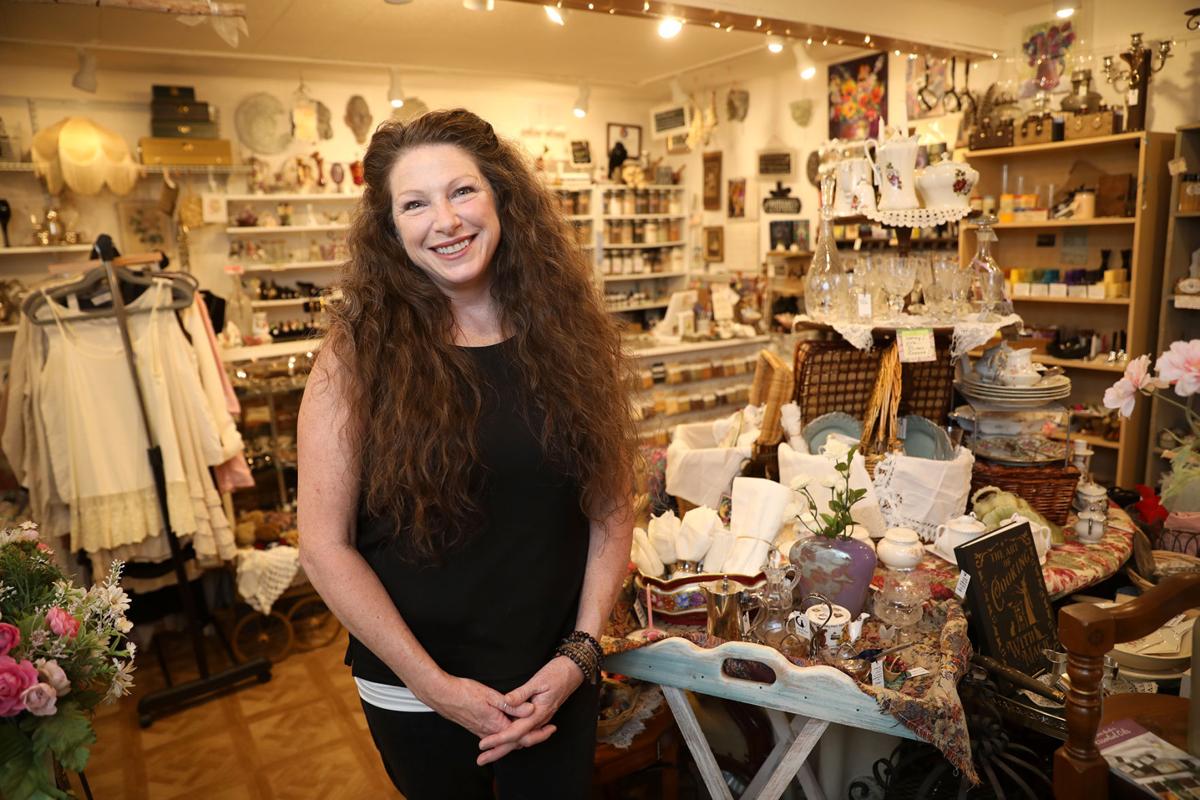 Just to start, tell us a bit about yourself. What drew you to the world of antiques? 
When I was a young 20-something with no furniture, I inherited some family pieces from my grandmother. A sofa, tea cart, china hutch, silver and teacups started my love of Victorian decorating. I have always been drawn to the rich fabrics, colors and patterns found in authentic period pieces. All these years later, I still have all those first beloved family pieces, with some new additions as well!
Victorian Moon's merchandise varies widely, from clothing and jewelry to candles and custom potions. How do you curate the items you offer?
I offer many services as well as products to be a model on the one-stop Victorian shops of old where you could procure all your necessary items in one store. I find my antiques inventory from all over Arizona as well as other states I've traveled to. Other items are sourced through my distributors or are handcrafted from local artists. I'm very particular with the items I have for sale and strive to find only the best that keep the Victorian aesthetic of the shop that my customers love. My eyes are always on the lookout for new, exciting items to bring in.
The shop expanded its storefront this year, taking the former space of Arizona Handmade Gallery on North San Francisco Street while the gallery reopened on the other side of the street. How has that transition been? 
I moved into the storefront on February 1st of 2020 and was open for business four days later. Being inside the building as I was before posed challenges with customers finding the shop. A sandwich board on the sidewalk was what lead them inside to my 300-square-foot space. It was a blessing to be able to take over this larger space with its beautiful, bright windows and street-facing door. The amount of customers I have now compared to the small indoor space has increased tenfold and I couldn't be more thankful and grateful!
The feel among downtown Flagstaff businesses seems to be quick camaraderie with everyone supporting and rooting for each other. Can you share a little about the other women-owned businesses you host inside your shop?
My incredible assistant Meredith has been with the shop for almost two years now. Her home-based vegan and gluten free baking business, Gleegan Treats, found a niche in our newly opened Moon Garden Tea Room and is a perfect addition to the other delicious treats we have available. Meredith is my gem, and I am so happy to have her in the shop and be able to support her in any way I can!
The Inner Oracle Room recently opened downstairs and offers psychic and card readings by Sarani. Knowing how hard it can be to get customers inside the building, I am helping Sarani book clients by advertising her services in the shop, talking with prospective clients and getting them in touch with her for a reading. A client can make the appointment at our front desk and then Sarani will escort them from our shop to her office downstairs and handle the rest.
What activities do you enjoy in your spare time?
When I'm not at the shop, you can find me traveling, antiquing and cooking with my dear husband Jeff,  enjoying lazy afternoons with a book or movie and cat in my lap , disc golfing with my son Cedar (when I say yes!), visiting with friends, making crafts or just being a domestic Goddess! I'm perfectly happy doing any one of those things in my spare time!
Be the first to know
Get local news delivered to your inbox!