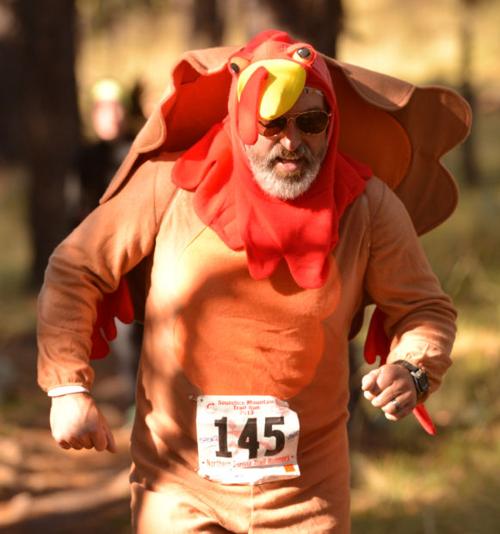 Michelle Wesson chased Flagstaff elite runner Sara Wagner all summer.
Wesson may have finished second to Wagner in the Run Flagstaff Summer Running Series, but she sure got the best of Wagner Saturday as Wesson won her first-ever 11-mile Soulstice Mountain Trail Run in a time of 1 hour, 28 minutes and 14 seconds.
Wagner's time of 1:28:25 was 11 seconds too slow after Wagner trailed Wesson throughout the rugged mountain trails. Wagner was a last-minute entry as past winners are allowed to enter despite the 200-runner limit being filled.
Flagstaff's Chris Gomez repeated as the champion, recapturing his title with a winning time of 1:11:40 in the men's 11-mile run.
Gomez said it was a little cooler than he likes to race, and a few icy spots made a difficult course even more challenging.
"It's cold and icy, but the course was nice," Gomez said. "Conditions were good; there were only two muddy spots, so it wasn't slick at all. There were a couple of patches of snow up on Sunset Trail and my mouth and face felt a little frozen."
John Yatsko challenged Gomez on a few sections of the race and Gomez said Yatsko used his superior downhill running to even get ahead at one point.
But Gomez attributed his ability as a climber for the win.
"Every uphill there was I was able to open a little more ground on him," Gomez said. "He was right behind me with about a half mile to go, but that last uphill, I was able to climb pretty easily."
Yatsko followed Gomez in second place in the men's double-loop long race in 1:11:58, while Forrest Boughner was third in 1:14:30. Margaret Smith took third in the women's long race in 1:31:54.
Gomez said that all the racers — 220 runners took part in the lottery-drawn field — were on the mountain running to celebrate a successful summer of running.
He added the after-party is the best of the year after receiving his winner's pilsner as he and Wesson were honored to be the first to fill a glass after the race.
"This is like the best party in Flagstaff," he said. "It's a great way to cap off a great summer in Flagstaff. All the best runners in Flagstaff come out to this race to have some fun."
Ryan Stevens continued to dominate in the 6-mile sprint Soulstice with his fifth-straight win in 42:28. Layne Papenfuss and Jake Dayley were second and third, respectively.
Janet Bain was the women's spring winner after crossing the finish line in 51:10. Bain was nearly a minute faster than second-place Linden Lane while Kara Tate was third.
The Soulstice race marks the end of the Flagstaff running season for traditional events. There is, however, a relay marathon race scheduled for next weekend from Flagstaff to the Grand Canyon.
Be the first to know
Get local news delivered to your inbox!