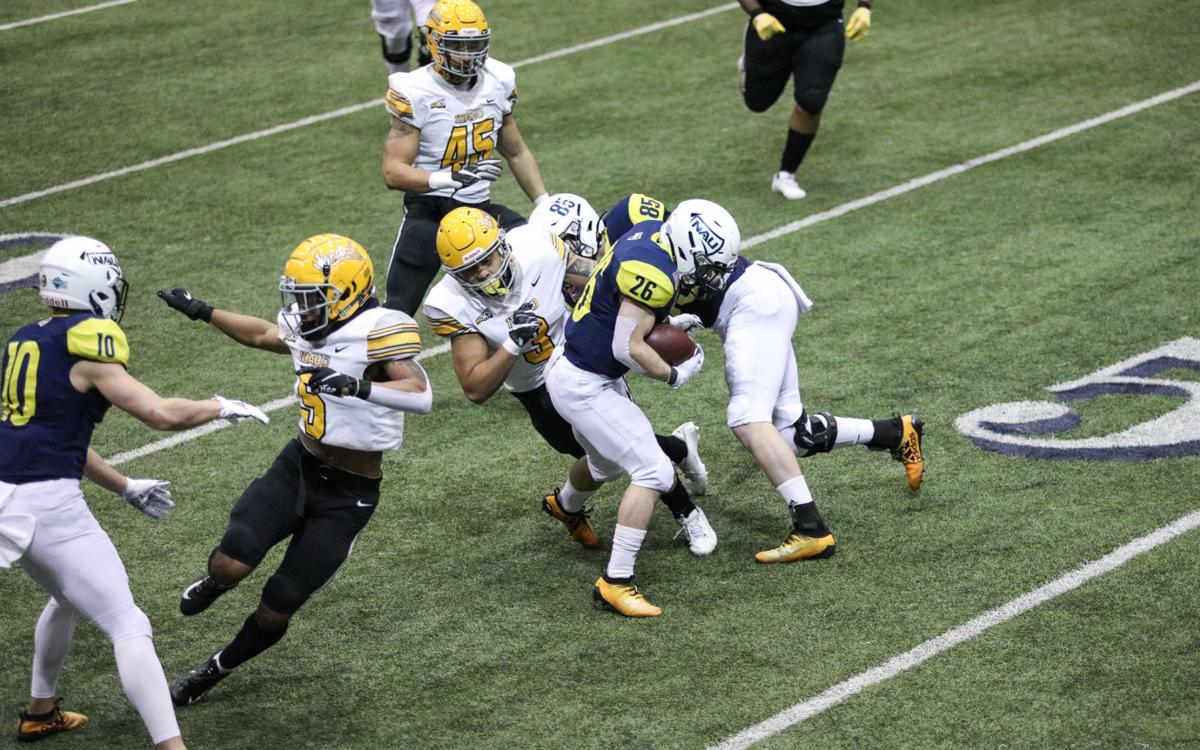 Jorim Powell blocked an Idaho punt, setting up the game's only touchdown as Northern Arizona defeated the Vandals 19-9 in the Lumberjacks' season finale on Saturday.
Powell's block led to an NAU touchdown two plays later when Keondre Wudtee found Coleman Owen with a pass from the 2 as the Lumberjacks (3-2, 3-2 Big Sky Conference) took a 10-9 lead 47 seconds before halftime.
Luis Aguilar kicked field goals of 45, 27 and 34 yards in the second half to extend NAU's lead to 19-9. Aguilar was 4-for-4 kicking.
Wudtee was 13-of-23 passing for 244 yards for the Lumberjacks. Owen's touchdown was his only catch of the game. Hendrix Johnson caught four passes for 121 yards.
The Lumberjacks opened the second half with a 5-yard run followed by a 60-yard reception for Johnson. Ending in the 45-yard field goal by Aguilar, NAU extended its lead to 13-9 before allowing just 46 yards in the third quarter.
The Lumberjacks allowed just 29 points combined in the final two weeks of the season as they knocked off Southern Utah in Cedar City and completed a sweep of their two games in the Walkup Skydome by taking down Idaho.
"To come out of this thing with a winning record is an accomplishment for our football team and it was huge for our program," Lumberjacks head coach Chris Ball said. "It gives us momentum going into the summer and next season."
Idaho's Mike Beaudry completed 19 of 32 passes for 212 yards and gained another 41 rushing on 10 carries. Hayden Hatten caught seven passes for 135 yards for the Vandals (2-4, 2-4).
Idaho, despite losing a fumble on the first play of the game, scored first with three Cade Coffey field goals on its next three possessions for a 9-3 lead until Powell's block and NAU's touchdown turned the game around seconds before the half.
"When we have the coaches I do and I have the teammates I do, it's really not that hard to be in the right position to make the plays that I made today," Johnson said. "We have a great receiving core, and it didn't matter who was going to make the plays this week because we have the guys to do it."
With their 3-2 record, the Lumberjacks finished tied for third in the eight-team Big Sky for the spring season. NAU returns in September as it opens the fall season against the Sam Houston State Bearkats at the Walkup Skydome.
---
Grizzlies 48, Vikings 7
MISSOULA, Mont. — Cam Humphrey threw for 239 yards and two touchdowns and Xavier Harris ran for two scores and Montana beat Portland State.
It was Portland State's first game since since a 53-46 loss at Eastern Washington on Nov. 23, 2019; a span of 511 days.
Both Portland State and Montana opted out of the Big Sky Conference's six-game spring season. It was the Vikings' only game of the spring. Montana (2-0) beat Division II-member Central Washington 59-3 on April 10.
Harris, who finished with 109 yards rushing on 13 carries, got the Grizzlies going with touchdown runs of 28 and 4 yards for a 14-0 lead. Then, to close the first half, Humphrey threw touchdowns of 54 and 15 yards to Gabe Sulser and Samuel Akem respectively for a 27-0 advantage.
Portland State got on the board when Davis Alexander found Mataio Talalemotu for a 73-yard score to start the third quarter. Alexander finished with 193 yards passing.
NAU Sports Information contributed to this roundup.