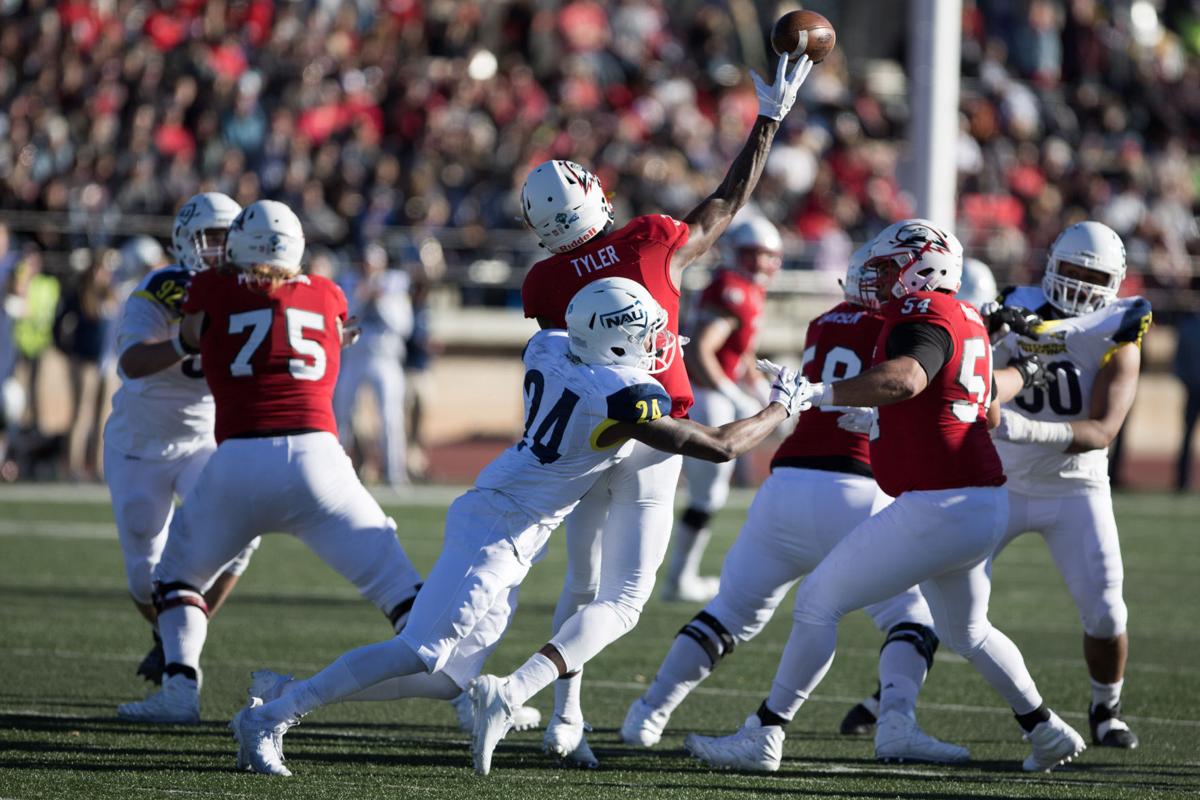 Within roughly 48 hours, Northern Arizona lost the chance to win its first Big Sky Conference title since 2003, earned a home game in the FCS playoffs for the first time since 2013 and hired its first head coach since 1998.
It just so happens the man for the job was the one who thought he was on his way out of it two months prior.
Electing to retain head coach Jerome Souers in light of the mess left behind by departing vice president for intercollegiate athletics Lisa Campos, Northern Arizona University president Rita Cheng asked the 20-year head coach if he would remain on while a new athletic director was hired in the near future.
"To have an opportunity, not just have another week of football and to play and coach this team in a playoff game, but for Dr. Cheng to extend that into being part of the transition process with a new athletic director, giving us the room and the time to do the right thing, there's almost a feeling of being rescued, I don't know a better word to say it than that," said Souers, who also praised Cheng's decision to add the title of associate head coach to defensive coordinator and linebackers coach Andy Thompson.
"She made a courageous decision. I have been a part of university politics for years and that's not an easy decision, but what was made was the right decision to protect the football program from backsliding and being devoid of leadership," Souers added.
The highs and lows of the past few days seemingly fit right in with the recent soap opera Northern Arizona's athletics department has become. Cheng's decision comes following Campos' jump to the University of Texas at San Antonio, one she did not let the president know was possible when electing to publicly announce Souers' impending departure on Sept. 11.
With Souers holding a career record of 119-107 in his 20 seasons as head coach, Northern Arizona elected to remain with its current staff in order to assure itself of a recruiting class come signing day in February and keep stability in a program that theoretically could have gone months without a coach or staff in charge.
"It was very emotional. A combination of excitement, a combination of relief, it is too complex to say it was one emotion because it was really a multitude of emotions," Souers said. "There has been a lot of dread that after the Southern Utah game, most of us were going to be looking for work on Monday. Anybody that has ever been in that situation understands how hard that is."
After announcing the new athletic director would have a say in the hiring of a new head coach in her statement following Campos' official introduction at UTSA, Cheng effectively put a freeze on a head coach hire until landing a new VP for athletics.
Along with the potential for Northern Arizona's signing day to be left dry with no one to recruit, current Lumberjacks could have theoretically started to look elsewhere as well.
"It protects the new athletic director -- when they come in they will have an opportunity to be a part of the growth and development of NAU football. Whether that includes me or not is going to be a part of that process, but I am here to support it," Souers said. "I have invested 20 years of my life into this. I don't want to see it fall apart. I don't want to see it disassembled."
With his mindset flowing from the despair of a potential career-ending loss Saturday at Southern Utah to the elation of being granted what appeared to be one last game in the Walkup Skydome, Souers said bringing the news to the entire staff was emotional for all those involved.
"I don't know that I have had a better moment than I had with my staff at that time when we came back, and everybody was already on edge and not sure what was going to happen, to be able to say that Dr. Cheng stepped up to the plate and came up huge for us," Souers said of Monday's decision.
While the head coach and his staff could breathe a sigh of relief as their jobs were secured for at least another season, the players too were relieved to know who would be leading them next year.
"It is definitely something I think the team is excited about. I think we all have created a very strong connection with all of our coaches, and after the Southern Utah game there was a possibility of having a new coaching staff," said quarterback Case Cookus. "It is sad to see because a lot of these guys come here for the coaches themselves. Especially at this level, you come to create those relationships and bonds with your coaches. Now that Coach is coming back and we have a lot of returners, the future looks very, very bright for the Lumberjacks."
However, even more important than the look ahead to next season, Northern Arizona's roster now has second life this year after a disappointing result in the Big Sky Conference finale at Southern Utah.
"You start from the Southern Utah game, it ends and everyone is pretty much at an all-time low, and then all of a sudden the next day we are in the playoffs, our season is not over," Cookus said. "And a day later, it is like, oh, by the way, your head coach is coming back and the (athletic director) is gone. It is kind of just weird, very unorthodox ... I don't even know how to explain it."
While the Lumberjacks missed the opportunity at a Big Sky championship, and maybe a remote possibility of the first-round bye awarded to the Thunderbirds, the 48-20 game did not write the final line of Northern Arizona's story this season.
"It's awesome to just be able to sit here, look back and not have that sour taste in our mouths now," Cookus said. "We have another game, we have another chance to prove ourselves, the seniors get another chance to play with their brothers. Most importantly, now that we are in the playoffs, anything can happen."
---
TICKETS
Tickets for the game are on sale online, over the phone or in person. Northern Arizona's box office at the Walkup Skydome will be open on Tuesday, Wednesday and Friday from 10 a.m. to 2 p.m. to purchase tickets, as well as online at nau.edu/footballpromo and through the school's central ticket office at 928-523-5661. For group tickets, the number is 928-523-0639