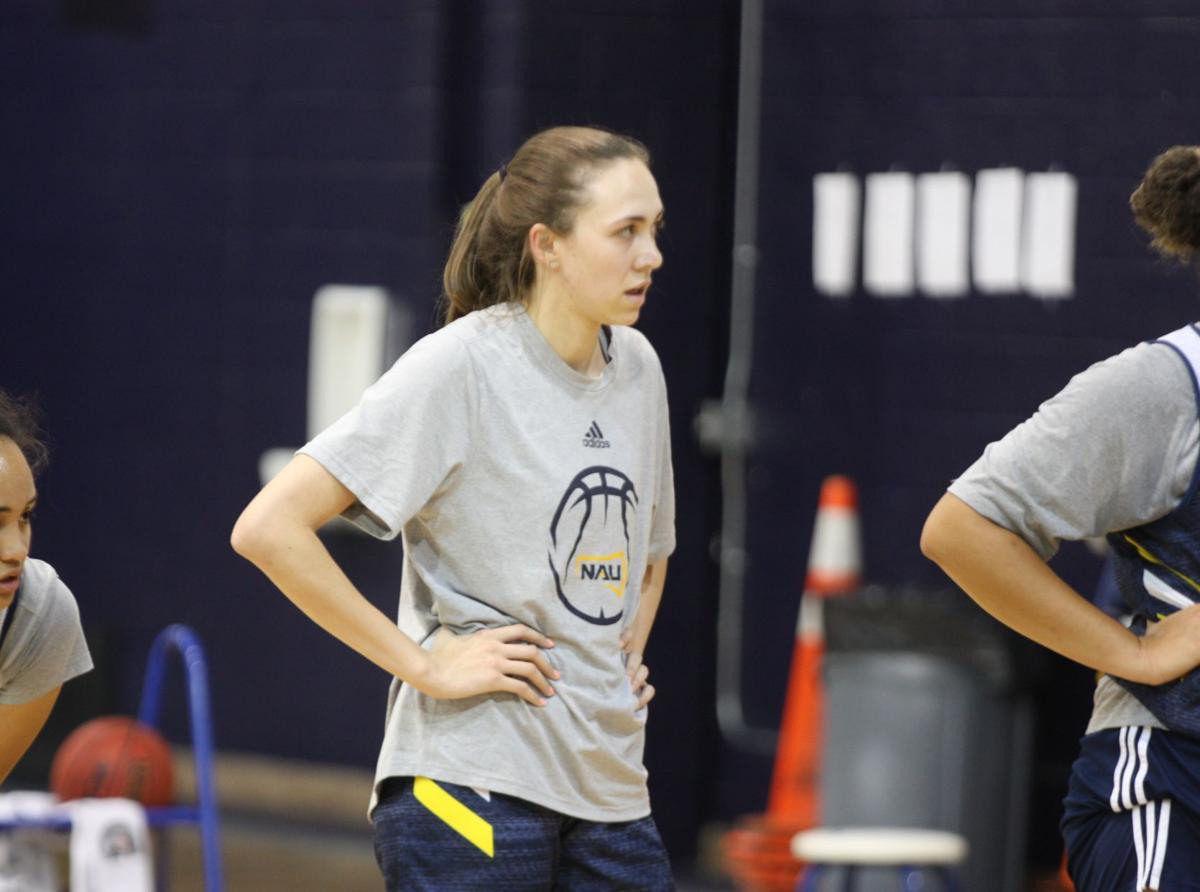 It took longer than expected, but Sierra Mich'l is finally playing college basketball at her "dream school."
The new Northern Arizona redshirt sophomore from Las Vegas had her sights set on Flagstaff since she was in high school. Close to home, and at a level she felt she could compete, the Lumberjacks were always one of her top options.
Speaking after an offseason practice at Rolle Activity Center in just her second week on campus Monday, Mich'l smiled despite being out of breath from the altitude.
"It's hard to explain; there's really no words. It's really gratifying because I've always wanted to be here," she said.
Following high school, Mich'l was an NCAA nonqualifier and went the junior college route to attempt to become eligible for Division I basketball.
She played two seasons at Pima Community College, dominating in the post in her two seasons for the Aztecs as she averaged 13.3 points, 7.0 rebounds and 3.9 blocks, and was named to the NJCAA All-American First Team.
Leaving Pima with the school record in career blocks for a career, game and season, if there was still any doubt she could make the team at Northern Arizona, she needed to look no further than another former Aztec in Flagstaff now. Guard JJ Nakai, one of the Lumberjacks' top playmakers last season, also went to Pima. The two have swapped stories in their time as teammates at Northern Arizona.
"We both love Pima. It gave us a chance, because we both were there for similar reasons. It's crazy we both ended up back here," Mich'l said.
Lumberjacks head coach Loree Payne, who saw Mich'l at a Northern Arizona camp a couple years prior, was impressed by Mich'l's tough style of play, as well as her experience succeeding at the college level.
Payne's staff prioritized the front court in the latest recruiting cycle. Three of the four new players on Northern Arizona's roster are post players who Payne thinks could make an impact. That includes Mich'l.
"I think she is really a true five that plays really hard and has an opportunity to go in and be physical. She has that knowledge of the physicality of college basketball because of her two years at junior college, and she rebounds well," Payne said.
Mich'l admitted she was tired almost immediately in her first practices with her new team last week. The elevation and new system made it difficult right away, though she is getting used to the new environment slowly.
She hopes, when her lungs fully catch up, that her physicality in the post will make her a solid player immediately.
And, already the record-holder in blocks for her high school and former junior college, she hopes blocks could endear her to the team and be one of her immediate forms of production for Northern Arizona.
"Blocks are a hype play. Most females that can't dunk. I feel like blocks are a replacement sometimes because we need that energy moment. I feel like that's something I can contribute," Mich'l said.
There are still several months until the Lumberjacks' 2021-22 campaign begins. But, even before the ball is tipped in the first game, the new Northern Arizona forward is excited for her journey in Flagstaff.
"It still hasn't been that long since I got here, so I haven't experienced everything yet. But, honestly, it's already been so amazing," Mich'l said. "I can't wait for the season to start."