SCOTTSDALE -- It may not have been the opponent the Northland Prep Spartans expected to face in the 2A Conference girls soccer state finals, but based off the track record it really didn't matter who was on the other side of the turf.
Instead of longtime rival Chino Valley lining up against them for the fourth straight time, the top-seeded Spartans drew the St. Johns Redskins. Well, the result was about as expected.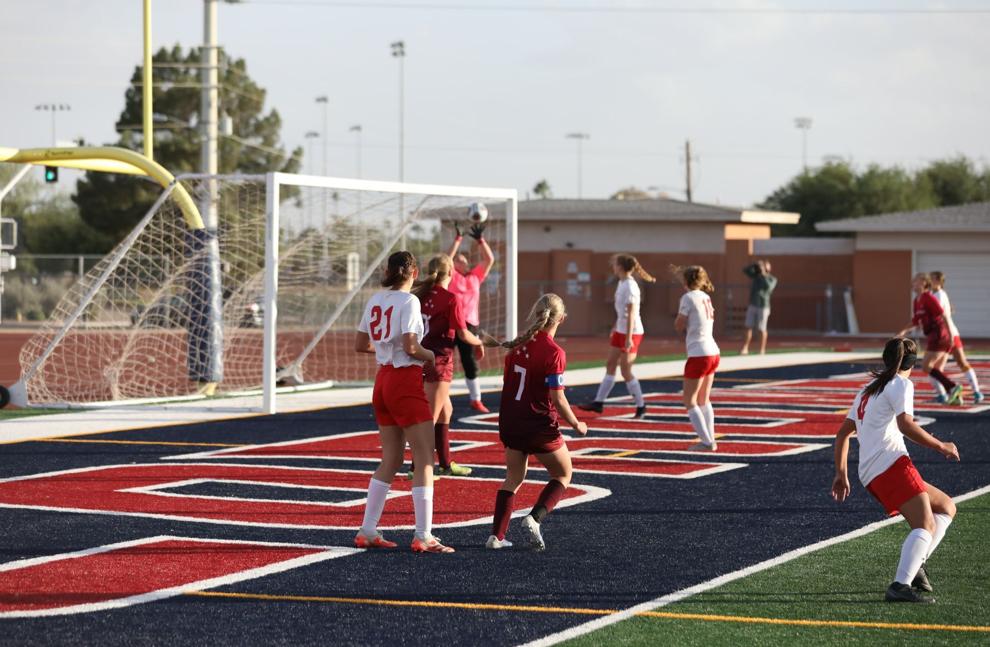 The Spartans continue their dominance over the 2A Conference, winning a fourth straight title in shutout fashion with a 5-0 win over St. Johns Saturday afternoon at Coronado High School in Scottsdale.
The state title win caps off near-perfect high school careers for members of the Spartans senior class -- who have combined to win 75 matches over the past four years.
"What a special group.," Spartans co-head coach Michael Blair said. " ... It's their program and they deserve it tonight."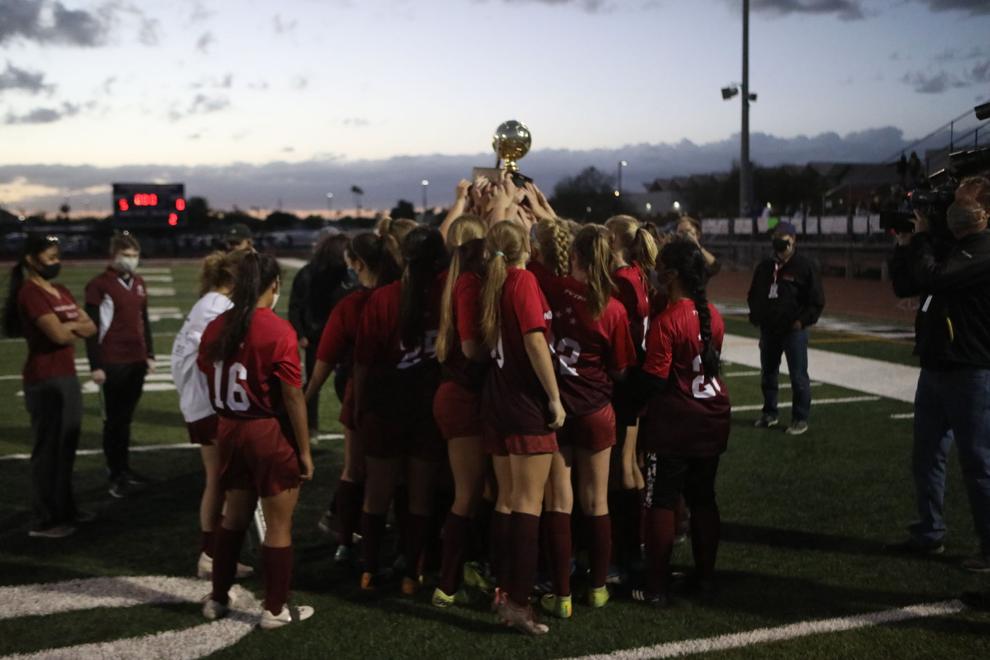 Zero title losses, four champion wins. Hard to do much better than that.
Spartans senior Mia Blair capped off her decorated high school career with a hat trick in the final round of the state tournament, taking just the first half to make it happen. Fellow seniors Kiarra Hovis and Ellie Karren also found the back of the net with one goal each.
Senior goalkeeper Payten Schmidt returned to Northland Prep's lineup following a knee injury and got right back to helping her Spartans blank teams with a pair of shutout victories in the Spartans' two-match run through the playoffs. St. Johns didn't have many shots on goal, and when it did, Schmidt did her job to keep the back of the net empty.
For some those seniors, winning a fourth consecutive title hasn't quite hit them yet.
"I don't want it to set in," Hovis said. "I'm just so proud of all of us for pulling it together. ... It was just amazing playing with all them the past four years."
The win means even more when thinking about the family ties the team has. Kiarra Hovis won four straight playing for her dad, Keith Hovis, and winning one with sister Brianna.
And Mia Blair, sisters Jordan, Cambell and former Spartan Emma, have all played and won titles under their dad, Michael.
"I love that I get to share the experience with them," Mia Blair said after celebrating with her family Saturday. "I love that they've been with me through everything. From tearing my ACL to winning state titles it's amazing."
But beyond the actual family ties, the coaches and players have called the team a family. The seniors consider each other family just as much as their own sisters, brothers or parents.
That's helped make the four-year run so special.
"I knew from the start that we were going to be able to pull it off," Kiarra Hovis said.
Streaks continue
Aside from the title streak, the Spartans carry another big one out of the offseason. Northland Prep has won 40 consecutive matches now, dating back to a 2018 loss to none other than Chino Valley. 
The Spartans were able to get most of its younger players, who will be called upon next season, the bulk of the second-half minutes. While there wasn't any scoring, the future still seems plenty bright for a program hoping to continue its dynasty.
"The whole idea when we started this stuff six or seven years ago was we were going to build a legacy of champions," Keith Hovis said. "It doesn't necessarily mean winning championships, but that these kids would be sharp, love each other and be a family. There's going to be pressure on them next year but we like our chances."
Finishing it
Playing right now, anyone at any level is just happy to get through a season without mass cancellations or COVID-19 exposures.
The Spartans are certainly a team that felt blessed to make it out with minimal issues.
"Everything seemed like it was against this happening from the very first day. I think that's a big thing for these kids that really stuck with them," Keith Hovis said. "They followed all the rules to the 'T.' We had scares with COVID and different things, but for this senior class to do this is amazing. We finished it off.
"I'm gonna sleep pretty good tomorrow, because it's been a struggle to manage."