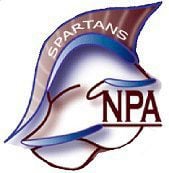 For the first time since 2019, the defending champion Northland Prep girls soccer team is set to host its youth soccer camp beginning Monday at the soccer fields at Sinagua Middle School.
Players from the Spartans' soccer roster -- who have claimed the past four 2A championships -- will run the coed youth (ages 4-12) through a variety of drills and practice games to help them improve their soccer skills and confidence on the pitch.
Astrid Bell, a rising senior and captain of the team heading into the 2021 season, said the team's coaches are in attendance to facilitate the camp and "make sure everything runs smoothly," but mostly leave the coaching and drills to the high school players.
Such practice gives the youth players a chance to fully interact with the older Spartans, who appreciate the opportunity to work on their leadership skills.
"Everyone really loves it. It's a great time to spend with little kids and we like nurturing the love of soccer, being that coach that we all wanted as a kid that would help us grow the game," Bell said.
The event is something the Northland Prep players look forward to all summer. It is a chance to bond with their teammates -- smiling as they teach the basics of the game to young kids -- without the pressure of tryouts or traditional practice.
"I love this time of year because we're getting into our preseason workouts just a little bit, but we're also getting this chance to know our teammates better, spend some time together outside of just our own activities. That teamwork we build kind of carries over into the season," Bell said.
Though, as somebody not originally from Flagstaff, Bell did not attend this camp as a kid, she participated in other similar youth soccer camps when she was of age. She cherishes the memories, much like her teammates.
"It was really integral in my learning of the game. It's really something I liked a lot and want to give the same thing back to these kids," she said.
Camp runs from July 19-22. For more information or to register visit npasoccer.com