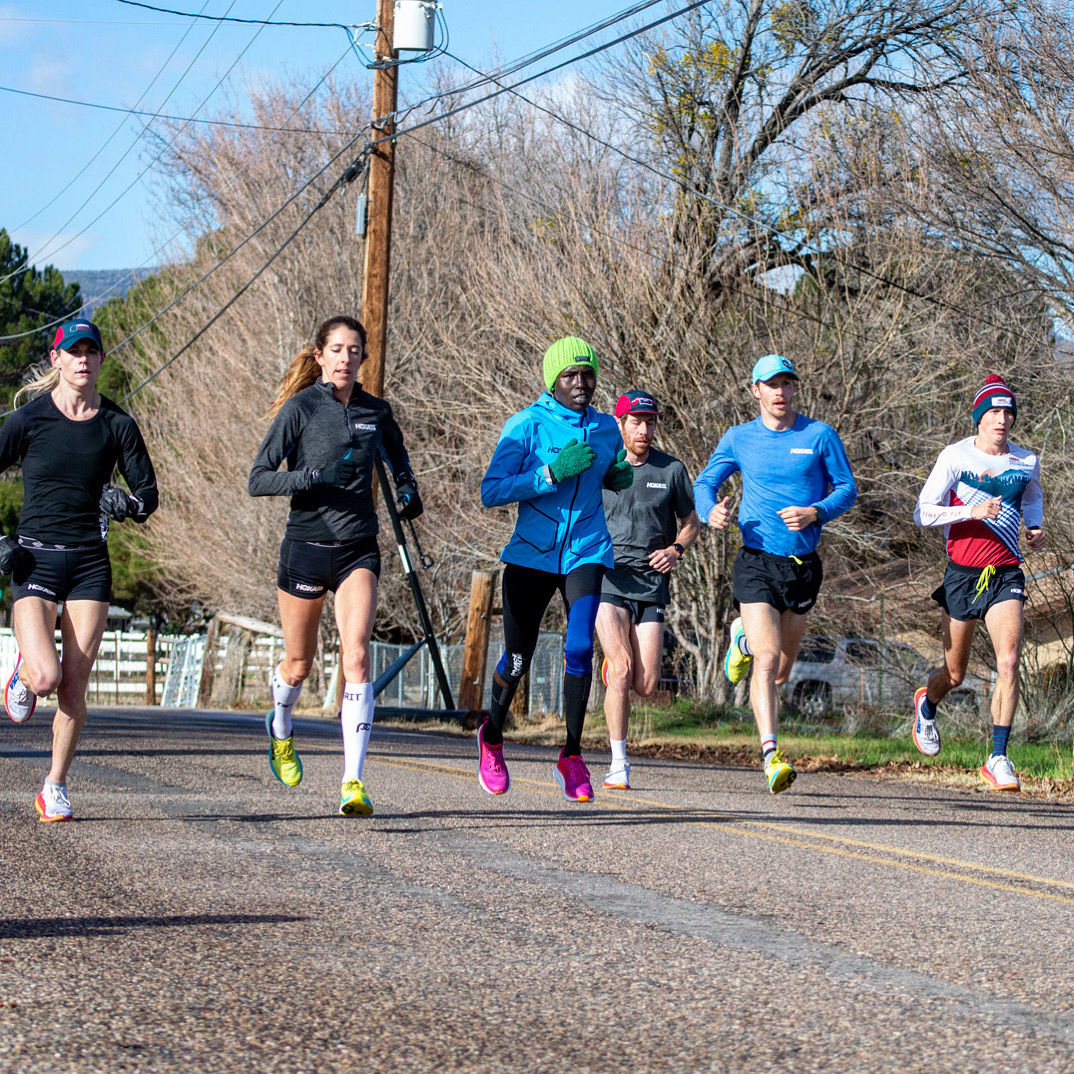 Kellyn Taylor and Stephanie Bruce finished the Rock 'n' Roll Arizona Half Marathon in a tie for first place in mid-January, both using the event as a buildup race for the approaching Olympic Marathon Team Trials.
For Taylor, having a teammate such as Bruce is an advantage when preparing for the Trials. Adding a third female who competes and trains "on the same caliber" ups the ante even more.
Last time Taylor was preparing for the Trials, she didn't have as many teammates to workout hard with.
"It's been fun to go stride for stride with them, and having each other to pick each other up on days when you don't feel so good," Taylor said. "Hopefully we can use that as an advantage."
Taylor, Bruce and Aliphine Tuliamuk are set to compete at the Trials for NAZ Elite on Saturday, Feb. 29, in Atlanta on the women's side, with NAZ Elite's Scott Fauble, Scott Smith and Sid Vaughn set to be in the men's race.
"There's going to be an Olympian on our team," Taylor said. "Hopefully several, but there will be one."
The NAZ Elite veteran has been with the team since its start and just missed claiming Olympian status during the last cycle, taking sixth at the 2016 Team Trials with a time of 2:32:50 in the marathon and fourth in the Olympic Team Trials 10K with a time of 32:11.29.
"I think a lot of people are going to Atlanta with the same hope, but you have to be all-in for yourself," Taylor said. "You put in a lot of time and work, and to walk away from it having not achieved your goal is pretty heartbreaking."
In addition to having stellar teammates to train with, Taylor has years of experience to rely on this time around in order to avoid the heartbreak. Her second-ever marathon was the 2016 Marathon Trials. Since then, Taylor's seen her share of successful outings at the distance, including a time that has her as one of the top American female marathoners ever.
Taylor owns the fifth-fastest American female marathon time for this Olympic cycle at 2:24:28. She set it in June of 2018 when she won the Grandma's Marathon, a flat, fast course.
Her 2:24:28 time is an NAZ Elite team record in the event, and the second-fastest time of 2:26:27 also belongs to Taylor.
But NAZ Elite head coach Ben Rosario thinks she is even more of a contender to make it to the Games.
"In my mind, she's probably seeded higher than that really because she's been so consistent and because some of the folks ahead of her on that list have had injury troubles, which you don't wish upon anyone," Rosario said. "In terms of the last year, I would say she is probably one of the top three or four seeds."
Taylor's last marathon outing was in New York City, where she finished seventh overall with a time of 2:26:52. Tuliamuk went 12th in the race with a time of 2:28:12.
Taylor finished as the second American female at NYC, coming in just behind fellow American Desiree Linden.
"I feel like she's right there with anyone," Rosario said Taylor. "… It's just a different ballgame now."
The top three females at the Trials make the United States' team.
For Rosario, part of what makes Taylor a real contender to make the Tokyo Games is her years of hard work and successful running. Not only has Taylor made strides mentally, she's also been developing great strength aerobically over the countless training segments.
"When you get really efficient at that, you expend less energy and thus you can run faster for longer. It's pretty much that simple," Rosario said.
Combined that with Taylor's toughness, her ability to stay strong even when the tank starts to empty.
"I think that I've learned that I am good at riding the red line," Taylor said.
Now it's about riding the red line to the finish line for a spot on the United States team.
"There's going to be an Olympian on our team."

NAZ Elite's Kellyn Taylor
Be the first to know
Get local news delivered to your inbox!