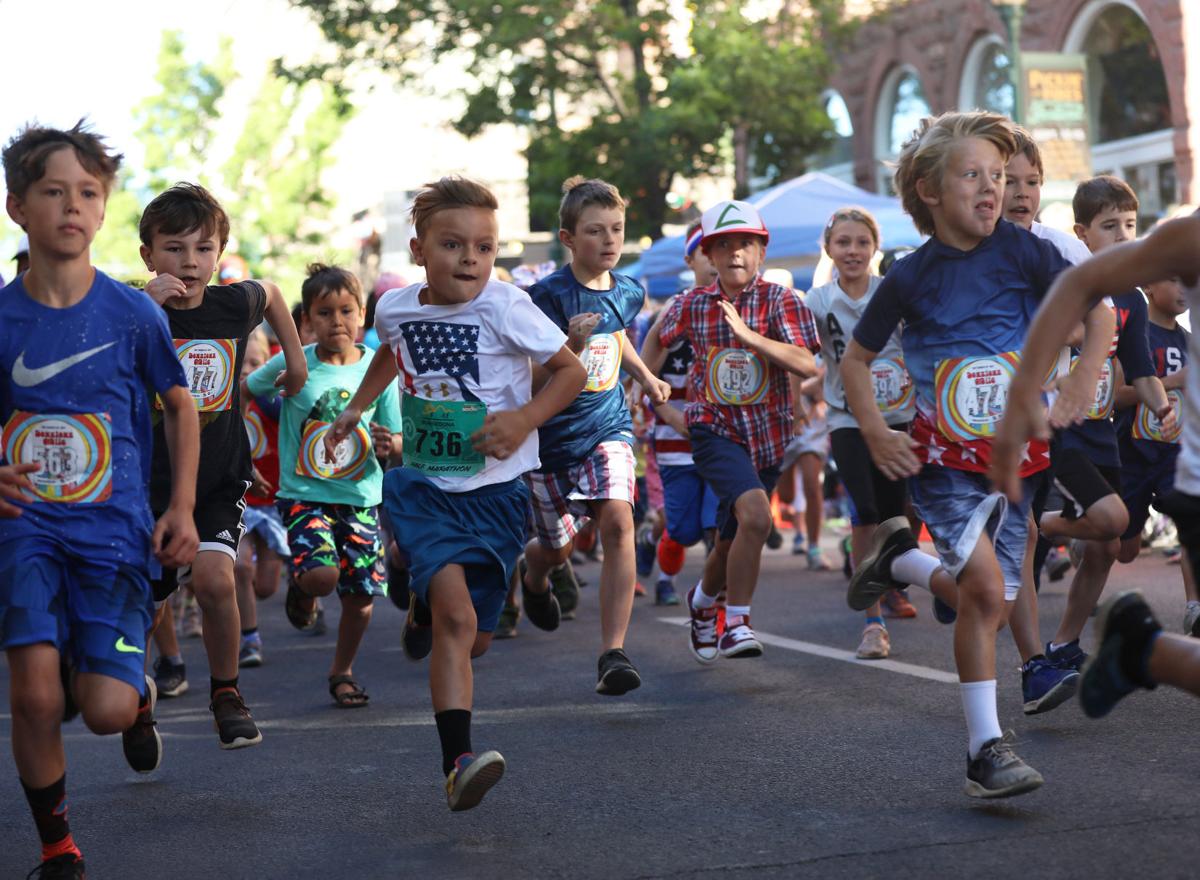 NAZ Elite makes it a priority to put the BOLDERBoulder 10K on its schedule.
While the race makes sense for the team -- dropping down slightly in elevation from 7,000 feet to 5,300 to face fields full of stout talent -- its character also entices NAZ Elite to come back year after year hoping to win the venerated run. Moreover, it's a road race's history, ambience and connection to the community that often makes a runner of any level return for more.
NAZ Elite head coach Ben Rosario guarantees that if a runner of any caliber participates in a big road race, one like BOLDERBoulder, "whether you are 8 or 40, you are coming back."
The team recently competed in a handful of road races that are more than just competitions. They are staples of the community where they take place.
Rory Linkletter won the Deseret News 10K with a time of 28:05 a week ago, claiming the crown in Utah as a former BYU standout runner. Pride also came with the gold that day, as he won in a place that's special to him and also beat former BYU runner Jared Ward in the process.
"There are these courses that have become iconic because of the traditions that have been established on those courses over the years," Rosario said during a recent interview.
And like BOLDERBoulder, many of them got their start in the 1970s. BOLDERBoulder was a bit late to the game, starting in 1979, with its first number of registrants hitting 2,700, according to its website. By 1983, the race started using a wave start as it reached 16,550 total registrants.
Now it's one of the biggest races in the country.
NAZ Elite's Scott Fauble just ran the Bix 7, which was established in 1975, on Saturday, placing fifth. 
"Same kind of feel," Rosario said of the Bix 7 being the same kind of venerable race like BOLDERBoulder.
Rosario added: "It's become a badge of honor in Iowa to run the Bix, and then you do it every year, and maybe you try to beat your time or maybe you just go have fun, but you do go back. And there is a ton of energy and atmosphere."
It's a big event, he said, for place situated in the Midwest.
"There are people who have sit on their front lawns and cheered on runners decade after decade," Rosario said.
And on July 4th, NAZ Elite sent Stephanie Bruce and Olympian Aliphine Tuliamuk to compete at Atlanta's Peachtree 10K, with the former finishing fifth and the latter taking sixth.
Many of the big, famous and historic road races have connections to a holiday. For instance, BOLDERBoulder is part of a Memorial Day celebration for the area.
"There are waves all morning, so when you finish, you stick around, save a seat to watch the other people come in, and then by the end of the morning there are 50,000 people in that stadium," Rosario said. "Then by the end of the morning, they have a beautiful Memorial Day tribute to our fallen soldiers."
Because the road races have grown to such proportion, organizers are able to draw in sponsors, pro runners and a lot of money that finds its way back to the community in some fashion. A race that Rosario helps organize and is a part of, the Festival of Miles, takes place on the track but gives all proceeds to a different athlete-in-need each year.
Rosario's personal favorite road race takes place in St. Louis.
"Wherever you grew up, if you are a runner," he said, "you have the race in your town that's your favorite because it's your town's big race."
For him and St. Louis, that's the St. Patrick's Day Parade Run, a 5-mile race that takes place just before the big procession.
"All the runners in St. Louis would do this race," he said.
Flagstaff has its own races that are part of the city and its running community, such as the Downtown Mile that takes place on July 4th, the Summer Run Series events and the Kahtoola Uphill. It's common to see pros training in Flagstaff run with the locals in those races.
In 1984, BOLDERBoulder began a pro race that follows the citizen's race. Now, many of the big road races in the United States have found ways to get pros and amateurs racing the same course on the same day, giving the sport another unique characteristic. 
"It's really relatable. When you watch NBA basketball games, it's kind of hard to relate to seven-foot-tall guys dunking the basketball. It just looks so intimidating. Now in running, because you are doing the same thing -- now sometimes at a different level -- you can relate to the pain the athletes are feeling in the race you are running, feeling that same pain on that same course," Rosario said. "And afterward you can talk about stuff like, "Hey, that big hill was difficult wasn't it?' Because here's the thing, that big hill was tough for the pros and tough for the amateurs. They can talk about that."
Expect NAZ Elite to be back in Boulder in the future, creating more history and memories while looking to claim the race one of these tries.
They came close in 2018, when Tuliamuk was the runner-up on the women's side.
"One of these years, we will have somebody break the tape there," Rosario said.