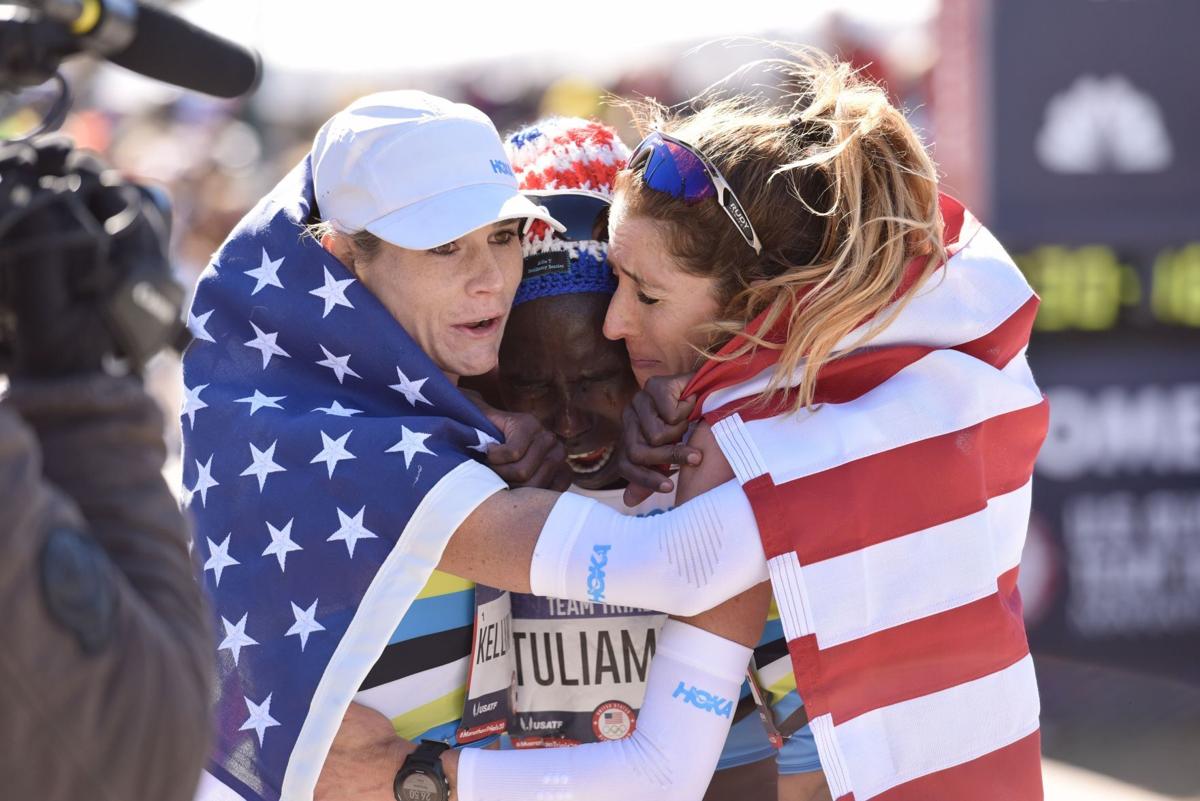 This year felt a bit like a marathon itself for most people, let alone runners trying to get in races during a calendar year slammed by the pandemic.
For NAZ Elite and head coach Ben Rosario, it was a year of taking chances and then making the best out of them. Each outing had an intensity to it, as opportunities to race were slim because of COVID-19 forcing cancellations across the running world.
But while the races were few and far between overall, NAZ Elite came away from 2020 with plenty of PRs and some big performances at a one-of-a-kind 26.2-mile race in its home state.
There was also an Olympian crowned on the team in February -- which for some feels like forever ago -- just before the coronavirus began wreaking havoc.
Here's a look at the top stories from 2020 surrounding NAZ Elite:
1: Tuliamuk continues her takeover
Aliphine Tuliamuk, a Kenyan woman who attained her U.S. citizenship in 2016, added a key victory to her list of running achievements in February when she won the U.S. Olympic Marathon Trials in February at Atlanta.
The nine-time national champion ran 2:27:23 for the gold and a ticket to the Tokyo Games, which were postponed until 2021 due to COVID.
Tuliamuk didn't do a lot of running in 2020 after the victory. She announced not too long ago that she was pregnant and will be expecting a child to start the new year.
She still plans to compete at the Tokyo Games.
Moreover, NAZ Elite's Stephanie Bruce placed sixth with a time of 2:29:11, with teammate Kellyn Taylor coming in eighth in 2:29:55 in what was the largest U.S. Marathon Trials in history at 685 total participants.
2: The Marathon Project pays off
The pandemic led to the cancellations of nearly all marathons across the globe, with a few exceptions. Most events went to a virtual platform as an option.
So Rosario, along with BOOM Management's Josh Cox and Big River Race Management's Matt Helbig, took a different approach to one of the greatest sports events of human history, altering it out of necessity to provide elites the chance to compete. The end result the three came up with was The Marathon Project, which took place on Dec. 20.
The trio began brainstorming the event after realizing pro runners were in a pandemic predicament, and before long The Marathon Project was real, providing some of the best at the distance a chance to compete against each other in the same, limited field, in a controlled environment.
The event took place on a flat, fast course in Chandler on a day when weather conditions were favorable. It was formulated to produce fast times, and athletes took advantage, as seven men crossed the finish line with a sub-2:10 time, the most ever in American marathon history since four went below the mark in the 2012 Houston U.S. Olympic Marathon Trials.
On the women's side, six athletes who qualified for the field with marathon times and finished in the top 10 went on to achieve PRs.
Taylor finished third for NAZ Elite, producing one of the best performances out of the seven athletes the team sent. Furthermore, four NAZ Elite runners recorded PRs.
3: The ekiden test
The Marathon Project wasn't the only unique race NAZ Elite competed in during 2020. 
For the first time in team history, NAZ Elite sent runners to an ekiden, a long-distance relay event that's famous in Japan but rare in the States. The team came away with a win, as three NAZ Elite women and as many men combined to run a 2:10:11 at the Michigan Pro Ekiden.
NAZ Elite faced competition from clubs such as T.E.A.M. Boulder, Bowerman Track Club, Minnesota Distance Elite and Hansons-Brooks Distance Project at the ekiden, which spans the distance of a marathon and features teammates running different sections.
4: Familiar place for new face
NAZ Elite can tap into running talent right in its backyard thanks to Northern Arizona University. In early October, Rosario signed former Lumberjacks standout runner Tyler Day, who became the fourth NAU product ever to join NAZ Elite's roster.
At the same time, NAZ Elite also signed Julia Kohnen, who along with Rosario hails from a hometown of St. Louis.
Day's first race with the team was the Michigan Pro Ekiden, which he followed up a week later at the end of October with a 1:02:17 performance at the Michigan Pro Men's Half Marathon, claiming the third spot on the team's all-time performance list at the distance.
Also, the team in January added 5,000-meter standout Lauren Paquette, an Olympic hopeful and Baylor product who qualified for the 2016 Olympics Trials in the 5000m.
5: A 10,000-meter to remember
In early December, eight different women ran under the Olympic standard for the 10,000-meter event in Southern California at the Track Meet, with three NAZ Elite athletes finishing as part of that unprecedented group.
Taylor led the way for the NAZ Elite women who punched a ticket to the 10,000m Olympic Trials, clocking a 31:15.65 for a sixth-place finish. Not far behind Taylor was teammate Danielle Shanahan, who crushed her previous PR for a time of 31:22.86 and a seventh-place result. Taking eighth, hitting a PR and just making the cut of running below the standard of 31:25 was Bruce with a time of 31:24.47.
The Track Meet, like many races in 2020, was an event created to offer a chance for elite runners to run fast, as the qualifying window for the Olympics reopened in December.
6: Assistance, please
NAZ Elite began its search for its first-ever official full-time assistant coach in September.
Rosario hopes to have the position filled fairly soon.
One of the original NAZ Elite members, Ben Bruce, has been acting late in his running career as the team's assistant coach on a part-time basis.
The hire should free up time for Rosario to work on the business and marketing side of the team without many interruptions, as he also works as executive director of the squad.
7: Shiny, new contract
The full-time assistant coach position was part of a new deal that NAZ Elite finalized in September for the next Olympic cycle with HOKA ONE ONE, continuing a partnership with the shoe company that started in February 2015.
It's the team's longest and most valuable contract with HOKA since the partnership began, and the dollar amount NAZ Elite receives under it "nearly doubles," Rosario said at the time.
A huge bonus for the athletes comes in the shape of health insurance, which they will no longer have to pay themselves. The athletes' base compensation is now no longer directly under NAZ Elite's lump sum from HOKA, too.
It also means that the team will remain based out of Flagstaff for years to come.
8: Baxter's back and he has a baby
Matt Baxter made the best of his 2020 after dealing with some injury issues. The former NAU stud won a New Zealand 10K national championship in early November with a time of 30:22.
It is Baxter's second national title, as he won the 2019 New Zealand National Track and Field Championship 5000m in 14:04.44.
He also welcomed his first child to the world in 2020, a baby boy.
Baxter and family have been staying in New Zealand for the most part of the year in order to avoid COVID-19 dangers and issues the U.S. continues to struggle with.
9: Teammates and tears
For their compassion and joy that was captured in a photo after the Marathon Trials, Tuliamuk, Taylor and Bruce in December were named recipients of the 2020 Musial Awards, which, according to a press release from the organization, celebrate the greatest moments of sportsmanship and those in sports who embody class and character.
The photo and moment were iconic considering the great strides that women have made in long-distance running over the last few years, as a tearful Tuliamuk is shown being embraced by an ecstatic Taylor and an emotional Bruce, with the U.S. flag draped over them all, just moments after NAZ Elite claimed an Olympian.
10: A sprint to help others
In May as the pandemic was picking up speed in the U.S., NAZ Elite and Rosario didn't waste time running to help others in need, organizing a COVID relief drive for the Hopi village of Kykotsmovi.
The goal, which ended up being met and then some, was to fill the big Run Flagstaff truck with donations of items coming from people in Flagstaff and take it to Kykotsmovi. NAZ Elite asked people looking to donate to put a box on their porch one morning so Rosario and Vince Sherry of Run Flagstaff could pick it up and then take it to those in need.
It's a trip that Rosario is used to making now. For years, Rosario and NAZ Elite has had a bond with the Hopi community, as the pro running team annually raises funds for the Hopi Bruins' high school cross country teams.