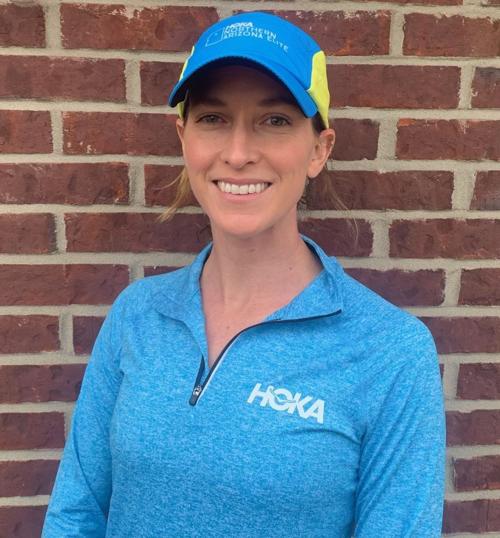 NAZ Elite knows a few things about Ovid's phrase "dripping the water hollows the stone."
For head coach Ben Rosario, the hiring of the team's first-ever full-time assistant coach should allow him, staff surrounding the team and the athletes to "do a lot of little things better." And he hopes that with the acquisition of Jenna Wrieden, the little things really add up.
"Now we get to bring Jenna in and get started on what I think will be a new era for us, because a full-time assistant, I think, is going to be a game-changer," Rosario said Wednesday by phone. "Not that we are not having a lot of success already, but just from a manpower standpoint, it's going to be a huge difference."
Reaching the decision was also done methodically, a marathon of sorts, and Rosario said he tried to remain as open-minded about the candidates as possible and what would benefit his team best. NAZ Elite began the search around September not long after signing a new deal with HOKA ONE ONE, part of which allowed for the expansion of a coaching staff that for years consisted of just Rosario in addition to some part-time assistance from Ben Bruce, a former member of the official roster.
Rosario said the team came up with a selection not long before The Marathon Project, which took place on Dec. 20.
"It was a long time coming," Rosario said.
Rosario said NAZ Elite looked at high school coaches, for instance, and coaches who take a heavy scientific approach to running before deciding on Wrieden, who has coached an NCAA national champion and runner-up in separate events.
Although Wrieden's achievements stand out on her resume, it was, for Rosario and the team, her goals of working with the athletes on deeper levels of just racing and running, drills and splits. What sold Rosario was her demonstrated ability to work with athletes one-on-one in order to get the most out of them.
"That's been hard for me to do," Rosario said, "because I have to look at it from such a macro point of view. Now, of course, I do build individual relationships with each of the athletes, but I also have to be considering the collective always. And she doesn't have to worry about that as much and just hone in on the individuals and learning what makes them tick and what makes them go, learning what they respond to mentally, psychically, et cetera."
Wrieden grew up in Arizona and ran for Arizona State, and, according to NAZ Elite's press release, competed on the same Sun Devils squad as Amy Cragg and Des Linden. Most recently before making the move to the professional level with NAZ Elite, she spent nearly five years at the University of Louisville as an assistant coach, helping Edwin Kibichiy become an NCAA champ in the steeplechase and Dorcas Wasike earn silver in the NCAA 10,000-meter run.
"I feel like the stars aligned a bit for me to move into this role," Wrieden said in press release Tuesday, when the team announced the selection. "I am so grateful to Ben and Jen Rosario, the members of the NAZ Elite Board, and all of the athletes for believing that I could bring value to their team. From the moment I stepped on board, I felt a connection with the group that I am certain will be a factor in our overall success."
Rosario sees his and Wrieden's strengths complimenting and combining in a way that will boost the team -- and, more importantly, allow each coach to utilize their strengths more fully.
Rosario said he loves and now has more time to focus on "putting the puzzle of training together" when it comes to getting his runners to be their best when they most need to be.
He also will now have more time to focus on the communications side of things, spending more hours connecting with fans and building the team brand.
"Now we are going to have Jenna really taking ownership of what we call ancillary work -- the form drills, the strides, the plyometrics, the blood testing, working with AJ (Gregg) and Wes (Greg), our strength and conditioning coaches, and making sure that everything we are doing running-wise is being complemented in the weight room and vice versa. Just a lot of attention to detail that was difficult with the staff we had before."
As the hiring process unfolded, it became apparent to Rosario that a coach with a proven track record at a high level was important to the final decision. Before her successful stint at Louisville, Wrieden showed promise during her years at Appalachian State University under head coach Pete Rea and ASU as a graduate assistant, in addition to years with Queens University in Charlotte, North Carolina, and High Point University.
Rosario said he also thinks her time spent coaching college athletes will help a team like NAZ Elite, which signs on a consistent basis young talent coming out of the university crops.
The team expects their new coach to be in Flagstaff next week.
Overall, Rosario said, it was the combination of all the little things Wrieden brought to the table.
"It had to be right? This is a big job and we are asking a lot from a person," Rosario said.