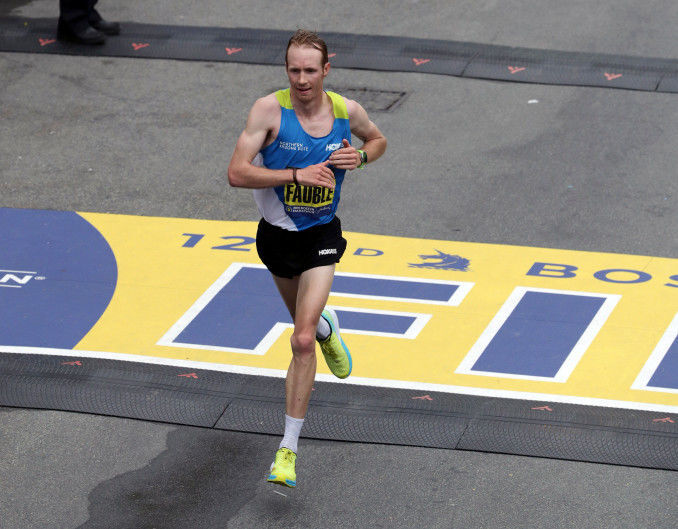 NAZ Elite has plenty of reasons to feel good about its chances heading into Boston.
To start with, the team is sending the most runners to the Boston Marathon ever and will look to have the most finishers at a world major in team history.
"You don't always get to bring multiple people to a World Marathon Major like this," NAZ Elite head coach Ben Rosario said Thursday, "so we want to take advantage, and I would say it reminds me of times when we took multiple people to New York."
The largest group NAZ Elite has sent to a world major prior to this upcoming Boston was in 2018 when it sent a trio to the New York City Marathon and came away with three top-20 finishes and nearly two top-10 finishes, with Stephanie Bruce taking 11th.
Two runners from the 2018 NYC group — Scott Smith and Scott Fauble — will be at Boston for the Monday race.
"I think bringing this many people gives us an advantage, particularly on the men's side where we have three people all in the same race and probably all in the lead pack," Rosario said. "I think they feed off one another, not only during the race itself, but in the days leading up."
In addition to Smith and Fauble, who have both had standout success at Boston during their professional running careers, Rory Linkletter and Julia Griffey will toe the line Monday of the 125th Boston Marathon, which hasn't been run in person for more than 900 days as a result of the COVID-19 pandemic.
Fauble posted a PR of 2:09:09 and finished seventh in 2019, the last installment of the prestigious race to take place in person. In 2018, Smith posted his best world major finish when he placed sixth with a time of 2:21:47.
The team overall has been riding a wave of momentum as Boston approaches. NAZ Elite has produced five podium finishes in its last six races, with three first-place finishes coming during the last four outings, including Matt Baxter's gold PR performance of 1:02:38 at the Rock 'n' Roll San Jose Half Marathon on Sunday.
"There is really good momentum around the group as a whole, and there's really good momentum amongst these four, because they've been sort of training together now for 10 weeks and they've become really close," Rosario said. "They have become this tight unit, and it has that team feel sort of like the Olympic Trials did."
The foursome also has a lot of confidence to take into Boston thanks to having strong training segments.
"They didn't all fire on all cylinders every single time out, but they all did things that indicated they are ready to go," Rosario said.
Linkletter was the exception. While some in the group of four, according to Rosario, had some key workouts go well in addition to experiencing some struggles along with way, Linkletter never really let off the gas.
"Rory pretty much crushed everything. He was unbelievable, so consistent all segment long," Rosario said of the young Canadian who will be taking on his third-ever 26.2-mile race.
Linkletter ran a 2:16:42 in 2019 at the Toronto Marathon, his debut at the distance in his native country. He followed that up with a 2:12:54 at The Marathon Project in December.
"We're sort of using the mantra: the third time's a charm, because a lot of the best marathoners in the world actually have their best marathon in their third go at it," Rosario said.
Rosario said Linkletter is noticeably more experienced taking on the distance and the build-up involved.
"His workouts are just so light years ahead of where he was during those first two training segments, so it just feels like he's ready to go," Rosario said.
The last time a Canadian won the Boston Marathon was in 1977, when Jerome Drayton claimed the top of the podium with a time of 2:14:46 — the fastest by any Canadian at the event.
"I think the Canadian distance-running fan base will be really interested in seeing what Rory does on Monday," Rosario said.
Meanwhile, Smith and Griffey are also coming off PR performances when it comes to the marathon, as both showed off speed at The Marathon Project as well.
"We're very confident that we are going to have a big day," Rosario said.