When six members of NAZ Elite were on their way to an intrasquad race at Buffalo Park on Friday, they were expecting the outing to be basically a hard "practice."
For one of the runners who participated, however, there's really no such thing as practice.
Rory Linkletter led the men's group, which also consisted of Sid Vaughn and fellow first-year pro Nick Hauger. His long blonde hair tied back, Linkletter attacked the final stretch of the 2-mile race, separating himself from his teammates during the uphill charge to finish in nine minutes and 12 seconds.
"He's been a force of nature for us," NAZ Elite head coach Ben Rosario said over the phone Wednesday.
Vaughn finished at 9:22, with Hauger clocking the same time. Just after crossing the finish line, Vaughn was supine for a moment catching his breath, and Linkletter came over, extended a hand and helped him up to his feet.
"I would say it's an understatement to say that I am very competitive, so it doesn't take a lot for me to want to give everything my best and put out a noteworthy performance," Linkletter said.
The effort and the helping hand were displays of the kind of characteristics that Linkletter has exhibited since joining the team in July of 2019 out of BYU. Rosario knew he was adding a talented runner to his roster a year ago, but said it's the fit that's making both the team and Linkletter stronger.
"The vibe of the team really fits his personality," Rosario said, "the city really fits his personality; you know he's a social being. He's made really good friends on the team, and enjoys coming to practice and joking around with the guys. I just think that's the kind of athlete he is -- he needs that fit, that camaraderie. He's found that here and he's thriving."
Friday was Linkletter's second knockout performance since the COVID-19 pandemic put the brakes on professional racing. Also during a intrasquad contest a few weeks ago, the rookie blazed up Mt. Elden and conquered the 5.3-mile course with a 37:29 time -- a new record on Strava. Linkletter said that considering he grew up taking on mountains in Utah, the Mt. Elden climb appealed to him.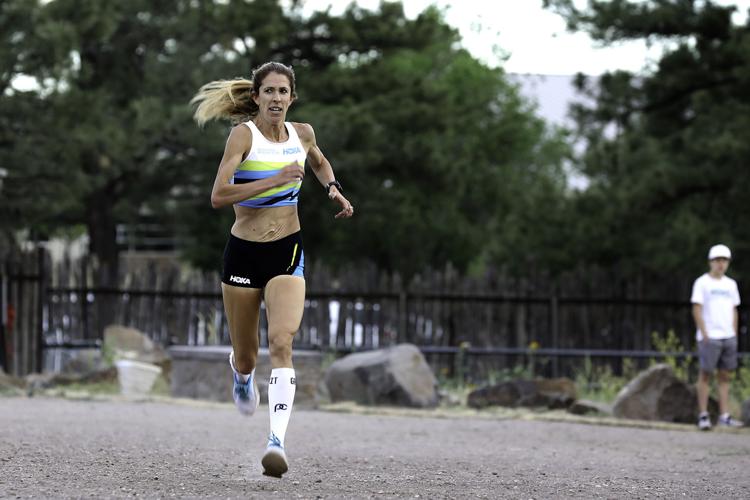 Linkletter wasn't the only NAZ Elite runner on Friday looking to show off some fitness, as the women's side beat the men's group and helped NAZ Elite sweep TEAM Boulder's groups that were taking on their own 2-miler in Colorado at the same time for a virtual race. Stephanie Bruce clocked a 10:19, Kellyn Taylor came in at 10:26 and Lauren Paquette produced a 10:29. Given a cumulative handicap, the NAZ Elite women knew they had to average about 10:28 to beat the men, who went first Friday.
"That's not easy," Rosario said of the women's feat.
Once the NAZ Elite runners saw the crowd that gathered to watch them race, the feel of the outing being a practice turned more into a race-day experience for everyone toeing the line.
"They got nervous because they haven't raced in so long," Rosario said. "So to put the uniform on and then have the people out there watching and photographers taking pictures, it was all of a sudden a big deal and they really performed well because of it, I believe that."
Performing well sums up Linkletter's first year with NAZ Elite, too.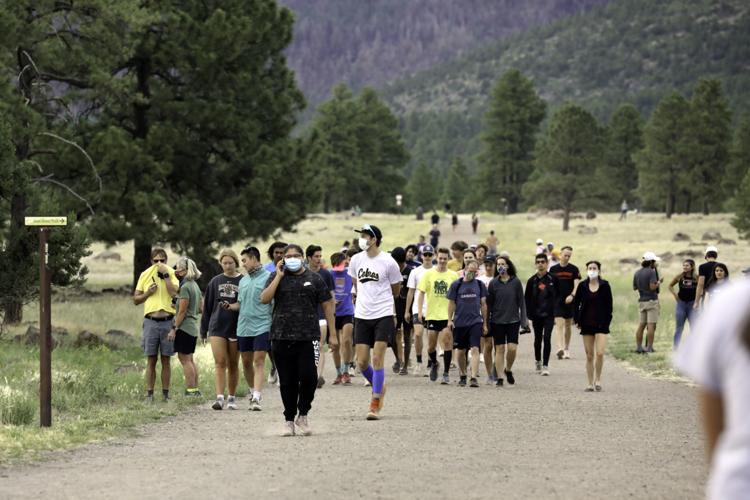 He started with a bang, taking sixth place in the 10,000-meters run at the 2019 August Pan Am Games, hitting 28:38.49. He ran his debut marathon in October in his home country of Canada and produced a 16th-place finish at 2:16:42. Linkletter went on to hit a "home run," as his coach put it, taking 15th place in the 2020 Houston Half Marathon in January.
Linkletter's 1:01:44 in Houston is just 16 seconds off the Canadian record at the distance.
"It seems like the new training system has worked for me, the culture of the team has worked for me, my training partners, and everything is jiving well. And Flagstaff has treated me really well," Linkletter said.
Linkletter said he knew his career was going to head in the right direction while training for Houston, a time when much of the team was fit and working toward the late-February Olympic Trials.
"We had some workouts where I just thought it was insane compared to what I had in the past, and I felt good doing it," he said.
It led to Houston being what he considers the most notable race of his rookie season. And the training is continuing to pick up the pace now that there are a lack of races to attend.
"We are doing the biggest volume and intensity I've ever seen in my life just over the last eight weeks," Linkletter said.
The perfect way to fill time for an athlete like Linkletter during a pandemic. 
Be the first to know
Get local news delivered to your inbox!