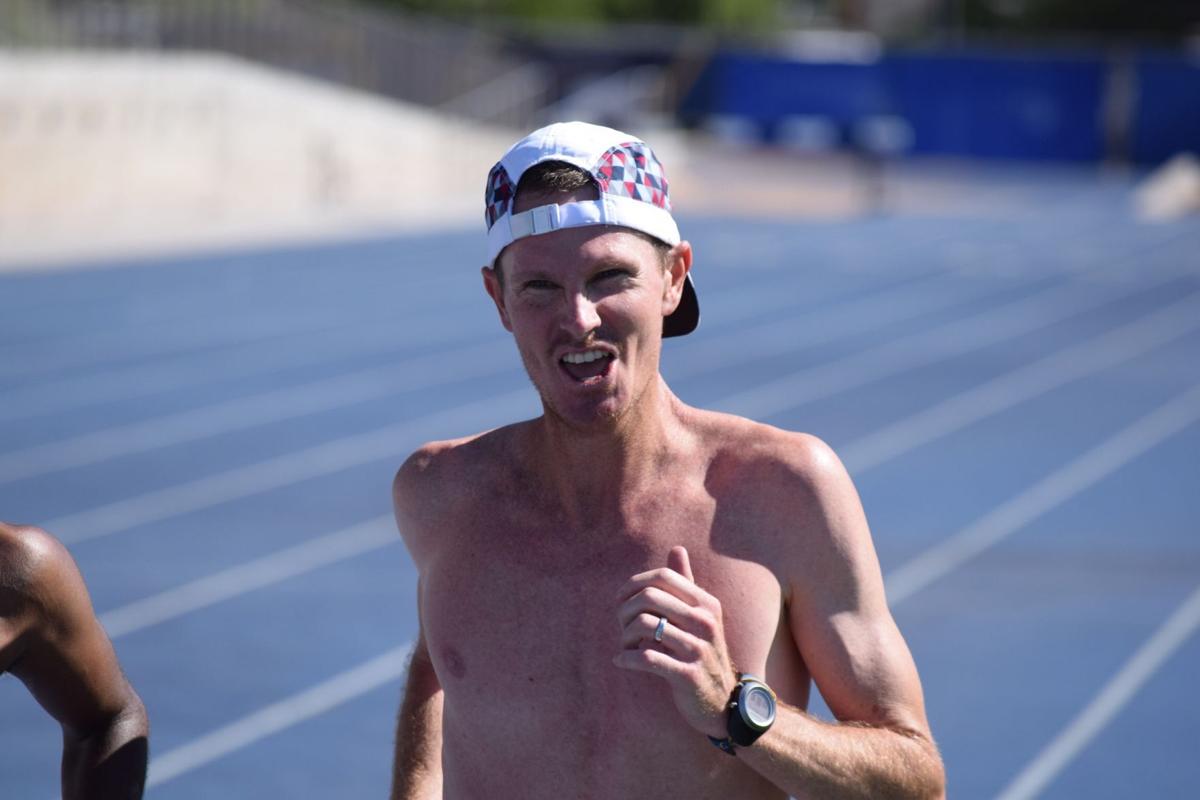 The transitions in Ben Bruce's runner career have been mostly smooth, gradual and evenly paced, hardly ever sprinting from one role to the next, and his current position with NAZ Elite and in the running world reflects his time spent in the sport.
Bruce, 38, currently works as a pacer for NAZ Elite, a team he has raced for competitively since its beginnings in 2014 and helped coach as a part-time assistant. The pacing position has been a way for Bruce to stay connected to his sport, the team and his wife, Stephanie, as she continues to pursue greatness in the profession.
It was also a way for him to stay on his own pace in life.
Around 2018, Bruce began acting as NAZ Elite's part-time assistant coach while also holding a spot on the roster. He gradually started racing less and coaching more as he saw his competitive outings plateau. Then he had a tougher decision to make.
NAZ Elite and its major shoe sponsor, HOKA ONE ONE, came to an agreement in 2020 on a new contract -- the most valuable and longest yet -- that is set to last through 2024. The contract allowed NAZ Elite to bring on a full-time assistant for the first time in team history, but Bruce didn't feel as if it was the right fit for him at the time.
He had family obligations to handle, and wanted to support his wife and the team, but felt he'd be wearing himself thin by taking on the full-time assistant position. He wasn't sure if he could devote the amount of time and energy needed to be a full-time assistant and make sure the athletes get the most from the staff.
"So it was sort of a natural progression," Bruce said on Friday of becoming a pacer, "moving to the role and to that being my official title, because it is something where I can feel like I am still very useful to the athletes of the team, but it's a lot less time-consuming for me because I don't have to be at the office."
Bruce also possesses a "knack" at pacing. NAZ Elite head coach Ben Rosario said Bruce can maintain an even pace split after split no matter the surface.
"If you tell him to run five minutes and 30 seconds for a mile for 10 miles, he'll be on within a second either way for all 10 miles," Rosario said. "He's just really good at it."
Bruce's pacing work over the years has been "a vital part" of NAZ Elite's success. He did nearly all of the pace work with the NAZ Elite women while they were training for the 2020 Olympic Marathon Trials, which team member Alphine Tuliamuk won. Before that, Bruce paced Tuliamuk at the 2019 Rotterdam Marathon, where she set her PR at the distance of 2:26:50. He also was a pacer for the 2019 Chicago Marathon, where he got the chance to pace his wife's group on her way to a PR of 2:27:47 and a sixth-place finish.
In addition to Bruce's "innate ability to pace himself," Rosario said he takes his job very seriously.
"He doesn't just get up in the morning, have a glass of water and head out to the day. When he's doing a pacing job, he treats it like he's racing. He gets mentally and physically prepared," Rosario said. "He's a professional."
Bruce has been a pacer for some big events over the years, including working The Marathon Project in December and the HOKA Project Carbon X 2 100K record attempt in January when Jim Walmsley ran 6:09:25 and just missed the world-best mark of of 6:09:14. Sometimes he acts as NAZ Elite's pacer or he is hired by an event to do the job.
"I think the more you do it, and if you do it well, then word kinda gets around to athletes and agents, and if they have an athlete who's looking to do something big, they are going to look for pacers who have a good reputation," said Bruce, who was a runner-up at the national outdoor championships in 2010, "and I think I have developed that reputation now."
A veteran in the sport, Bruce knows how important good race conditions are to runners looking for speedy times. In addition to the course, weather and field, pacers are a big part of the equation of a good race.
"Like when I was in my prime, it was great when a race was set up well or they had a really fast course; there are a lot of things that can go into running fast," Bruce said. "So, I guess, using the knowledge I have from being in the sport, knowing different race courses and how different conditions can affect things, just trying to keep the people I am pacing very calm and relaxed can go a long way."
That's not an easy job, as pacers often feel the weight of responsibility that comes with helping runners succeed at the highest level of the sport.
Bruce has yet to experience a bad pacing outing, but Rosario said his team has experienced it. Some pacers, Rosario said, go too fast because they are too nervous and don't want to let anyone down, but Bruce has shown he can handle the nerves and make the right decisions as the race unfolds.
"Some people are so nervous about being slow, they end up running fast," Rosario said.
Bruce has a track record for consistency. He once competed in 17 straight USATF Outdoor Track Championships during his pro career and he also produced a streak of 16 consecutive years breaking 9 minutes in the steeplechase.
"When I go into a race that I am pacing, I take it as if I am racing, because I know there are people depending on me," Bruce said.
While some runners are great at shifting gears during a race to earn a win, not all athletes in the sport are built for pacing.
"Other runners are really set and really good at finding a pace and locking in at that pace," Bruce said. "If I was terrible at what I did, I doubt I would be doing it."
Bruce does a lot of pace work with the NAZ Elite, but also shifts over the men's side when needed, requiring him to set different paces on different days and workouts. His work during team practices helps him be prepared for when its time to work a race.
"I feel like I am constantly moving through different paces, all the way from a 4-minute-mile pace to a 5:50 pace, and everything in between," Bruce said.
The work also keeps Bruce, who is not looking to retire from all aspects of running yet, in great fitness, which he takes advantage of from time to time.
For instance, while helping to get the NAZ Elite women ready for the Marathon Trials, Bruce tested his fitness at the 2020 Mesa Marathon and came away with the win in 2:21:09.
There's more on his racing bucket list he wants to accomplish, but for now his focus is on helping NAZ Elite make noise at the Olympic Trials.
"He has fun and he helps the athletes and the team, and (assistant coach Jenna Wrieden) and I both still look to him for advice and counsel in terms of a coaching capacity, but he's just not doing as much as he has the past three years," Rosario said.