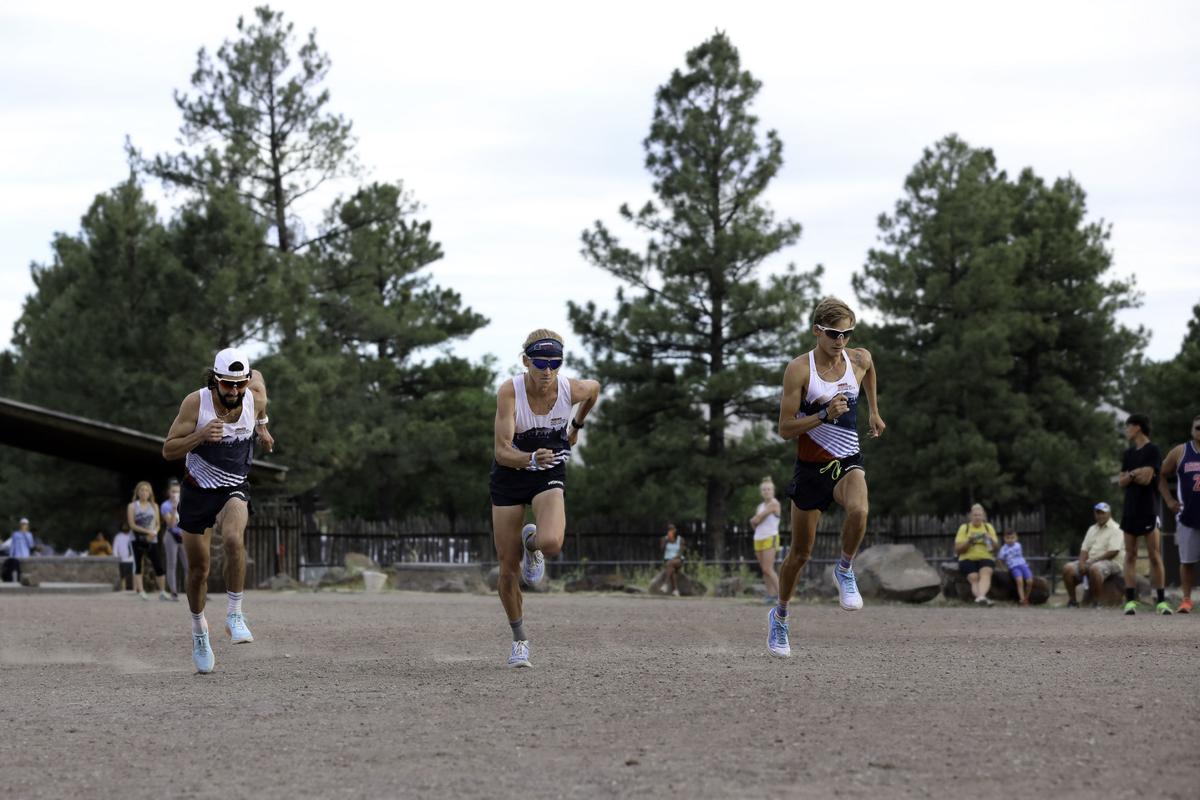 Does the pandemic ever have you feeling slow some days at work? Not even wanting to clock in?
NAZ Elite runners have worked hard to keep pressure on the pedal ever since the coronavirus pandemic began, fighting off the negative emotions that come with the cancellations of races and staying focused on training for the chance to race again eventually.
The determination paid off over the weekend in California, where four NAZ Elite athletes out of the six total who raced at the Under Armour Sunset Tour meet set personal bests.
On the women's side of the 5,000-meter event Saturday, Lauren Paquette, Kellyn Taylor and Stephanie Bruce went 1-2-5, helping NAZ Elite put an exclamation point on the backend of the racing season -- which isn't quite over yet for the team.
"Since the pandemic began, it's just been so difficult for people in sports and people in all walks of life to stay motivated about their job, doing their jobs," NAZ Elite head coach Ben Rosario said Wednesday over the phone. "And those three have been extremely motivated all summer long and kind of were always operating under the assumption that at some point they would get their opportunity for all of that hard work to pay off, and it did. The opportunity presented itself and they took full advantage."
Paquette's gold finish also resulted in a new team record and PR, as she finished in 15:10.01.
"Honestly, on Saturday, I think we were all just so grateful to have the opportunity," she said Wednesday during a phone interview. "We all three, I think, are capable of running much faster than our times Saturday, just because of how the race went; it didn't quite work out the way we thought it would."
Paquette's recent transition to NAZ Elite was strange considering COVID-19's timing. Strange, yes, "but she never really let it bother her," Rosario said. "She came in in the winter, started off slowly, gradually, got used to the altitude, got used to the team, got used to the workouts, and by the spring she was really rocking and rolling and ready to race, but everything was being canceled."
Paquette seems to have gelled quickly with the team, reminding Rosario of the days when Bruce and Taylor -- who also set a PR Saturday at 15:11.50 -- were training with teammate Aliphine Tuliamuk for the Olympic Team Marathon Trials, which Tuliamuk went on to win.
"You just bond in a way that is very special when that's the case," Rosario said. "Hard work and the way we train. We train hard, so going through those battles bring you closer together."
Paquette said one of the biggest reasons she joined NAZ Elite was to have teammates again after training solo for six years prior to making the move. She wanted to work out with teammates, feel like she was part of a group and use that to keep her motivation up.
"The pandemic was tough to deal with," she said, "but I still felt that I was in a better spot mentally. Even though we were not meeting for 10 weeks or so, I still felt part of the team. I haven't felt a lull in motivation because of the pandemic."
But, she said, it was ironic to make a move across the country to be with a team only to be forced into temporary isolation due to the pandemic.
She's learned during her career, however, that "when you have the opportunity, you have to make the most of it you can."
The three men that NAZ Elite sent to Saturday's race in California also have spent many miles together during training during the season. Although they did not finish as high as the women did, Sid Vaughn, Rory Linkletter and Nick Hauger put up a fight and a couple personal bests, too. Vaughn finished seventh with a PR at 13:53.47, and Hauger posted a PR of 13:56.47 while taking the final spot at ninth place -- with Linkletter finishing bookended between his teammates in 13:54.80.
Edward Cheserek, sponsored by Sketchers, took first on the men's side of 5000m in 13:21.78, with Sam Atkin of Great Britain the runner-up at 13:23.38.
Now the team is focusing on another intrasquad event that is set to take place on Tuesday in Santa Barbara, the location of HOKA ONE ONE's headquarters. Linkletter and Matt Baxter will look to break records in running as far as possible in the span of an hour.
Linkletter will have to run more than 12.383 miles in one hour to break his native country of Canada's record. Meanwhile, Baxter will have to run more than 12.54 miles in one hour to break the New Zealand record. The team is also sending a squad of women to compete in a 10,000m event while visiting Santa Barbara.