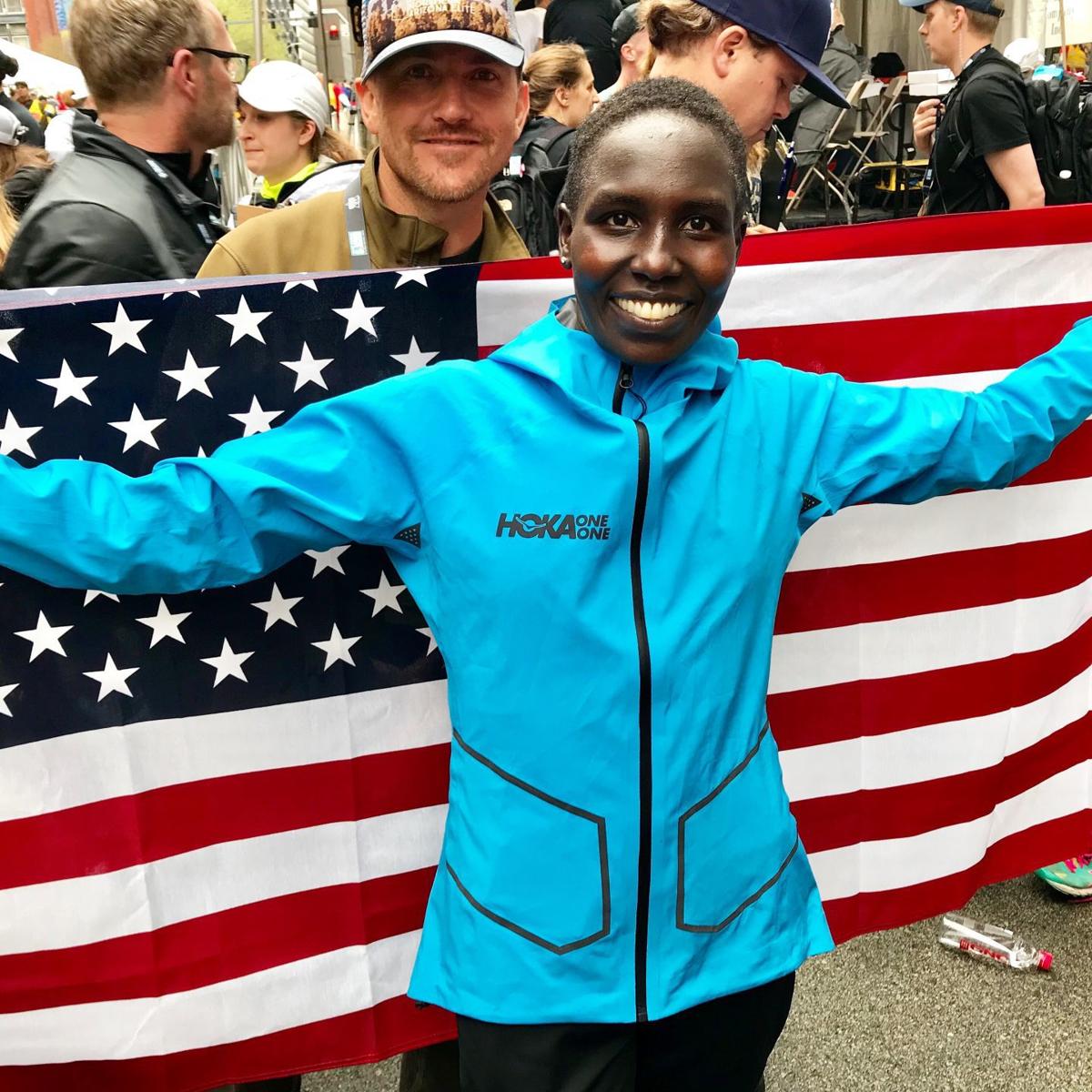 Coming off a title-winning performance in the half marathon less than a week ago, Aliphine Tuliamuk had an idea of how best to tackle a 25K course that's becoming very familiar to her.
The newest member of the NAZ Elite roster carried out her plan for the USATF 25K Championships and clocked a 1:25:34 in Grand Rapids, Michigan, on Saturday, winning her third national title in as many years in the event and ninth overall.
"She wanted to run with the pack for seven or eight miles until there are more hills and then get away with it, and it was perfect execution of her own plan," said NAZ Elite head coach Ben Rosario. "This was her third year in a row on the course, so she knew where she could get away from people."
On Sunday in Pittsburgh, Tuliamuk, who has been working her way back from a nagging back problem, took gold in the USATF Half Marathon Championships before competing in the race that started her collection of titles. In 2016, Tuliamuk earned her first-ever national championship in the 25K, and she won it in 2017 along with three other titles that year.
"Aliphine, she's on a roll right now, she's feeling it," Rosario said.
So is Scott Fauble, who came up just short of helping NAZ Elite reach its goal of nabbing two titles in one day. He was edged toward the end of the race by Sam Chelanga, whose 1:14:52 was just enough for gold over the runner-up's 1:14:55.
It's been a busy year for Fauble, who on May 3 took 10th in the Payton Jordan 10,000 meters in 28:13, his second-best time for the distance. He's also put up two personal records so far this year in the half marathon and 5,000 meters.
"He came with a lot of confidence and wanting to push the pace and be aggressive from the gun," Rosario said.
Meanwhile, Tuliamuk entered Saturday feeling emotionally drained from her Sunday victory. Her focus never left her as she held off Emma Bates, who went 1:25:55 for silver, and Sarah Crouch, a runner out of Flagstaff who got bronze on a 1:27:03.
"I was really tired, but more emotionally from so many high emotions last week, and that was like my first good race back so there were so many emotions," Tuliamuk said. "So I was just exhausted but I went into today with just the soul goal of winning it, not the time or the race within the race."
She admitted she was taking a chance in running the race just days after a half marathon full of fast runners and weeks after getting her body back to 100 percent. In fact, she said she's also happy she can just run again at  level needed to win titles after dealing with her hurt back.
"I realized last week I was fit and I was happy with that performance and definitely with today's," Tuliamuk said.
The decision to stay in the same time zone after Sunday's race instead of traveling back west for a couple days had its ups-and-downs as well for the runner. She said home is normally where she recharges after a demanding race, but taking the stress of traveling out of the equation paid off.
"I feel like I have been away from home a long time," Tuliamuk said. "Being home is how I recharge, so not being there drained my energy, but physically I feel fine. So it'll be nice when I get to Flagstaff, I will be fine and I'll shut down for a little bit and recharge."
Both Tuliamuk and Fauble will run another big race this month when they compete in Colorado's Bolder Boulder 10K on May 28.
Be the first to know
Get local news delivered to your inbox!