As Americans across the country protest police brutality and racial injustice, Northern Arizona student-athletes want to make their voices heard as well.
Many attended the protests in Flagstaff or back in their hometowns, peacefully protesting and calling for justice in the aftermath of the deaths of George Floyd, who died at the knee of Minnesota police officer Derek Chauvin, Breonna Taylor, who was killed in her residence by Louisville police officers, and others across the United States. Silence isn't an option for these athletes, who want to make others aware of what black Americans face each day.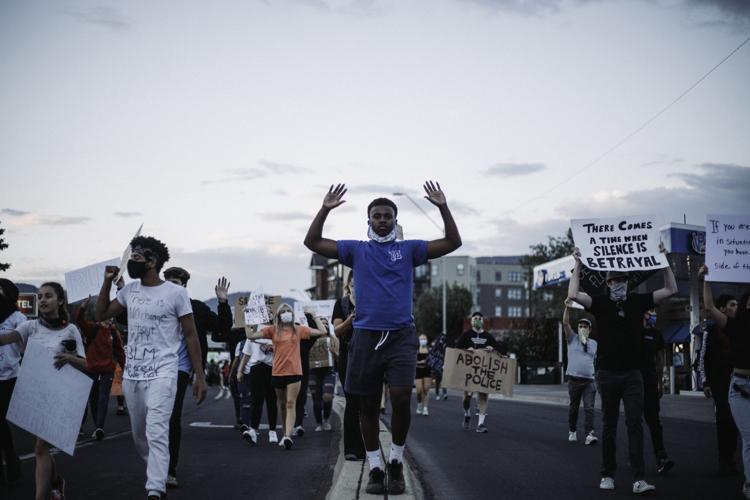 "Overall, when I've lived my life -- I am 20 years old now -- there have been constant killings, constant depression; that's been going on way before I was even born," women's basketball player Khiarica Rasheed said on Friday. "Being born as a black person, that's the reality we live in. It comes with being black to have to deal with racial injustice, racial oppression, all of this."
College athletics generally carry a more diverse population than the rest of the student demographic of their college campuses, with Northern Arizona being no different. According to NAU's institutional research and analysis and enrollment data, as of spring 2020, 55% of students at NAU identify as "white," while just 3% identify as "black or African-American" -- with another 5% who identify with "two or more races."
The women's basketball team, on the other hand, has 12 players out of 15 who aren't white.
"Being an athlete comes with a lot," Rasheed said. "For me, it's important to step up and talk when I feel uncomfortable. … We see the most color when we are with our athletes. How could it not be important to talk about this?"
Voices heard
For some, speaking out and showing support as a non-black person of color is their preferred choice. Caitlin Malvar, a point guard for the women's basketball team, said she understands that she has a platform to speak on what is right.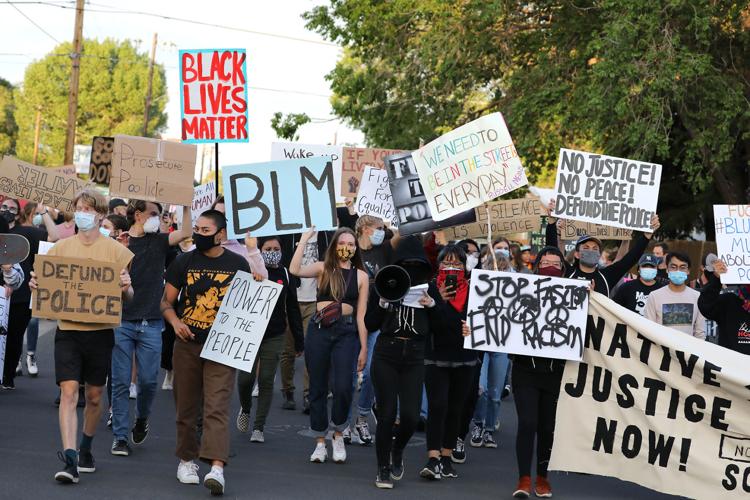 While the platform she has may not be the biggest, as Northern Arizona competes at the FCS level for football and is considered a low mid-major in basketball, Malvar still thinks she can make a difference in the community and her own family.
"There's a lot of black people that I hold near and dear to my heart," Malvar said Friday. "It's unfortunate and really frustrating, and I hate that the black community is treated so unfairly, so unjustly, and that the black community is being murdered at a drastically higher rate than any community in our country. It is important to me that I take a stand, that I support my friends and family and teammates and coach. It is important to me, as a non-black person, that I show my support. I do what I can to be a part of the movement and make change."
Brandon Lawless, a defensive lineman on the football team, grew up seeing his black adoptive father face injustice for the color of his skin. Lawless, who is of Latinx and white descent, credits his mom and dad for their work in instilling his values: that he should always fight for what he believes in.
"I've learned that white privilege is real and I am going to use my white privilege to speak up for what's right," Lawless said Friday. "My parents have always told me to do the right thing and I have this platform of being a Division I athlete, a platform of my content creating, and as long as I am able to spread knowledge and word of what's really going in this world I will always do it. … Being more than an athlete is always something I have had pride in."
Lawless has seen racial injustice in simple ways, he said, such as seeing police officers change their tones and demeanor when seeing Lawless with his black friends growing up in southern California.
Lawless was out in the protests in Flagstaff along with Malvar this past week peacefully showing support. Lawless, who has made a name for himself with his video and photography work, documented the protests and posted photos to his Twitter page.
He said he believes it is important to not just speak, but to document and share the peaceful protests, so that others can see what is going on from a different view.
"I feel like people who have that platform need to show everything, there is no censorship," Lawless said.
A sentiment is shared by both Malvar and Rasheed: They hope to continue their fight. Malvar and Rasheed don't want the movement to fade out again, and called on people of all races to help keep the momentum going by remembering what black Americans go through.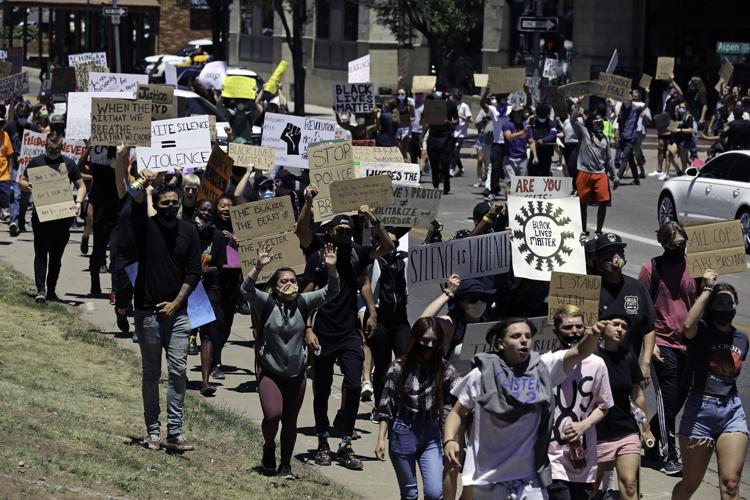 "Try to consciously always think about it, because we always have to think about it," Rasheed said. "Have those conversations in your household with your friends, with your family, with your community, with your team, whoever you are around. Call stuff out when it is needed. Talk about it when you don't feel like talking about it because black people don't always feel like talking about it, but we have had to. Make sure you step outside the bubble of whiteness, and privilege."
Making a statement
Earlier this week, the women's basketball team put out a video statement showing each player and coach speaking out for Black Lives Matter.
The video was sent out on all the team's social media pages, as Rasheed took the lead in producing the team's collaborative message. She, and the rest of the team, wanted to make a strong stance, and show the NCAA and the Flagstaff community where they stand.
"That video was important because we don't want to be silent as a program," Malvar said. "We don't want to be silent as individuals. We want to make it very clear and obvious to the rest of the NCAA and our community here in Flagstaff that we support the movement and we want to make a change. We don't want to be people that just say we support, then do nothing else."
Rasheed wanted to give her teammates a platform to share what they wanted to say, and felt it was best to make it personal by showing their faces -- rather than a written statement.
"Everyone shared their thoughts on how they are feeling right now -- just open-ended, however you feel, just let me know and say it," Rasheed said.
The strong statement is a different course than what the team took in 2016-17. Headed by then-interim head coach Robyne Bostick -- who answered to former athletics director Lisa Campos, now at the University of Texas at San Antonio -- there was some pushback on protesting.
Former player Brittani Lusain chose to kneel during the national anthem, much in the way then-49ers quarterback Colin Kaepernick did at the time. She faced resistance from the now-former athletics administration, as well as boosters, according to a report by Zach Worhack -- in which Lusain and Bostick shared their stories of what happened.
Now, head coach Loree Payne wants to empower her athletes with the chance to talk and make change, not silence them.
"I think that is the most important thing. People need to be heard, not silenced and if you can help people understand the meaning behind the action, it is way more powerful," Payne said.
Coaches speak out
Payne, along with other coaches from Northern Arizona such as head football coach Chris Ball and men's basketball coach Shane Burcar, made statements on social media this past week supporting their athletes and expressing their feelings.
Monday, on her Twitter, Payne posted: "As we prepare for another virtual team meeting, I continue reeling in the words that best encompass the vast emotions over the past week. Sadness, frustration, anger. I'm heartbroken for a group of people who are involuntarily forced to live a different existence solely due to the color of their skin. I'm heartbroken for my family, my players and my staff who see and live this inequality every day. Racial injustice must stop and we need to do everything in our power to promote and be an agent for change in our society. We need to be intentional, proactive, empathetic, empowering and supporting. Enough is enough. I hear you. I see you. I am with you."
On Tuesday, Burcar, posted the following on his Twitter as well: "I am proud of the young men who call me 'Coach.' The truth is I have always learned more from our players than I could possibly teach them. I do not have the right words to say. I don't pretend to have the answers. But one thing that's certain is we want to and will be part of the change. We expect our young men to be more than basketball players. Community service is one of the staples of our program. Moving forward, our actions strive to ensure all Black Lives Matter. We want to educate individuals and communities. If we do not succeed the first time, our efforts and attitudes will persist in making this a reality. Years from now, people will know NAU Basketball as part of the inequality change."
On Monday, Ball, who Lawless praised for his willingness to let the athletes speak out, posted to Twitter: "Having a hard time (wrapping) my head around all of this. How did we get here? Where are we going? The injustice and lack of accountability is shocking. Let's band together and make a difference. Character, hard work, ownership, present. Let's start there."
For Payne, she said Friday that she feels coaches have a responsibility to work with their athletes and find ways to allow them to speak up.
"It is a cornerstone of what we do in coaching," Payne said. "You look at our team and we have 12 players out of 15 that are minority. So it's something that as a coach, when you choose this profession, you understand the educational part and you understand your responsibility as a leader of a program. … In times like these this is the opportunity for us to put that into action."
Be the first to know
Get local news delivered to your inbox!