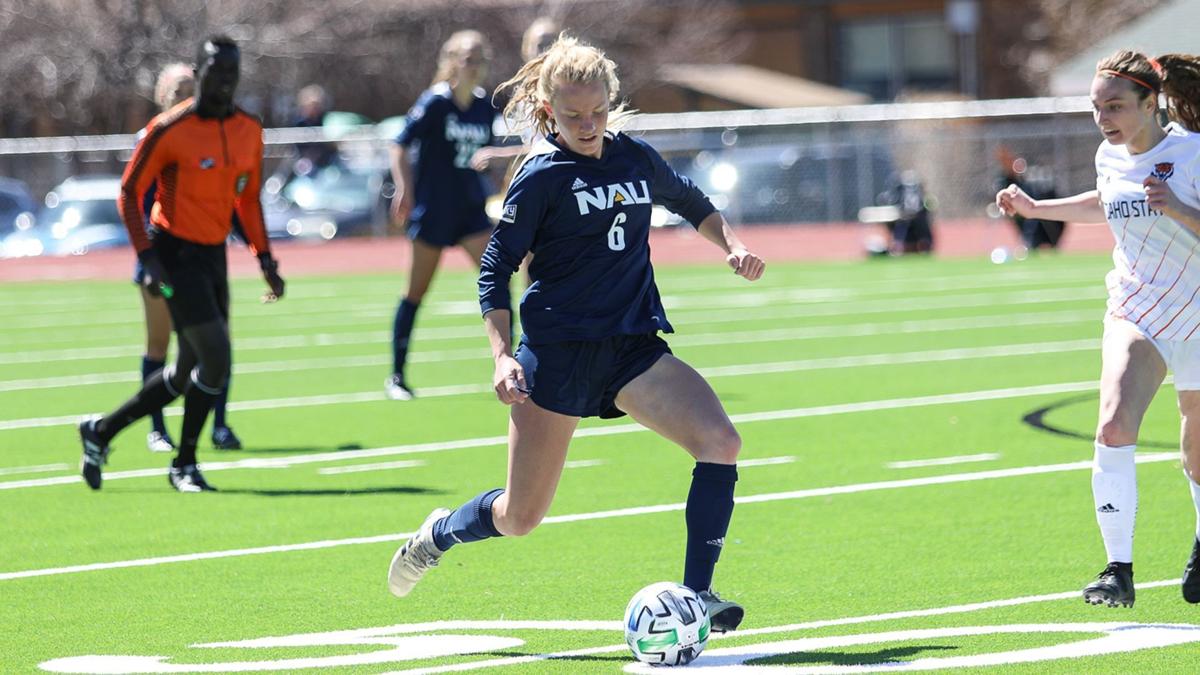 After much anticipation, Northern Arizona soccer head coach Kylie Louw announced the fall season schedule Thursday, a month ahead of kickoff for the Lumberjacks.
Northern Arizona will begin the season on the road as it heads to play Utah State on Aug. 21 and Utah Valley, on Aug 23. Northern Arizona's history with Utah Valley dates back to 2004, when the Lumberjacks won the first matchup between the teams and went on to a loss in 2016. The series currently sits at a record of 3-1-1 in favor of Northern Arizona.
The Lumberjacks then make their way to play two Pac-12 teams in the University of Arizona on Aug. 27 and Oregon on Aug. 29. It will be the first meeting between Northern Arizona and Oregon.
"My job is to put the players in a position to feel prepared," Louw said. "They're going to understand the quality of games to expect going into conference play and our nonconference does exactly that, prepares us."
Due to COVID-19, the Lumberjacks have not had fans in attendance since 2019. Beginning their seven-match home slate, the Lumberjacks will welcome fans for contests this season.
"It's incredible. The opportunity to play in our home stadium again with the people that love us and support us is really what we've been waiting for for the last 16 months," Louw said. "It just gives us more energy and more passion, so we cannot wait to have our supporters back."
NAU hosts Grand Canyon University on Sept. 3. The Lumberjacks' history with the Antelopes goes back to 1997, with Northern Arizona holding a record of 8-2-0.
The Lumberjacks will then venture to Phoenix, where they face off with New Mexico on Sept. 9 and Denver on Sept. 11.
Arizona Christian will then head up to Flagstaff for the Lumberjacks' second home match and final nonconference date in Flagstaff on Sept. 16. Northern Arizona will finish up their nonconference matches in St. George, Utah, against Dixie State on Sept. 19.
Northern Arizona will host their first Big Sky Conference matches on Friday, Sept. 24, against Montana, and on Sunday, Sept. 26, against Northern Colorado.
The Lumberjacks are slated to end the regular season on the road at Sacramento State on Oct. 22 and Portland State on Oct. 24.
The 2021 Big Sky Conference Championship is scheduled for Nov. 3-7. Northern Arizona has won the championship three times in school history and qualified for the tournament the last seven seasons, making an impressive run last season with a heartbreaking loss in the championship, as it was canceled due to COVID-19 protocols.
"I think the opportunity to play Power Five teams and NCAA Tournament teams will help our team measure where we are at," Louw said. "Our goal is to have success and if that means winning a championship and being able to play in the tournament, that's exactly where we want to be. Our team looks different this year, our culture has improved, our mentality has improved, our thought processes have improved. So I'm really excited to watch how our players respond to the strength of our schedule."
Track and field
The men's and women's programs were honored by the U.S. Track & Field and Cross Country Coaches Association their academic achievements. Both Lumberjack squads were named All-Academic teams and a total of 17 student-athletes were honored as All-Academic athletes.
Athletes must post a cumulative grade point average of a 3.0 or higher to be recognized for a USTFCCCA All-Academic Team award. Both the Lumberjack men (3.07) and women (3.46) surpassed the mark.
Meanwhile, in order to earn individual All-Academic distinction, a student-athlete must have a minimum cumulative GPA of 3.25, completed at least one year (two semesters or three quarters) at their institution and must have participated in any round of the NCAA Division I Outdoor Track and Field Championships (the preliminary championship competition and/or the final championship competition) or for the multi-events, must have finished the season ranked within the regional top 48.
On the men's side, Cade Burks, Caleb Easton, Blaise Ferro, Parker Joens, Ryan Lanley, Theo Quax, Ryan Raff, and Nico Young were each awarded All-Academic distinction.
Burks (1500m), Easton (1500), Joens (SP/D), Lanley (800m), Quax (1500m), and Young (5000m) competed at the West Regional meet, finishing 23rd, 47th, 28th, 36th, 40th, 29th, and 17th respectively in their events.
As for the women, Maggi Congdon, Alaina Diggs, Jessa Hanson, Melanie Loff, Mikayla Malaspina, Bryn Morley, Jeralyn Poe, Delaney Rasmussen, and Eniko Sara all earned USTFCCCA academic recognition.
Congdon (800m), Diggs (SP), Loff (800m), Malaspina (5000m), Morley (1500m), Poe (10000m), Rasmussen (5000m), and Sara (JT) respectively finished 28th, 46th, 16th, 29th, 27th, 14th, 33rd, and 19th in their events.
Hanson placed 12th at regionals, snagging a slot at the national meet, and finished her season as 11th in the country.