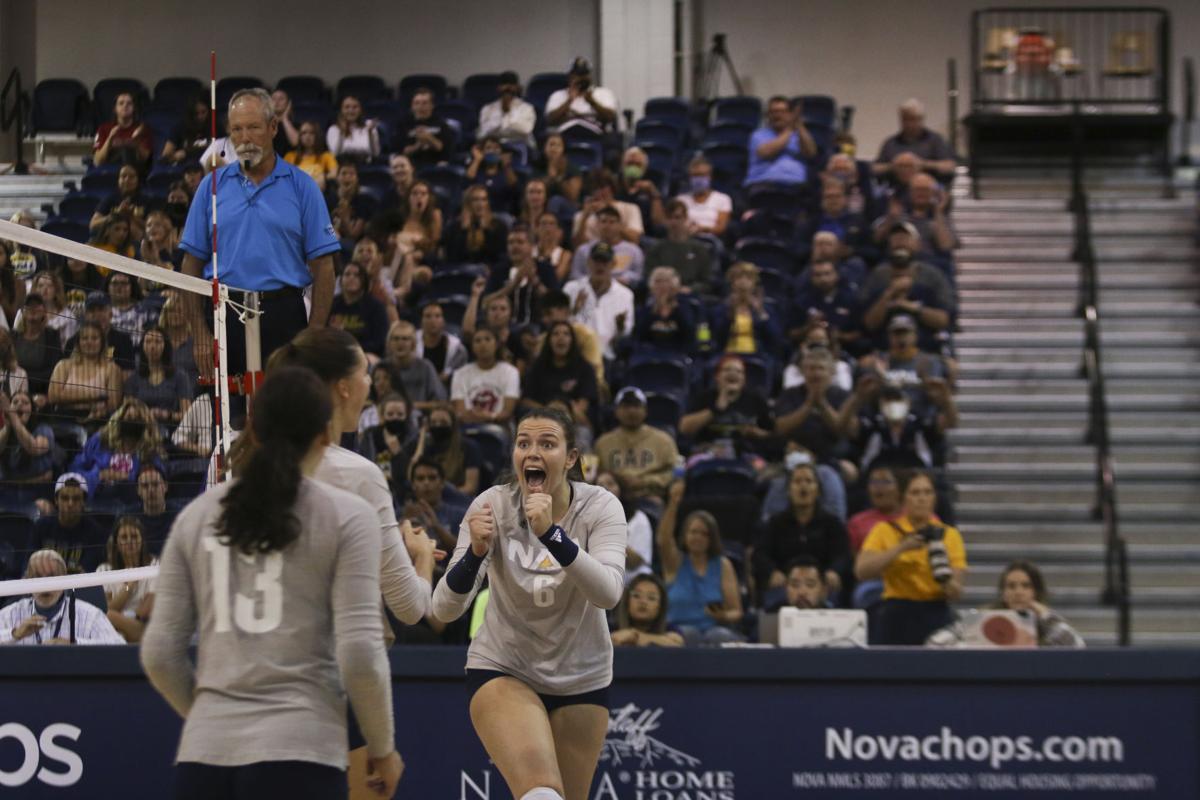 The Northern Arizona volleyball team put together their most complete match of the season on Thursday, opening a two-match week versus New Mexico with a 25-13, 25-22, 19-25, 25-18 victory in the Rolle Activity Center. The Lumberjacks hit .310 and recorded 67 digs -- both season-highs -- in moving to 2-6 overall.
"We played with composure and we're still not perfect yet -- there were segments especially in the third set that we lost control of our side and gave them a lot of momentum -- but we're getting there," said coach Ken Murphy. "We're really starting to figure out how powerful it is when we play our style of volleyball and commit to it. It made us playmakers today and we made a lot of good digs and a lot of good blocks when we needed them and gave us confidence that we can make those plays when we need to."
Senior Aubrea Bandfield (29 assists) and sophomore Kate Hatch (20 assists) orchestrated the Lumberjacks' most efficient offensive performance so far, as the Lumberjacks hit .517 in the opening set and .431 through the first two games in building a 2-0 lead.
While the Lumberjacks' top two kill leaders -- junior Taylor Jacobsen and sophomore Lyla Hollis -- combined for 28 kills, NAU received significant offensive output from the right side and the middle on Thursday. Senior Ryann Davis logged her first double-digit kill match of the fall with 11 while sophomores Jordan Elder and Savannah Bloom totaled 14 combined kills on identical .545 hitting percentages.
"(Jordan and Savannah) did what they do in practice," Murphy said. "It's what we envision for our team. We want to be a balanced team offensively. Ryann played really well on the right today and produced a lot of offense for us, and that allowed us to be pretty tough to defend. That's just a glimpse of what we're going to be as we go through the season."
Facing a New Mexico team that entered with an 8-1 record and seven three-set sweeps to its name, Northern Arizona jumped all over the visitors in the first set. Yet despite the lopsided set score, it was actually close to start as the teams were locked up at 10-10. At the fifth and final tie of the opening stanza, though, freshman Sophia Wadsworth was the first of six Lumberjacks to record a kill during a game-breaking 10-1 run.
The 10-1 run was part of a larger 15-3 set-closing blitz as Northern Arizona rolled to a first-set victory. Jacobsen put down five of her match-high 16 kills in the opener to lead an offensive assault against the nation's leader in opponent hitting percentage (.070) entering the evening.
New Mexico bounced back from hitting -.036 in the first set to post its best hitting percentage of the night (.289) in the second, although it was not enough to prevent the Lumberjacks from taking a 2-0 lead. Although sophomore Millie O'Ketter spurred an initial 4-0 lead with a pair of aces, the Lobos eventually tied it at 15-15 and held a lead as late as 22-21.
Trailing by one, Jacobsen evened the score at 22-22 with a kill and New Mexico followed with consecutive errors before Jacobsen capped a 4-0 set-clinching run with another kill by Jacobsen off the block.
New Mexico grabbed the momentum in the third set with a 6-0 run that gave the Lobos an 11-6 lead they would not relinquish despite a valiant late rally by the Jacks. Facing a deficit as large as six, the Lumberjacks rattled off four straight, including a pair of blocks by Elder, to pull within 21-19. However, New Mexico scored the last four points to prevent Northern Arizona from securing its first sweep of the campaign.
In the fourth, the Lumberjacks seized control with Bloom at the service line as she served the Blue & Gold to eight straight points to take a commanding 13-3 advantage. The Lobos refused to go quietly though, immediately cutting the deficit in half with five consecutive points of their own.
The final game was never really in doubt though as New Mexico would not get any closer than four the rest of the way. Davis closed the match with five kills on seven swings and totaling three of her five blocks in the fourth set alone.
"We've been focusing on being one unit and controlling our side because when we focus on our style of play, we're pretty unbeatable," Davis said. "The biggest part is to have fun. When we control on our side, communicate and have fun, we're going to get outcomes like this all the time."
As impressive as Northern Arizona's offense was, the Lumberjacks' defense held the Lobos to a .184 clip -- well below their season percentage of .268. NAU posted more digs than its opponent (67-59) for the first time this season and its 9.0-7.0 block advantage was just the second of the fall.
Elder and Davis each posted five blocks, while Bloom was in on four herself. Hollis led the team with 14 digs and was one of three with 10 or more and five with at least eight. Hollis (12 kills, 14 digs) and Bandfield (29 assists, 11 digs) both notched double-doubles.
"I think we're starting to look like NAU," Murphy said. "We got into a rhythm today when Millie was digging a lot of good balls in the back and both Kate and Aubrea had a lot of good plays against their middle. We looked under control the way we want our defense to look and held a really good offensive team to a reasonable number."
The Lumberjacks and Lobos will play once more on Saturday in the Johnson Center in Albuquerque. Saturday's match will be the last on the non-conference slate before the start of Big Sky play next week.