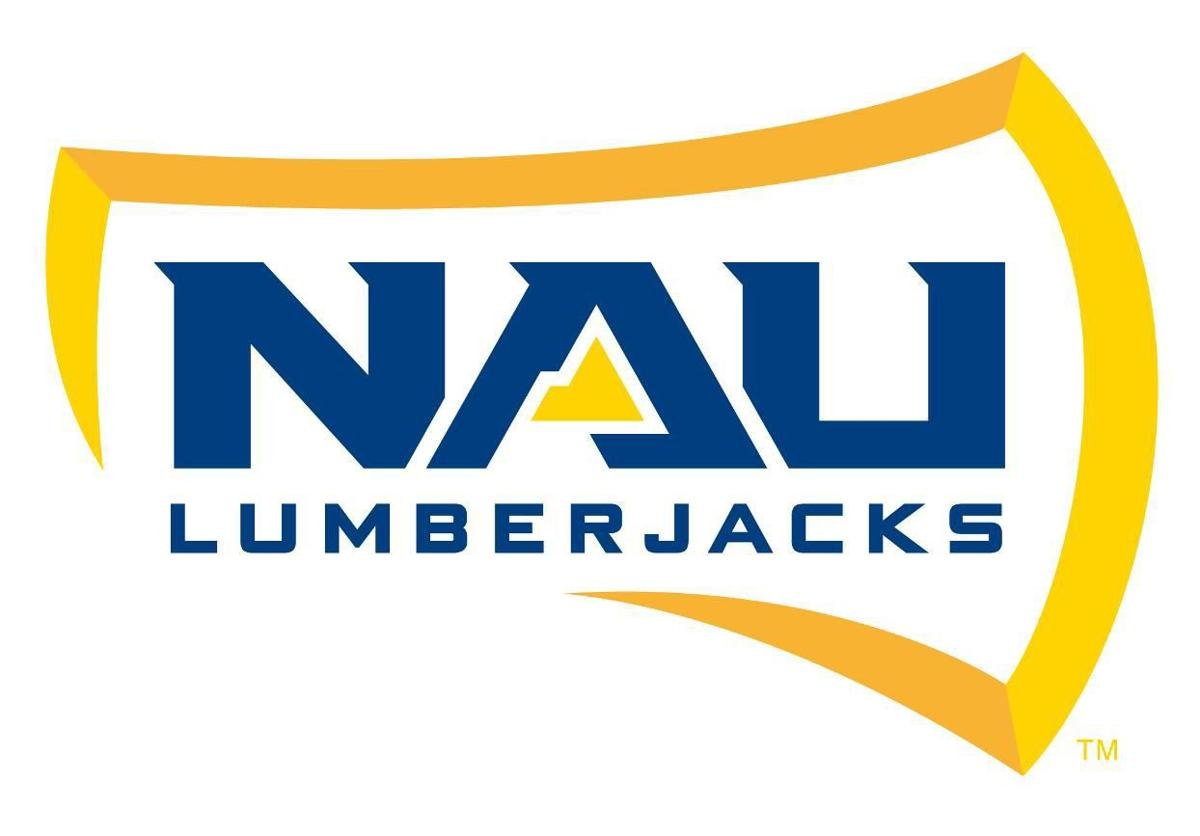 Both of Northern Arizona's seniors had a hand in clinching points during Saturday morning's Big Sky Conference women's tennis semifinal against the Portland State Vikings, sending the Lumberjacks back to the title match.
Senior Ellie Millard, partnered with sophomore Mimi Bland, closed out the No. 1 doubles match on her serve to give the Lumberjacks the early lead, and senior Madi Moore finished off the 4-0 victory with her 6-4, 6-4 win on court six in Phoenix.
With the win, the Lumberjacks (13-4) will face off with the Weber State Wildcats (8-10) for the second time in two weeks. Weber State beat Big Sky North Division Champion Eastern Washington, 4-2, to advance to the finals, setting up the rematch with Northern Arizona. The Lumberjacks won, 6-1, in the teams' last meeting on April 17.
Millard cruised to a 6-1, 6-1 victory at No. 3 to put the Lumberjacks ahead 2-0.
Gina Dittmann continued her impressive freshman season for the Lumberjacks with her first career postseason victory, 6-3, 6-3, over fellow freshman Capucine Sanoner at No. 1, putting the Lumberjacks on the brink of victory.
Lumberjacks freshman Ava Neyestani was close to a win of her own, leading 6-4, 4-1, but Moore closed out the match with her win. It was the second time in as many matches that Moore clinched the team victory, also doing so on court six against Grand Canyon in last Friday's 4-0 victory.
"Similar to Ellie, she showed some experience and grit on the court," Lumberjacks head coach Ewa Bogusz said of Moore. "She knew exactly what she had to do and she executed it 100 percent. She just worked hard and made every point hard for her opponent. That was how she won that match today. I couldn't be happier that it was her again."
A 6-1 victory for Dittmann and Elinor Beazley put the Lumberjacks in front before Portland State evened the score. Bland and Millard found themselves behind, 5-4, just a game away from a loss.
Bland won on serve to even the score at 5-5, earning the deciding point of the game, before breaking to go up 6-5. Millard closed it out on her serve to win the set 7-5.
"They just showed so much experience in crunch time," Bogusz said. "They elevated their tennis level and elevated their energy. The two together, they played amazing."
The Lumberjacks' conference title defense against Weber State begins at 8 a.m. Sunday morning at the Phoenix Tennis Center.
Men's tennis
Riding dominant doubles play while in Phoenix, the Lumberjacks cruised past the Portland State Vikings Saturday for a berth in the Big Sky Conference championship match.
Maciej Ziomber and Chris Steele opened the day with a quick 6-1 victory at No. 3 doubles. Dominikl Buzonics and Alex Groves locked up the overall doubles point at No. 1 with a 6-3 win. Steele and Ziomber carried over the momentum from their victory into singles with both winning in straight sets before Eban Straker-Meads locked up the 4-0 win.
"We always talk about it, it's the momentum," said Lumberjacks head coach Maciej Bogusz. "It really got us going. Chris and Maciej winning easily, that was definitely a great start to the match. The best start to the match that we could possibly imagine, and we just carried on from there."
The Big Sky championship will be a rematch between NAU and Idaho State, which beat Idaho in the other semifinal match on Saturday. Northern Arizona beat the Bengals, 6-1, in Flagstaff at the end of March, sweeping singles play after dropping the doubles point.
Fresh off his first career postseason victory in his first match, Ziomber soon gathered another. After Steele wrapped up court four with a 6-3, 6-3 win, Ziomber went 6-0, 6-3, improved to 10-4 this season and won a third consecutive match.
With Buzonics leading in his third set at No. 3 and Groves closing in on a victory on six, Straker-Meads stepped up for the clinching point as he topped Portland State's Matteo Fortini 6-1, 7-5 with a tight battle in the deciding set.
"Eban can beat anybody; he is such a strong No. 1," Bogusz said. "It is just good to see him playing really good to end the season. He's really liking the courts here and thriving in this environment."
Looking to defend their title, NAU's return to the championship round is scheduled for 8 a.m. against Idaho State at the Phoenix Tennis Center.
Track and field
Northern Arizona's distance crew took full advantage of the opportunity to compete at West Coast Relays in Fresno, California, on Friday.
The day was headlined by sophomore Abdihamid Nur and senior Blaise Ferro, as they finished first and second, respectively, in the men's 10,000-meter race.
Pacing was held steady throughout the race, headed by freshman Nico Young for the first 18 laps around the track, but Nur and Ferro led the rest of the way.
Nur averaged between 1:05.00 and 1:07.00 splits all race before to finishing the final lap in 1:02.73.
Both men qualified the for Olympic Trials with their performances in the event. Nur ran a time of 27:47.27 and Ferro completed the race in 27:56.30.
Nur's time is the fastest in the NCAA this season, with Ferro directly after in second place. Nur now also owns sixth-best time in Big Sky history.
Junior Ryan Raff also competed in the men's 10K, finishing fourth with a time of 29:13.54.
The three Lumberjacks currently rank first (Nur), second (Ferro), and seventh (Raff) in the Big Sky.
Senior Jeralyn Poe and sophomore Jessa Hanson ran the women's 10000-meter on Friday morning. After not racing the distance since 2019, Poe placed second with a time of 33:14.95, ranking 12th in the NCAA and second in the Big Sky. Hanson recorded her first collegiate 10K time, finishing fourth in the event at 34:09.38.
Senior Cade Burks won the men's 1500m with a time of 3:42.70, setting a new Veterans Memorial Stadium record in the process. Burks' time ranks third in the conference.
Competing alongside Burks was junior They Quax (3:43.55) and sophomore Caleb Easton (3:44.03), placing fifth and seventh respectively. Their times earn fifth and sixth in the conference.
Freshmen Kang Nyoak (3:45.08) and Young (3:45.52) also ran for the Lumberjack men, finishing 11th and 12th in the 1500m.
As for the women, senior Hannah Behunin (4:24.54) crossed the line first for Northern Arizona, placing 11th overall, with junior Bryn Morley (4:26.54) not too far behind in 14th. Their times fell sixth and eighth in the Big Sky.
Senior Pipi Eitel (4:35.64) and sophomore Jesselyn Bries (4:38.38) competed for the Lumberjack women as well, placing 22nd and 24th in the race.
Lumberjacks senior Aldo Marquez was first overall with a time of 14:07.99. Meanwhile, seniors John Shea (14:36.86) and Beau Prince (14:54.97) placed 17th and 22nd in the men's 5K.
Senior Delaney Rasmussen set a meet record and earned gold in the women's 5000m, clocking a 16:11.24.
Sophomore Annika Reiss (16:42.89) and junior Cassi Land (17:04.48) competed in the race as well, placing 15th and 22nd.
The last event of the night for the Lumberjacks was the 5000m invitational run, in which NAU All-American senior Luis Grijalva placed first overall with a time of 13:29.02.
Sophomore Brodey Hasty placed 10th in his season debut with a time of 13:49.68, snagging sixth place on the conference leaderboard. Freshman Santiago Gomez-Prosser (14:01.77) finished 19th overall.
On the women's side junior, Taryn O'Neill finished fourth overall with a time of 15:36.14, earning the fifth-best time in the nation this season, and becoming number one in the conference.
Senior Mikayla Malaspina (16:08.18) finished 23rd overall.