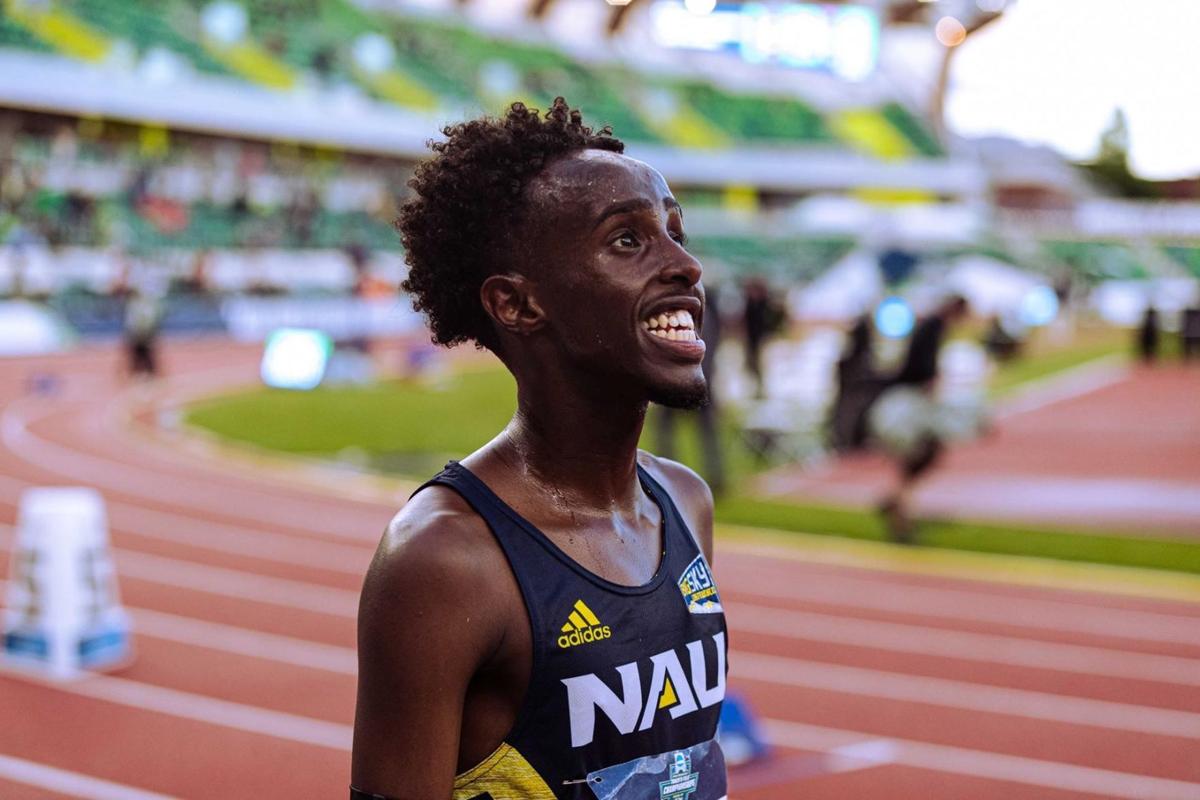 Northern Arizona All-American freshman Abdihamid Nur finished third in the 10,000-meter race at the Division I national outdoor track and field championship meet on Wednesday night at Hayward Field in Eugene, Oregon.
Running a personal best time of 27:42.73 in only his third-ever outdoor 10K, and first-ever NCAA track championship, Nur earned First-Team All-American status. He also broke the Big Sky Conference record, as well as the Northern Arizona men's outdoor school record once again, after taking ownership of them earlier this season.
"We couldn't be happier for Abdihamid and the race he executed tonight. He competed with so much poise you wouldn't know this was only his first NCAA track championship. He has set the tone for our program this weekend," said Mike Smith, director of cross country and track and field at Northern Arizona.
Entering the meet, Nur owned the second-best time in the nation this season (27:47.27), and was listed 23rd on the starting lineup after his most recently recorded time (29:14.43) at the regional meet two weeks prior.
Traveling to Eugene on Monday allowed Nur several days to acclimate to his environment and compose himself before heading to the start line on opening night.
Nur kept a steady pace throughout the race, splitting between 1:05.00 and 1:08.00 for the majority of his race around the track, turning up the heat as the final laps ensued.
With 800 meters remaining, Georgetown senior Robert Brandt, BYU junior Conner Mantz, Tulsa senior Patrick Dever and Nur were near the front of the pack, all within several strides of one another.
Mantz briefly fought his way to the front, before Dever took ultimate control during the bell lap, breaking the previous meet record to claim the gold.
Meanwhile, in the final stretch, Nur kicked it into high gear with his fastest split of the evening, 58.12, allowing him to pass Brandt and cross the finish line third.
"This was a special moment for NAU track and field," Smith said, "Abdihamid was an instate recruit from Phoenix who has developed into one of the best in the nation. He represents much of what our program aspires to be."
Nur will compete in the men's 10,000m again at the U.S Olympic Trials next week.
Women's tennis
While it was already clear just how special this past spring season was for the Lumberjacks, Wednesday's Oracle ITA Division I Women's Mountain Region Rankings added just a little more prestige.
The Lumberjacks not only landed in the ITA Mountain Region's team rankings for the fifth straight season, they finished No. 2 ahead of schools such as No. 3 Colorado and No. 4 Utah from the Pac-12. The ranking is the program's highest mark ever in the Mountain Region, which was created in 2010 when the ITA expanded from eight regions to its current 12.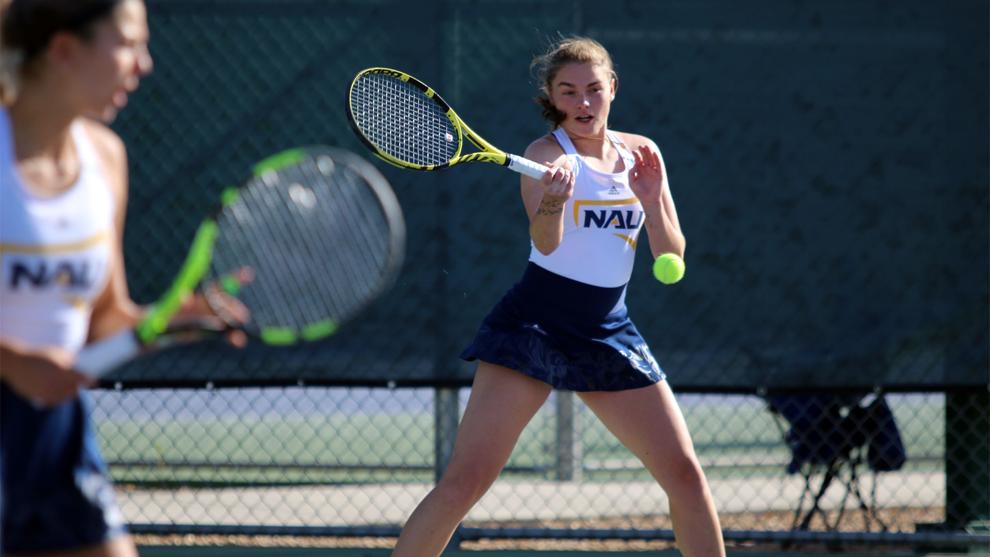 "It's great to see us not only being recognized in the Mountain Region, but also highly ranked among such powerful teams," Lumberjacks head coach Ewa Bogusz said. "It's a strong region, so I'm very happy for this young team. It's just the beginning for us."
Additionally, freshman Gina Dittmann landed atop the Mountain Region's singles rankings after placing at No. 117 in last week's national individual rankings. The Big Sky Conference Freshman of the Year, All-Big Sky First Team honoree and MVP, Dittmann finished the year with a 15-1 record and dropped just three full sets during her first season as a Lumberjack.
During the year, Dittmann defeated No. 8 Izumi Asano of UNLV 6-1, 6-2, No. 11 Carolina Millan of Utah State 6-4, 6-3, No. 14 Maria Oreshkina from Wyoming 2-6, 6-3, 6-3 and No. 17 Yuuna Ukita of Weber State twice, 6-2, 6-1 and then 6-2, 7-5 in the Big Sky Conference Tournament.
Sophomore Mimi Bland also broke into the Mountain Region's rankings, sitting at No. 9 following a season where she earned All-Big Sky First Team with her singles record of 14-3. Bland dominated at No. 3, holding a 13-1 record on the court. She won 12 consecutive matches between Feb. 13 and April 23, including one appearance at No. 2 against UTEP, and moved into Northern Arizona's all-time top 10 for victories at No. 3.
Bland also earned a top 10 ranking in doubles, as she and senior Ellie Millard finished the year at No. 10. Holding a 9-8 record, all at No. 1, Bland and Millard also earned All-Big Sky First Team for their doubles play. The duo are finished the season on a five-match win streak, with a pair of victories coming against Weber State's No. 8-ranked pairing of Yuuna Ukita and Ana Morett-Salas during the run.
The pairing's final match of the season against Ashley Lahey and Lisa Zaar of the No. 5-ranked Pepperdine Waves went unfinished at 4-4 in the NCAA Tournament last month.
Men's basketball
Originally slated to compete in the Jerry Colangelo Classic a year ago, the Lumberjacks will take part in the Naismith Memorial Basketball Hall of Fame event versus San Diego on Saturday, Dec. 18.
The third annual Jerry Colangelo Classic will also feature premier match-ups between Gonzaga and Texas Tech, USC and Georgia Tech and Grand Canyon versus San Francisco during the one-day quadrupleheader at Phoenix Suns Arena.
"Any time you're associated with Mr. Colangelo, who I consider one of the biggest sports names in Arizona, it's an honor," Lumberjacks head coach Shane Burcar said. "To be invited to this event, it means a lot to NAU Basketball. The other seven teams there are exceptional as well, and the opportunity for our guys to play at the home of the Phoenix Suns, who are making a run to an NBA championship, is one that we're looking forward to. We hope to have a lot of Blue and Gold Lumberjack fans in the crowd."
Ticket information, game times and television broadcast details will be released at a later date. As the health and safety of the athletes, fans and staff is of the utmost importance, the Basketball Hall of Fame will continue to monitor the COVID-19 situation closely in the coming months and provide updates as needed.
Northern Arizona and San Diego were scheduled to play each other last season as part of the event in downtown Phoenix before it was canceled due to the pandemic.
The Lumberjacks and Toreros will be meeting for the 19th time in program history and the third time in the last six seasons. San Diego claimed the last meeting, 79-75, on Dec. 9, 2017, on its home court, marking the Toreros' third consecutive victory over the Lumberjacks.
Northern Arizona finished last season with a 6-16 overall record and earned its first Big Sky tournament victory in six seasons. San Diego, out of the West Coast Conference, was 3-11 and is two seasons removed from a 21-win campaign.