Northern Arizona Lumberjacks head coach Shane Burcar announced the promotion of Jake Ricciardi to assistant coach on Thursday. Ricciardi recently wrapped up his first season on Burcar's staff as the team's director of nasketball operations.
"Jake took a risk, he came across from South Alabama with no title and hoped for the best, and he worked really hard as our DOBO," Burcar said. "As we grow our program, we're trying to grow from within. Jake is a young coach who goes for it and he believes in our program. I couldn't be happier for him."
Ricciardi joined the men's basketball staff in August following two seasons at South Alabama. During a season in which COVID-19 threw multiple wrinkles throughout the 2020-21 docket, Ricciardi oversaw Northern Arizona's day-to-day operations, including travel, budget and administrative recruiting work in his previous role.
"First off, I want to thank Coach Burcar, [Vice President for Intercollegiate Athletics] Mike Marlow and [Deputy Athletic Director] Uri Farkas for believing in me in this promotion to an assistant coach role," Ricciardi said. "Their belief in me means everything, and I'm looking forward to being on the court to coach the guys we have in this program."
A native of Waukesha, Wisconsin, Ricciardi spent the 2019-20 season -- his second with South Alabama -- as the Jaguars' director of player development. The team tied for second in the Sun Belt with a 13-7 conference record. He was initially hired as a video coordinator in 2018.
The Jaguars won a combined 37 games in Ricciardi's two seasons at South Alabama.
Ricciardi began his coaching career at Carroll University, a Division III school in his home state of Wisconsin, as an assistant coach from 2016 to '18.
A career-ending injury cut short his playing career after two years as a student-athlete at Concordia Wisconsin. Following his injury, Ricciardi served two years as a student assistant from 2014 to '16 under Josh Pastner at Memphis, where he graduated with his bachelor's degree in communications in 2016.
"There were a lot of good candidates, so you take into consideration if you go with experience or loyalty," Burcar said. "At the end of the day, it was Jake's job and he'll be more of an asset to our program as an assistant coach."
Track and field
Northern Arizona freshman Madeline Wilson scored 4,808 points, placing fifth overall and picking up four team points for the Lumberjack women in the Big Sky Conference championship meet's heptathlon.
Starting the second day with the long jump, Wilson marked 5.56 meters on her first attempt, earning third place in the event to score 717 points.
Wilson's effort was strong enough to catapult her from fifth place to third place in the overall standings, totaling 3,715 points, sitting behind second-place Ashley VanVleet-Sturgis of Idaho State with 3,965, and leader Jansen Ziola of Montana with 4,073 points.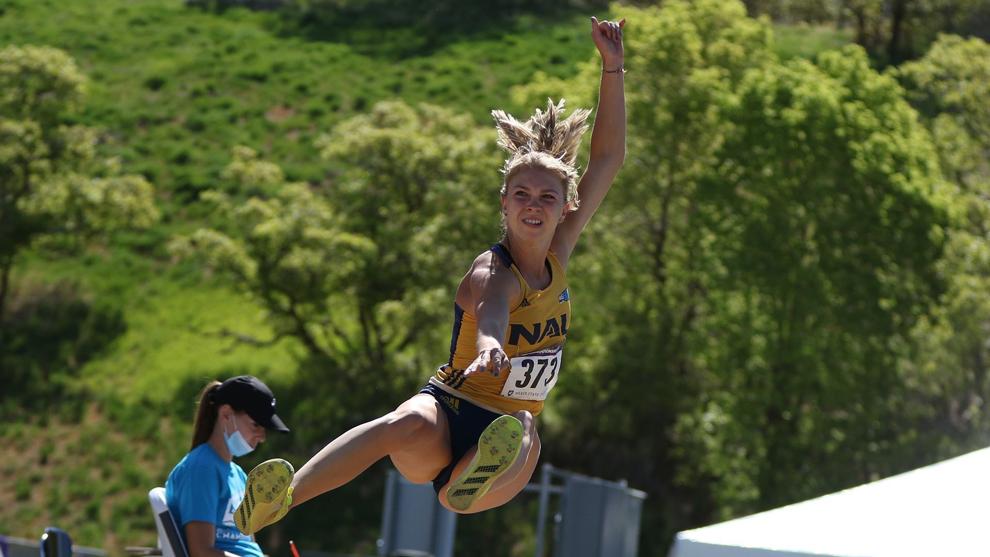 Throwing 25.59m in the javelin, Wilson finished ninth to score 393 points in the sixth event. She improved with each throw, beginning the event with a first mark of 24.85 meters, reaching 25.29m, before finally completing her final attempt with 25.59 meters.
Sitting fifth with a score of 4,108 and one event remaining, Wilson returned to the track for the 800m run. Finishing at 2:29.42, Wilson ran a personal best time. She wiped more than nine seconds off of her previous best in the event, a finish of 2:38.79, set just last month at the Jim Click Shootout in Tucson.
Wilson finished the day in fifth place with 4,808 points, a personal best heptathlon score.
At the conclusion of the women's heptathlon, Montana leads with a team score of 18 points, Idaho State follows at 16 points, and Northern Arizona sits third with four points.
The Lumberjack men and women will be competing at Weber State's Stewart Stadium Friday at 10 a.m. The event begins with the women's hammer throw, marking the start of full team competition.