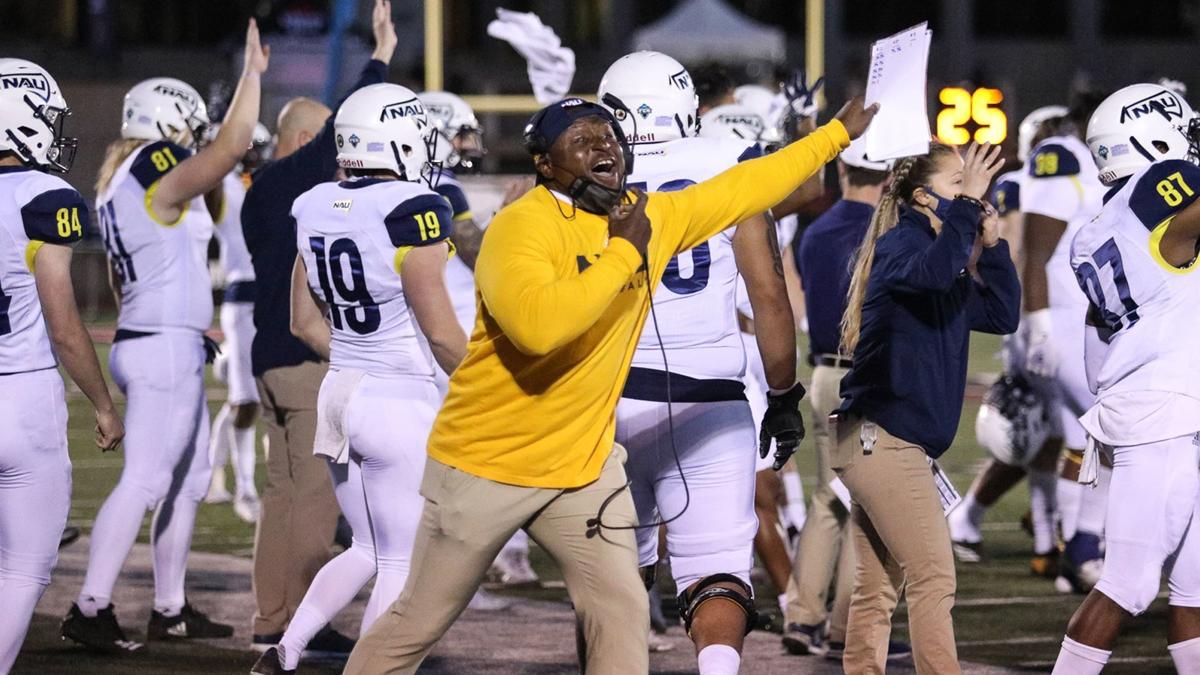 While all of Northern Arizona's coaches found themselves in uncharted territory as the pandemic halted athletics around the United States in March 2020, it's unlikely anyone can match the experience of football's Sammy Lawanson.
Just five weeks into its inaugural season, the XFL halted its schedule in mid-March before announcing the league would suspend operations and eventually file for bankruptcy.
Lawanson joined the XFL in December 2019, serving as the outside linebackers coach of the DC Defenders after finishing his time as a defensive quality control analyst at Fresno State.
"It was a very strange and interesting time," Lawanson said, with a few job opportunities offered to him while he was technically still under contract with the league. "Coach (Chris) Ball had reached out to me while we were kind of still employed by the XFL but we weren't playing anymore and said he might have this opening."
Soon enough, the XFL terminated the contracts of all the coaches in the league and Lawanson reached back out to Ball, who he had worked with at Arizona State from 2012 to 2014.
He spent one year as a defensive quality control assistant and another as the manager of player development for the Sun Devils, building upon his resume more in the years after.. Moving to Sacramento State as a running backs coach in 2014, Lawanson eventually became the defensive coordinator in 2016.
"I tried to hire him the first time around, but he wanted to be on the defensive side of the ball," Ball said. "We're lucky because Sammy has coordinated in this league. I use him as an example of how I want guys to coach."
Lawanson oversaw a Hornets defense that was tops in the FCS with 43 sacks in 2017. Sacramento State also led the Big Sky with 23 takeaways in 2017, scoring five defensive touchdowns and holding opponents to just 26% on third down.
Coupled with his stops at Fresno State and the XFL in the time between his stint with Ball at ASU, Lawanson has drawn from plenty of knowledgeable mentors to become the coach he is now.
"I probably learned more in four months than I had in the past 15 years in terms of football and how to do things," Lawanson said of the XFL. "I brought all those experiences and kind of blended what I was doing at Sacramento State, what I'd learned from Fresno State, what I'd learned in the XFL, and kind of blended that all into one playbook."
Lawanson said he sees himself as a sounding board for defensive coordinator Jerry Partridge. Ball said the energy and attention Lawanson brings every single day is crucial to the program.
"If I had to picture the way I wanted it done, he's the guy. We're lucky to have it," Ball said.
And while Ball cites Lawanson's work ethic and energy as just a few of the reasons he wanted to bring him to Northern Arizona, it's the head coach's long-standing philosophy that reunited him with Lawanson.
"The whole reason why I chose NAU was because of Coach Ball. I've been doing this for over 20 years now and I've been very blessed and very fortunate to work with some great people," Lawanson said. "Nowhere has there been a staff that's been as close as this staff... We're all pulling the same rope. We're all pulling for Coach Ball and Coach Ball is pulling for us. You have a head coach that's really invested in his staff and he wants to see us further our career."
Lawanson said he and Balll both believe their work is all about the kids they are coaching, which made it a no-brainer to make the move back to the Big Sky Conference.
While he was initially unsure about leaving college for the XFL, having spent more than a decade between Cal Poly, Tulsa, Arizona State, Sacramento State and Fresno State, Lawanson said he cherishes his time in the league.
"I was really skeptical, to be honest, until I got out there and saw how the operation was set up," Lawanson said. "I was talking to my wife about it, if not for the pandemic, I think it's flourishing and doing really well. Those experiences with my players that I still talk with today, the coaches and the staff, we will forever all be connected. I'll cherish those lifelong memories and those friendships that I made with those guys. It was a really, really neat experience and I wouldn't have traded it for anything."
Big Sky Scholar-Athletes
Anthony Sweeney and Jessa Hanson were named Northern Arizona's 2020-21 Big Sky Scholar-Athletes of the Year as announced by the conference office on Thursday.
Sweeney and Hanson were honored as the department's Golden Eagle Top Male and Female Scholar-Athletes of the Year back in April.
Sweeney was one of 10 all-conference performers among the league's Scholar-Athletes after earning All-Big Sky Second Team honors during the spring football season. Sweeney started all five games splitting between the nickelback and safety positions and totaled 24 tackles –- fifth on the team –- to go with a fourth quarter interception to help Northern Arizona seal up a road win at Southern Utah.
He is a four-time Golden Eagle award recipient and earned his third Big Sky All-Academic honor earlier in July. The American Canyon, California, native is currently pursuing his master's degree in applied sociology and holds a 4.00 graduate school grade point average.
Hanson concluded an exceptional 2020-21 track and field season with a Second Team All-American finish in the women's 10000-meter at the NCAA Outdoor Track & Field Championships last month. Her PR time of 32:55.24 notched her an 11th-place finish in her national championship meet debut.
The cross country and track & field star out of Spicer, Minnesota, also had a huge impact on Northern Arizona women's cross country's 11th-place team finish at the Spring NCAA Championships in March. Hanson placed 79th with a time of 21:22.6 and was the Lumberjacks' third runner across the finish line. Earning Big Sky All-Academic distinction in both cross country and track and field this season, she is a double major in biology and Spanish and a double minor in chemistry and Latin American studies.