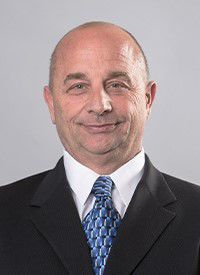 Football
Reaching back into his extensive network of assistant coaches, Northern Arizona head coach Chris Ball named Dave Ungerer as the program's new special teams and running backs coach.
Ungerer and Ball coached together on two occasions, first for Alabama from 2003 to 2007 and again for Washington State from 2010 to 2011. With more than 30 years of coaching experience, much of it has been spent on special teams after first coaching the group in 1988 for Holy Cross.
"I laugh because we kind of talked about this when we were together as assistants, that this would happen at some point," Ungerer said. "He had a really burning desire to be a head coach, and so it finally happened and I think we're both really excited about it."
Ungerer and Ball's families grew close during their time together in Tuscaloosa, building up their relationship on and off the field.
"I think we became really good friends because I think we see coaching very similar as far as making a difference in young people's lives," Ungerer said. "I think we're both highly competitive. I think we love the game of football. The thing that always impressed me about Chris was that he's so positive; he doesn't really talk in any part of his life about anything negative."
From there, Ungerer held special teams coordinator jobs at multiple Power Five programs, including Maryland, Cal, Oregon State, Alabama and Washington State. While with the Crimson Tide, Ungerer also coached tight ends before moving back to running backs with the Cougars.
Ungerer also spent three years as the special teams coordinator and running backs coach for Utah State, as well as a season in the same role at Fresno State. Most recently, Ungerer spent three seasons as a special teams analyst for Missouri.
"When I was a young coach starting out, the people that I looked up to and the mentors I had told me to try to have as many skill sets as you can," Ungerer said. "I've always just had a very strong passion for special teams, and it has such a big influence on the game both positively and if you don't execute negatively."
Ungerer has found plenty of success with his special teams units at many of his coaching stops. While at Alabama, Ungerer's special teams unit blocked 13 kicks across four seasons and Utah State finished the 2013 season as the No. 1 overall coverage unit in the nation.
During his time at Oregon State, Ungerer recruited and coached future NFL punters Johnny Hekker and Ryan Allen -- who would eventually face one another in Super Bowl LIII. Ungerer also helped recruit Aaron Rodgers from Butte Community College while at Cal.
In Flagstaff, Ungerer inherits All-Americans Luis Aguilar and DJ Arnson at kicker and punter, respectively, as well as Justin Hathoot, who has served as the program's primary long snapper since 2018 and earned All-Big Sky honors during his career.
With Ungerer also set to lead the running backs group, with Draycen Hall and George Robinson leading a large contingent of underclassmen, the veteran coach also reunites with Bob Connelly after the two worked together at Alabama as well. With Ungerer leading the tight ends and Connelly coaching the offensive line, the two worked closely together for the Crimson Tide.
Once again, with Connelly serving as Northern Arizona's run game coordinator and offensive line coach, he and Ungerer will work closely together leading the backfield and ground attack.
NIL
The Big Sky Conference has announced a multi-year, league-wide agreement with INFLCR to provide the INFLCR Verified platform to its full-time member institutions -- which will assist each of the conference's various student-athletes to realize their full Name, Image and Likeness (NIL) potential across every sport.
"The Big Sky Conference is thrilled to partner with the industry leader in this dynamic and evolving space to help our student-athletes maximize their NIL opportunities while simultaneously best positioning our schools to manage this new venture," Big Sky Conference Commissioner Tom Wistrcill said. "INFLCR's history of being an athlete-centric company resonated with our members, and the vision that Jim Cavale and his team have about how we best move forward demonstrated a continued commitment to support our students as they navigate this new day in intercollegiate athletics."
Navigating NIL changes has been a major priority for the Big Sky Conference, and the partnership is set to go a long way to help educate all Big Sky athletes in how to build successfully their own personal brand and be active in the new landscape of NCAA athletics.
The league office established a NIL task force in March chaired by Darren Dunn, Northern Colorado's athletic director, to strategize on the best ways to embrace the new NCAA landscape.
The Big Sky will also be hosting a NIL symposium next week for student-athletes, coaches and administrators across the league.
"The Big Sky is innovative and strategic in its approach to this new NIL era by supplying the INFLCR Verified product solution to each of its 11 member institutions department-wide," said Cavale, INFLCR founder and CEO. " Through our partnership, every student-athlete competing for a Big Sky institution is equipped with industry-leading technology and education to build their brand and a successful NIL business for themselves. Each Big Sky institution will benefit from having a system of record for all student-athlete NIL deals and transactions made through the INFLCR Compliance Exchange as they automatically report back to the institution's compliance team through the INFLCR app. We couldn't be more thrilled about this historic partnership with the Big Sky and the respective student-athletes that will be empowered by INFLCR's technology."
The Big Sky is just the second league to announce a conference-wide partnership with INFLCR. With more than 1,000 teams using the platform and more than 40,000 student-athletes active on the app, INFLCR has become an industry leader in the NIL space. INFLCR will elevate the championship experience for Big Sky student-athletes, as the conference office will be able to directly share content with the various participants, along with them being tagged in photos from both Big Sky home and road events that they can share on their social media platforms.