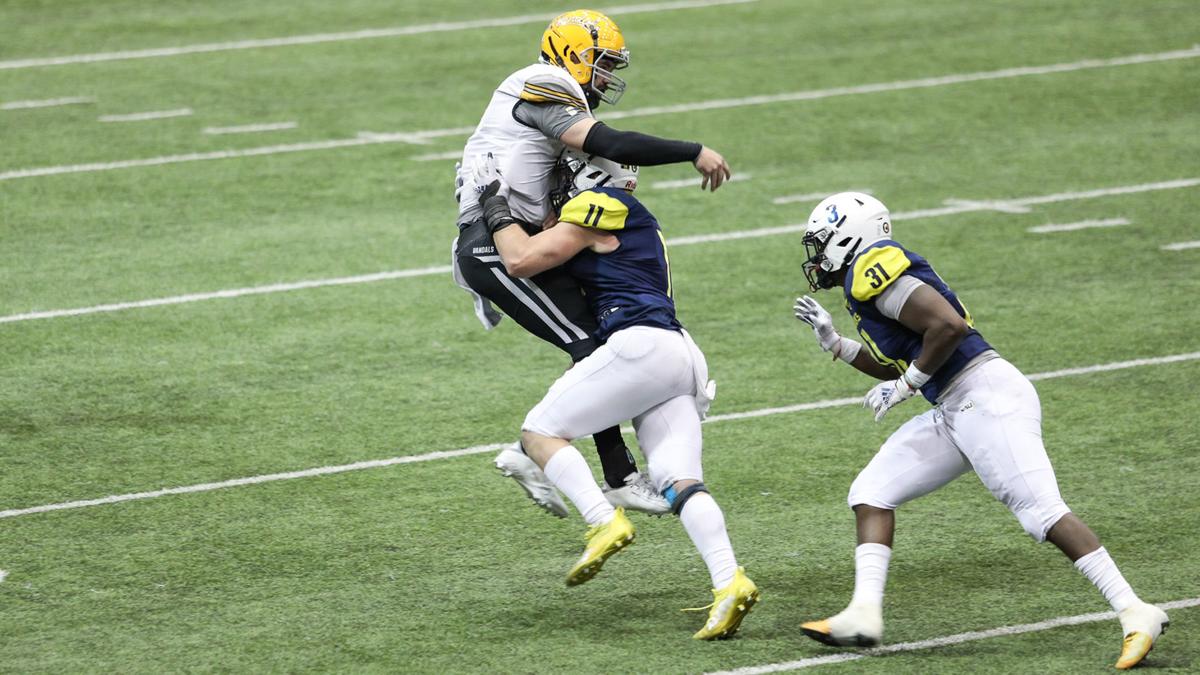 The moments following Northern Arizona's 19-9 victory over Idaho on April 17 were bittersweet. A dominant defensive performance flanked by a few big-chunk offensive plays gave the Lumberjacks a winning record (3-2) to end an unprecedented 2021 spring football season.
Immediately, the players felt they had accomplished the first goal the staff gave them ahead of the game: consecutive wins for the first time since a five-game streak in 2017.
"All week Coach (Chris) Ball had been preaching that we hadn't had back-to-back wins, so that's all we wanted to do, and make sure we finished off with a winning season," said redshirt senior quarterback Keondre Wudtee, who was named All-Big Sky Honorable Mention.
But as the Lumberjacks celebrated, the 16-team FCS playoff bracket was announced the next day. Northern Arizona was not part of it. The season was over just five games after it began.
Though being left out was not shocking, sitting days later reflecting on the season in a Zoom interview, Lumberjacks senior linebacker Harrison Beemiller -- named All-Big Sky Second Team Defense -- was unsure exactly how to feel about the recent campaign.
He said the players kept thinking about a 28-23 loss to playoff-bound Weber State on March 27. The Lumberjacks were ahead until the last moments, but the Wildcats converted a Hail Mary pass attempt for a touchdown as time expired to win the game.
A victory would have left Northern Arizona tied with the other Big Sky Conference teams in the loss column and could have propelled the Lumberjacks to a postseason berth.
"I think we accomplished a lot," Beemiller said. "Definitely, we were disappointed still. Looking back at the Weber game, we were kind of one play away from being in contention for that Big Sky championship and being in the playoffs, still playing right now."
Still, the Lumberjacks feel the team's confidence rising.
COVID-19 protocol suspended the traditional fall 2020 season, pushing the FCS schedule to begin in early 2021. While an initial shock for a team ready to get the taste of consecutive losing seasons out of their mouths, the
The Lumberjacks were a young squad, with several underclassmen contributing on both offense and defense. Northern Arizona's top two rushers in total yards were freshman Draycen Hall with 254 and sophomore George Robinson at 205. Two of the team's top three players in receiving yards were sophomores in Hendrix Johnson (273) and Coleman Owen (202). And four of the team's top 10 tacklers were underclassmen.
Instead of simply rushing into the season after a few weeks of summer camp, the young talent had extra time to study the playbook and work in the weight room.
"I've been saying this for a while, that freshman class was really lucky. They had those six months to develop in the fall that a lot of freshmen don't get. So it wasn't very surprising. The coaches do a great job of recruiting. So these young guys that come in are studs," Beemiller said.
Ball added that the extended offseason helped the Lumberjacks see marked improvement.
"It ended up where we were a better football team in the spring than we would have been in the fall," he said.
Even still, the change in schedule wore on the Lumberjacks. After reporting to campus in early January, most of the players were unable to leave Flagstaff until after the end of the Idaho game.
Wudtee said he went to the team facilities, the stadium and his home exclusively for nearly four months. Even taking such precaution, game days were not guaranteed. Each week the Lumberjacks, and every other college football team, were unsure whether they would get to play that week.
A game scheduled for April 3 against Cal Poly was canceled entirely after the Mustangs, facing too many injuries and players sitting out, opted out of the season entirely midway through the spring slate. Even the Idaho game was postponed. The Vandals and Lumberjacks were set to face off originally on March 13 but had to be rescheduled a month later.
"Just knowing that you're supposed to go play on one Saturday and then you find out that Monday before that the game's canceled -- and that just keeps happening every week -- got annoying and frustrating for the guys because we just want to play football," Wudtee said. "It gets old, but at the end of the day we all wanted to play football. That's what we signed up for, so it's what comes with it."
Getting through the 2021 season relatively unscathed was difficult. Now the focus is solely on preparing for fall of 2021 in a quick turnaround.
The NCAA granted another year of eligibility to seniors whose seasons were altered or canceled due to the coronavirus pandemic. Seniors like Wudtee and Beemiller, who would normally have graduated, will decide whether they want to return for another season in the fall.
Wudtee, the team's starting quarterback, said he intends to be back in a Lumberjacks uniform. Beemiller, Northern Arizona's second-leading tackler (33) in 2021, is still unsure.
"I'm definitely leaning toward coming back in the fall, though," he said.
Others will make their decisions in the coming weeks, with the returners set to participate in camp and offseason training this summer.
The Lumberjacks also look to have another strong recruiting class entering the fall season, according to 247sports.com. It states Northern Arizona has 17 committed players from the high school class of 2021, including 12 hailing from Arizona.
Having traversed through a season none of the Lumberjacks could have prepared for and ended with a winning record, Ball believes with the right effort, the team is in good shape moving forward.
"We're two seconds from talking about playing in the playoffs this year, so we are making huge strides," Ball said. "We've got to continue to work; we've got to have a great summer in the weight room. We've got Sam Houston on Thursday night on Sept. 2."