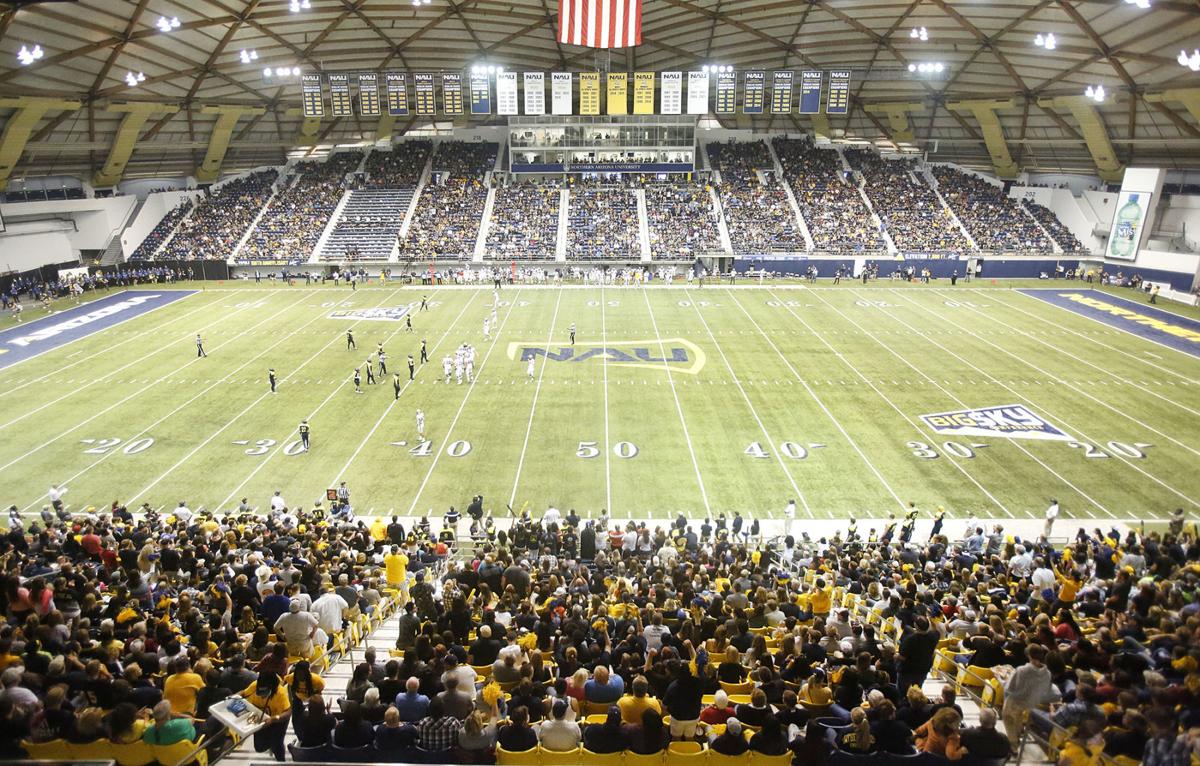 Northern Arizona Athletics employees, including coaches and high-ranking administrative staff, will be part of the school's university-wide pay cuts that will begin July 1, the department confirmed Tuesday.
In mid-May, Northern Arizona Vice President for Intercollegiate Athletics Mike Marlow told the Daily Sun that there had been no discussions of furloughs or pay cuts within athletics but, like the COVID-19 pandemic has shown, things can change quickly. In the span of just a month, NAU has made cuts to staff and faculty across the board due to budget issues.
The highest-paid coaches and administrators in the athletics department will take 4.6% pay cuts in accordance with the salary reduction chart on NAU's website, while Marlow will take a 10% reduction along with with the rest of NAU's executive staff.
The chart, which was released to staff late last week, outlines the tiered pay cuts through the 2021 fiscal year.
The newest pay cuts come as the school tries to meet its $100 million budget shortfall, with the athletic department being hit like many NCAA member schools across the country.
Marlow should see his $200,000 annual salary reduced to about $180,000 -- a $20,000 reduction. Football head coach Chris Ball, who makes $230,000 per year before bonuses, would drop to $219,420, a reduction of $10,580.
Men's basketball head coach Shane Burcar, who just had his five-year, $198,000 contract approved by the Arizona Board of Regents Friday, will see his annual salary dip to about $188,892. Women's basketball head coach Loree Payne, whose contract is slated for $145,000 annually, will drop to about $138,330.
The four combined, who are among the highest annual earners in the athletics department, should save the school and department a combined $46,358 in the next fiscal year.
Mike Smith, the director for cross country and track and field, is supposed to get a $5,000 raise on July 1, increasing his base salary for the year to $119,000 according to his contract terms -- which include a $5,000 raise at the start of each fiscal year. Under the salary reduction chart, Smith's annual salary would drop by 3.8% to about $114,478.
All salaries listed above came from either individual contracts or readily available information from salary databases.
Other levels of salaries within athletics will also be subject to pay cuts, such as: someone who makes between $50,000 and $79,999 would see a 2.3% pay reduction; someone who makes between $80,000 and $109,999 would be cut by 3.1%; and salaries between $110,000 and $139,999 would be cut by 3.8%. Many of Northern Arizona's assistant coaches, other head coaches and staff within the department make between $50,000 and about $100,000 -- leaving a wide range of salary cuts for the rest of the department.
The university-wide plan also includes paid flex time days -- which everyone except deans, vice provosts and associate vice presidents will have to be taken if they make over $50,000.
Elsewhere in Arizona, coaches and athletics staff at the University of Arizona are taking upwards of 20% pay cuts, the Arizona Daily Star reported in early May.
Arizona State has yet to announce any pay cuts to athletics or university staff at this time.
Be the first to know
Get local news delivered to your inbox!