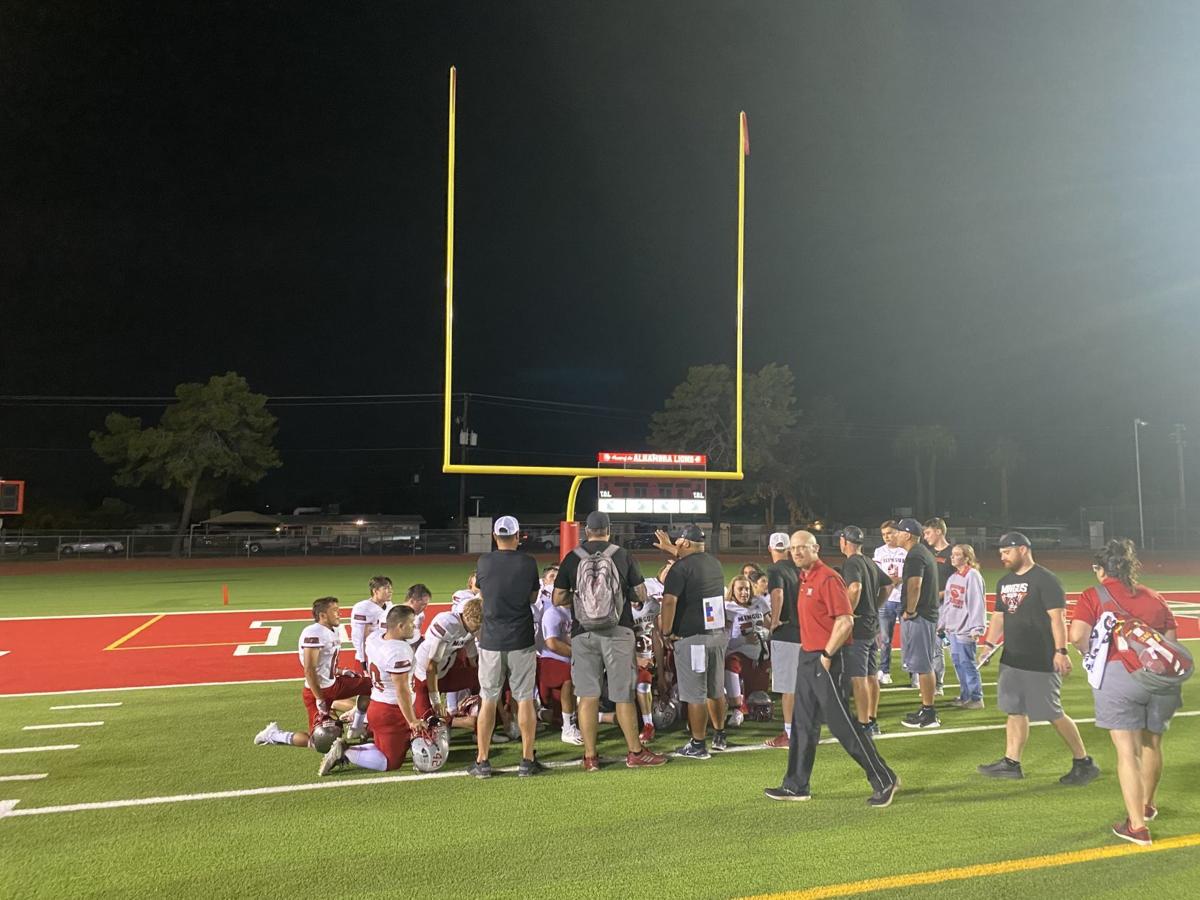 The Mingus Marauders football team left the confines of Cottonwood to travel south to Phoenix and play the 5A Alhambra Lions in an inter-conference showdown Thursday. The Marauders won convincingly, 58-0.
From the first snap of the game, the Lions tried to catch the Marauders by surprise by successfully running an onside kick to start the game. Immediately, Mingus used their offensive and defensive lines to assert their dominance against the bewildered Lions who could not respond to the physicality of their opponent.
In the first half, the Marauders relied on star senior running back Angelo Alvarez, who scored four total touchdowns and had over 170 total yards of offense before sitting in the second half.
After the game, Alvarez credited his success on the night to his offensive line and quarterback.
"I have a really good quarterback and my line is amazing, they help me make the plays that I do," he said.
Heading into the second half with a 37-0 lead, the defense continued to stop any momentum the Lions could gain by relying on their secondary to stop the passing attack. The Marauders had seven pass breakups on the night as a defense to go along with two interceptions by sophomore Mario Camacho and senior Freddy Jimenez.
Offensively, as Alvarez restd, senior quarterback Zachary Harrison used his legs to contribute two rushing touchdowns. He finished with four total scores. Junior running back Makai Arnaudo and senior Hunter Perkins added to the scoring as well.
The Marauders are now 2-2, which marks the first time since 2018 that the team has won more than two games in a season. Alvarez was also asked about the prospect of pushing the Marauders' record to 3-2 with a victory next week.
"If we love one another we've got this," he said.
Love has powered the Marauders to a 2-2 record so far and may be the recipe to even more success as the season continues.
Mingus is set to travel to Prescott Valley on Oct. 1 for a road contest against Bradshaw Mountain. In 2020, Bradshaw Mountain defeated the Marauders 42-6. The Bears (1-2) are set to play a road game Friday at Youngker.