With colleges around the United States facing uncertainty due to the coronavirus pandemic, Mike Marlow, Northern Arizona vice president for intercollegiate athletics, spoke candidly about the state of the school's athletics department.
In a Zoom video interview Wednesday afternoon, Marlow said he has had no discussions regarding potential furloughs or pay cuts for the Northern Arizona athletics department in the wake of lost revenue caused by the cancellations. Rather, Marlow expects the department to find ways to "tighten our belts," as it moves forward through what he called "uncertain times."
"Very transparently as a department we are looking at areas we can tighten our belts in a significant way, with the focus being how do we do that without jeopardizing or impacting the experience of our student athletes," Marlow said.
About a month ago the University of Arizona announced school-wide furloughs and pay cuts as it projected to lose $250 million, school President Robert C. Robbins told the Arizona Daily Star.
Also, according to the Daily Star, the Arizona athletics department is implementing 20% pay cuts to its five highest-paid head coaches and athletics director David Heeke in an effort to curb expected losses in the next fiscal year. Other coaches and athletics staff around the school would also see pay cuts under the university's announced plan.
Northern Arizona has not publicly announced plans regarding furloughs or university staff reductions and as for athletics, Marlow noted the difference between Arizona's and Northern Arizona's departments.
"I will say after spending 20 years in the Pac-12, it is probably the one time since my time at NAU that I am glad we don't have a multi-million dollar television contract that has been jeopardized," Marlow said, referring to the Pac-12 television deals that the schools in the conference rely on for revenue.
From spring alone Marlow said Northern Arizona lost about $381,000 due to the cut revenue share by the NCAA -- mostly due to the cancellation of the NCAA men's and women's basketball tournaments.
Marlow didn't specifically say how much Northern Arizona expects to lose going forward, but echoed his sentiment of finding ways to manage the uncertain times.
According to the Department of Education's Equity in Athletics Data Analysis, Northern Arizona Athletics self reported $21,153,840 in revenue -- which was spent in its totality -- in reporting year 2018-19.
Big Sky changes
Last Monday the Big Sky Conference announced sweeping changes to the upcoming athletics calendar, in effort to save money, to nearly all sports except the bulk of football and basketball.
Most notably for Northern Arizona, the 2021 Indoor Track and Field Conference Championships will not make its way to Flagstaff as originally planned. Instead, it will stay in Pocatello, Idaho, at Idaho State for a second straight year.
Of the proposals voted on by the conference, that was not one Marlow was in favor of.
"I did not vote for that one, and I'd sum it up this way: a lot of necessary decisions were made," Marlow said of the schedule changes. "It's not lost on us as a league or an administrative group that it does impact the experience of our student-athletes in this very strange environment we are in right now."
Marlow gave some extra context to some of the changes, namely the removal of the women's soccer conference tournament and the volleyball season being reduced from 18 to 16 matches, along with its tournament dropping down to just four teams.
Those decisions were made with the majority of the sports' coaches and athletes in favor, as Marlow said the conference worked to find a solution that worked well for all parties.
Football continues to be a work in progress, Marlow said. As of now, the Big Sky is allowing individual schools to decide when it is safest to return to practice.
"It is obviously a big national issue, which we are learning a lot based on decisions that are maybe a little bit in front of us," Marlow said. "I like the position the Big Sky Conference is in where we haven't made any rock-solid decisions yet."
Eligibility relief
When the NCAA passed its eligibility relief plan at the end of March, athletes who saw their spring seasons canceled were potentially given another shot.
The relief allowed athletes to have six years to complete four years of eligibility, according to the L.A. Times. Individual schools were given the freedom to address it case by case.
Marlow said Northern Arizona chose to focus on its group of spring seniors who were eligible to receive relief.
"Our focus has been on those seniors," Marlow said. "Not any underclassmen."
Whether any Northern Arizona athlete has taken the chance at an extra year or not is currently not clear. 
"The approach we chose to make was to have some real good dialogue with our coaches and our coaches with our student athletes," Marlow said. "Spring athletes look at it differently. Some spring athletes are ready to start their career. Others that can perhaps compete at a national level are still deciding what that can entail."
Facilities
The pandemic and ensuing closures haven't put a delay on the High Performance Center project, Marlow confirmed. He stated, however, that the $46 million project is on track for its 2021 completion goal.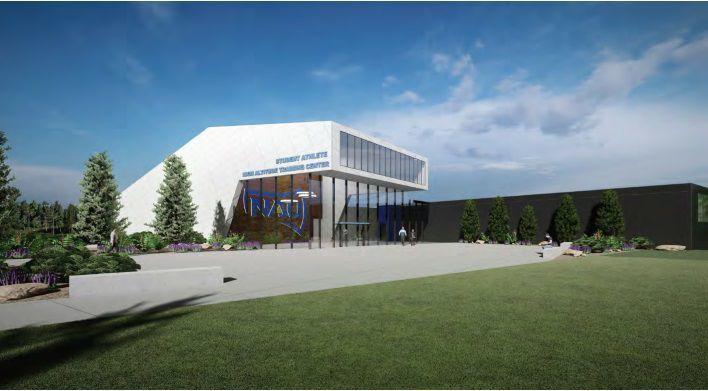 "We're on schedule and we will have to be on budget," Marlow said.
San Francisco Street is set to be temporarily closed next Friday starting around noon for about 20 minutes to an hour near the Walkup Skydome across from the construction site as workers are blasting the foundations for the facility -- according to an email sent to some Northern Arizona staff.
Be the first to know
Get local news delivered to your inbox!