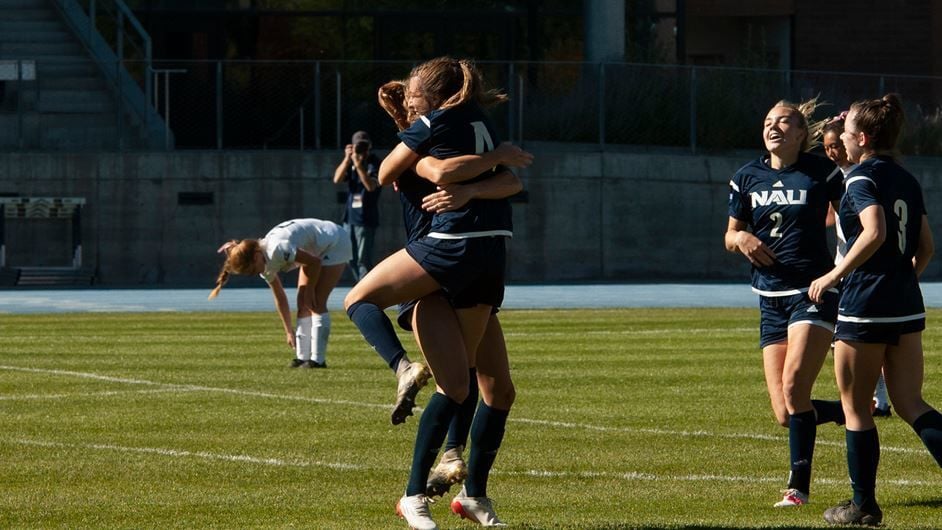 Northern Arizona Lumberjacks soccer (5-10, 3-3 Big Sky) took some bumps early this season, but appears to be back on track as of recent matches.
The Lumberjacks lost their first seven matches of the season, including several close 2-1 heartbreakers. Then, after two nonconference wins, they fell in their first three Big Sky matches, dropping to 2-10 overall and 0-3 in the Big Sky. However, Northern Arizona has won three straight, and has a legitimate shot at making the conference tournament.
Senior forward Sam Larberg, who earned Big Sky Offensive Athlete of the Week for scoring three goals across two matches -- including two in Friday's 4-1 victory over Weber State -- said the team was ready for this type of streak.
"The adversity that we faced at the beginning of the season has prepared us for this. And now that we're starting to build on it, the results are going to come," Larberg said.
Northern Arizona boasts several returning starters from last season, including Larberg and senior Madison Montgomery, who was the leading scorer for the Lumberjacks last season. There were several young players who had to fill in quickly, however, having little time to prepare due to a shortened offseason.
One of the players who had to define her status quickly was freshman goalkeeper Natalie Manzo. She and fellow freshman Trinity Corcoran have rotated as starting keeper at times, though Manzo has taken the major share of minutes in recent matches.
There was early pressure to perform well.
"I have big shoes to fill, and I'm just trying to work hard and get up to speed as quick as I can, because I know I have a big role for the team," Manzo said.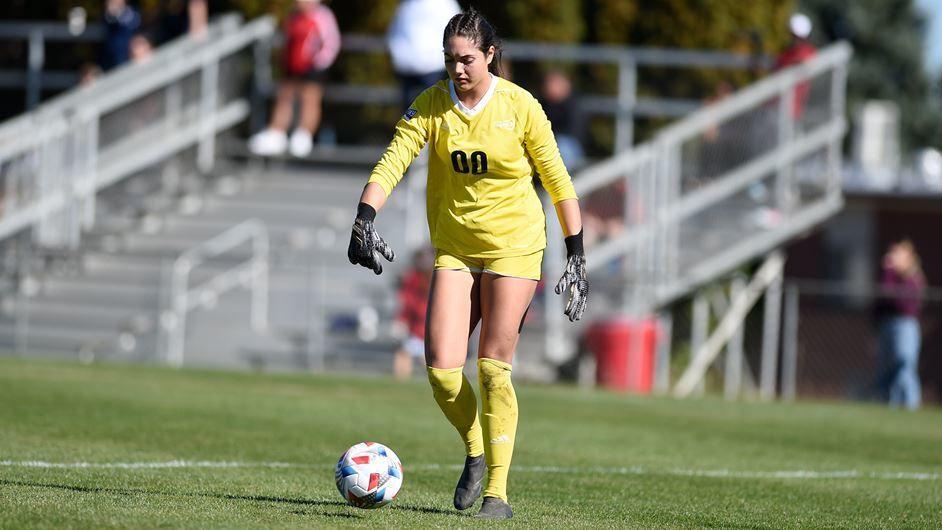 Manzo, as well as other new starters and contributors, have started to integrate themselves into the team dynamic as the season has worn on. That fully began, Lumberjacks head coach Kylie Louw said, after the team had a meeting following a 3-1 loss at Idaho on Oct. 1 to fall to 0-3 in conference play.
Things turned around from there, and Northern Arizona has not lost a conference contest since.
"It was some pieces coming together. Our upperclassmen raised the spirits. They were like, 'Come on guys, let's do this.' When you lose in that fashion, it's difficult to turn around and reset and think you can get back to it. And I believe we did that as a group after Idaho," Louw said.
Tactically, Louw said, the coaching staff at Northern Arizona has a very technical approach to the game. The coaches, knowing they had plenty of skill on the roster, have almost taken a step back, allowing their players to simply play a fluid game and know that their competitiveness would show in their play.
"After a point we just said, 'Let's let our players compete,' and we relied on our players' mindset and will to win, kind of let them go back to the core of being a gritty team," Louw said.
The goal now is to clinch a spot in the Big Sky playoffs, with three regular-season matches still remaining. Each of the Lumberjacks' opponents are lower on the standings than they are. At 3-3 in conference play (9 rankings points) Northern Arizona is tied for fourth place with Eastern Washington, which the Lumberjacks defeated 1-0 to start the current run of wins.
To get a top-four spot and have a chance at a conference title, Louw said, the Lumberjacks need to play at a consistent level. They have shown flashes of greatness, but also have hit a few low points.
But, if the Lumberjacks' recent form, as well as the best attitude they have had in practices this year, is any indication, Northern Arizona is ready to begin competing at a high level for the rest of 2021.
"I think we always had hope. We believed in this team and knew what we were capable of. Staying strong in that belief allowed us to keep moving forward after the first few losses and start to return those results around," Larberg said.
"I think we're just building momentum. We win one game and then have some mojo going into the next one. So I think we're doing that," added Manzo.
The Lumberjacks host Southern Utah (1-12-1, 0-5-1 Big Sky) in their final home game of the regular season on Sunday.