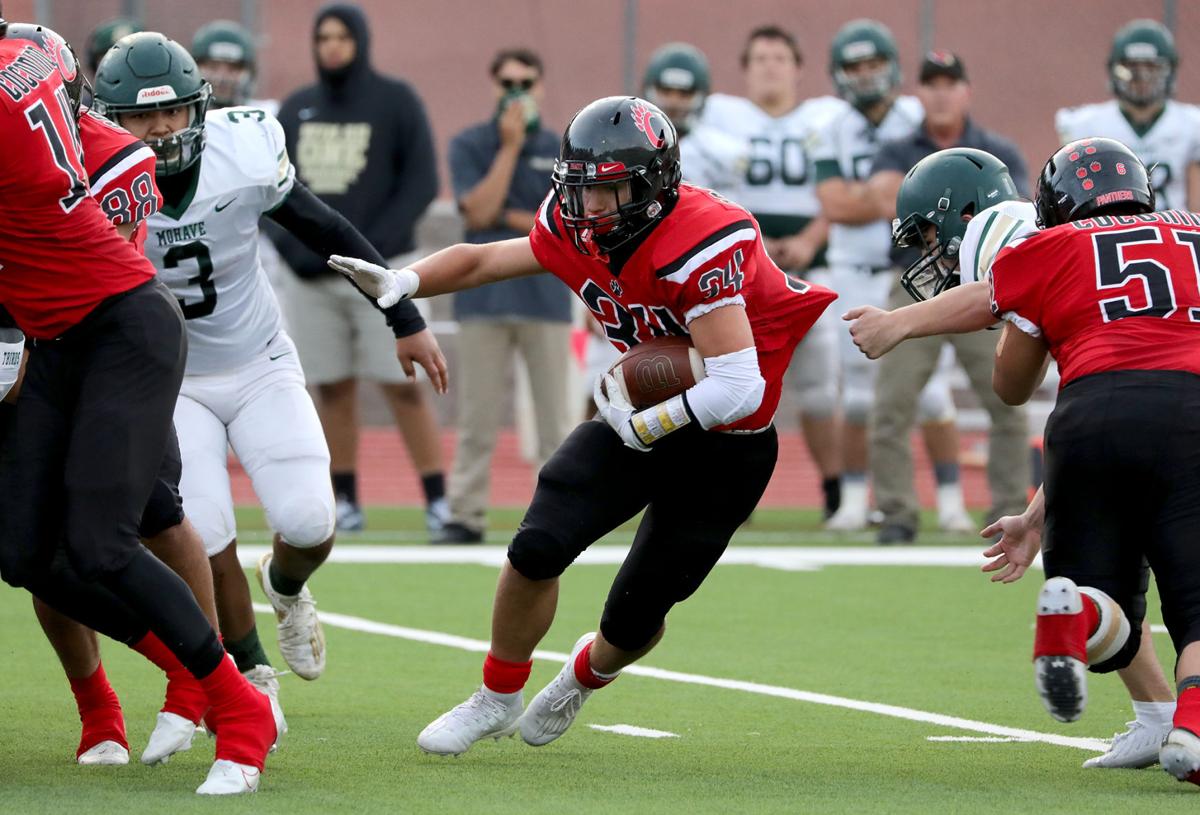 Zach Bennett, Coconino's all-time leading rusher, was named the offensive player of the year in the 4A Conference.
The Panthers star running back earned the honor this week as well as a spot on the 4A All-Conference First Team along with teammate Andy Ruiz. The two were the lone reps from Flagstaff or Coconino on the first team.
Bennett was also named the Grand Canyon Region Offensive Player of the Year a few months back, as his head coach, Mike Lapsley, was the region coach of the year.
Coconino's Manuel Cardoza -- who was also named region player of the year -- and Matias Ortiz, Xavier Nakai and Tyson Fousel got nods for the second team. Flagstaff's Luis Jaramillo, who recently committed to Western New Mexico, was also on the second team along with teammates Nick Morrow, Brandon Shirley and Ryan Tagle.
Coconino tied for the most players on the first team among Grand Canyon Region squads, matching Bradshaw Mountain's two.
Mesquite's Ty Thompson was the 4A player of the year and Cactus' Ata Teutupe was named the defensive player of the year. 
Girls basketball
Eagles 65, Badgers 23
The Flagstaff Eagles made quick work of the visiting Prescott Badgers Friday at home.
Gracelyn Nez scored 28, Melinda Calnimptewa and Sage Begay each had eight as the Eagles broke the game open with a strong third quarter en route to the squad's fourth win of the season in five tries.
Flagstaff (4-1, 3-0 Grand Canyon) are at Paradise Honors Saturday for a 2:30 p.m. tipoff in the Valley.
Panthers 60, Marauders 50
Make it four in a row for the Coconino Panthers after a season-opening loss to Flagstaff.
Coconino got a double-digit win over Mingus in Cottonwood Friday night behind 19 points from Kiana Manuelito, eight from Mahala Long and Elyce Palmer.
The 4-1 Panthers are scheduled to host Prescott on Monday at home.
Spartans 42, Spartans 21
The losses are starting to pile up for the 2A Northland Prep Spartans. The Spartans fell to the hosting Scottsdale Prep Spartans 42-21 in the Valley and dropped their fifth straight game to fall to 1-5 overall.
Northland Prep is scheduled to host Valley Lutheran Monday at 5:30 p.m.
Boys basketball
Badgers 58, Eagles 48
After opening the season with two straight wins, Flagstaff has dropped two straight.
Flagstaff couldn't hold on against Prescott, losing at home Friday.
Nick Morrow led the Eagles with 19 points and Josh Lenners added 12. Flagstaff (2-2, 1-2 Grand Canyon) hosts Paradise Honors Saturday at 6 p.m.
Spartans 62, Spartans 33
The elusive first win of the season remains elusive for Northland Prep, which lost to Scottsdale Prep Friday and fell to 0-4. Northland Prep is scheduled to host Valley Lutheran Monday at 7 p.m.