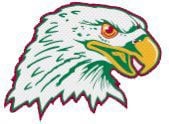 A return to the postseason ended in a heartbreaker for the Flagstaff Eagles boys basketball team on Friday at Rio Rico High School.
The 16th-seeded Rio Rico Hawks made 11 3-pointers on the way to a 60-54 win over the No. 17 Eagles in a 4A Conference state tournament play-in game.
Hawks guard Habid Calderon finished with five 3s and 19 points altogether, and the Hawks swooped into the play-in round by winning their region after sitting outside the rankings bubble and then outlasted a team on Friday that they knocked out of home-court advantage for the round.
Sophomore Nick Sneezy recorded 16 points for the Eagles, who finished the regular season at 12-7 before the play-in loss. He had four 3s in the defeat, with three falling in the final quarter.
Tyler Centner added 13 points for Flagstaff, which missed the postseason entirely a year ago, and teammate Christian Lancaster contributed nine points. Nick Morrow gave the Eagles six points and Walter Downs put up five.
Flagstaff trailed 32-28 at the half.
WRESTLING
COCONINO
A pair of Panthers stayed in the title hunt Friday at the Division III state wrestling tournament taking place in Prescott Valley's Findlay Toyota Center.
Getting through the quarterfinals of the championship bracket wasn't easy for Coconino's Tony Hernandez and Pedro Billups, who is a returning state champ from a year ago.
You have free articles remaining.
Hernandez, wrestling at 106 pounds, won by fall in his opener and then outlasted his next opponent for a 5-4 decision victory. Billups, wrestling at 120 pounds this year after going for a title at 106 a year ago, recorded a 19-2 technical fall over his first opponent and then earned a 5-3 decision in the next bout.
Panthers 113-pounder Nick Phillips opened with a 7-4 decision win and then fell 7-3 in the next round at 113 pounds. Cooper French had a 9-1 major decision to start his day on a win and then fell by decision in the next round at 126 pounds.
Ulises Gutierrez (220 pounds) and Tiberone Clarke (heavyweight) both suffered pins to start their tourneys, but the former advanced in the consolation bracket with a decision win and the latter advanced as well, but on a pin.
Coconino's Mauricio Quijano (195) and Haiden Kendall (138) lost both of their matches Friday, and the Panthers sit in 15th place as a team heading into the final rounds Saturday.
PAGE
Zachery Ruiz is still on a path for a repeat as state champ at 113 pounds for the Sand Devils after recording two wins Friday to start the D-IV meet at Findlay Toyota Center.
Ruiz pinned both of his opponents to get his stay in the tourney started, and teammate Kaleb June also won by fall in both of his bouts at 145 pounds.
Ashton Penrod (106) stayed alive in the consolation bracket along with Shayne Ruiz (120) and Hunter Richardson (138) for Page, which sits in 11th place as a team after the first day of matches. Page's Harrelson Sampson lost both of his matches at 132 pounds.
FLAGSTAFF
Eagles 138-pounder Zach Collins lost in the first round of the D-III state tournament Friday, but recovered with a 15-2 major decision victory in his favor to start a trip in the consolation bracket on Friday.
He is the lone Flagstaff wrestler at the meet and will continue Saturday.