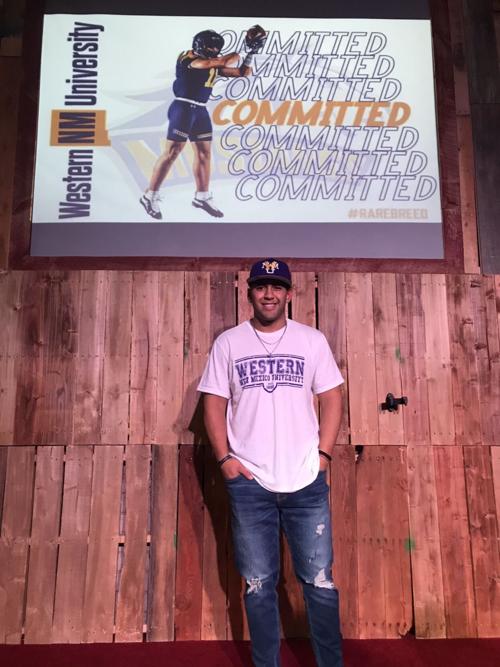 A few local football products will be playing at the collegiate level after making commitments official on Wednesday, national signing day.
The biggest name so far to make his commitment official is Flagstaff Eagles standout running back Luis Jaramillo. The prolific back made a surprising move, picking Division II Western New Mexico over hometown Northern Arizona -- which had been recruiting Jaramillo over the past two years.
It isn't clear why Jaramillo chose Western New Mexico over Northern Arizona, but Western New Mexico has been known to nab Arizona prospects who fall through the cracks and are missed by other schools.
Jaramillo, a three-star recruit according to 247Sports.com's recruiting database, finished his high school career with 3,280 rushing yards, 47 total touchdowns and averaged 7.4 yards per rush. He recorded 117 yards per game over his three varsity seasons at Flagstaff. He played the bulk of the condensed 2020 season with an injured ankle and wasn't full healthy until the end of the eight-game regular season.
Northern Arizona has recently received commitments from local products such as former Flagstaff Eagles quarterback Joe Weidinger and former Coconino athlete Ty Furr as walk-ons, but has not gotten any local commitments during this recruiting cycle.
Former Eagles offensive lineman Brandon Shirley committed to play at Gila River Community College, and Flagstaff wide receiver Jace Wetzel verbally committed to play at NAIA George Fox.
Others such as Coconino standouts Zach Bennett and Manuel Cardoza are expected to make decisions about their next steps in the near future.
Girls basketball
Panthers 42, Volunteers 39
The visiting Coconino Panthers edged out a close one against Lee Williams in Kingman Thursday night.
The Panthers got the win behind 23 points, seven rebounds and a perfect 13 of 13 from the foul line from senior Kiana Manuelito as the Panthers improve to 3-1 overall and 2-1 in the 4A Grand Canyon Region.
Wynter Huskie added in 12 points as well.
Coconino travels to Mingus Union today for a 5:30 p.m. game in Cottonwood.
New fan policy
The Arizona Interscholastic Association Executive Board announced Thursday that up to two parents or legal guardians can attend road games, pending local schools, districts and county guidelines.
Flagstaff Unified School District has kept fan attendance to zero and it is unclear at this time if that will change following the AIA's decision.
FUSD is expected to vote on the possibility of fans during Tuesday's board meeting.