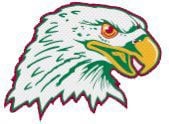 The No. 3 Flagstaff Eagles baseball team fell back down to earth Saturday after soaring to an undefeated 12-0 record to start their season, failing to get the bats going at home against the 28th-ranked Deer Valley Skyhawks, 8-2, in the meeting between the 4A Conference ballclubs.
Junior Teague Van Dyke started the game on the rubber for the Eagles. With senior Sylas Clerry throwing 106 pitches last week against Prescott and senior Justin Hanson getting a day off, Van Dyke got the call to make his second start on the season.
He was in trouble from the first pitch, giving up a leadoff home run to Skyhawks junior Carson Brown. Unfortunately for Van Dyke, the tough outing would continue, pitching 3 1/3 innings, giving up three earned runs, walking one and hitting two batters.
Deer Valley (7-5, 5-3 West Valley Region) has won five of its last six games.
The Flagstaff offense didn't do much to back up their pitchers, finishing with only four hits on the day, with their first coming in the sixth inning.
"Number one, you got to give all the credit to Deer Valley: they came out and were very energetic and excited about playing today," Eagles manager Mike DoBosh said. "They put it on us today, and we did not play up to the standards that we expect. But it's one game; like we have said all year, this doesn't change anything, the game plan is still one game at a time, and today was just not our day."
The Eagles (12-1, 8-0 Grand Canyon Region) used three pitchers in the game in hopes of finding someone that could throw strikes and get batters out. Eagles junior Bodie Maier entered the game in the third inning, making his fourth appearance on the mound this season, and senior Sam Schmitz made his second appearance, coming in during the seventh.
"We're always looking for guys who can throw strikes and get guys out, but credit to (Deer Valley) for being able to put balls in play," DoBosh said. "We're still just trying to find the right combinations. We do have pitch counts in mind and we'll be ready for what's coming up next week."
The Eagles will have to regroup, as the crosstown rivalry adds another chapter in its storied history. Flagstaff will face the No. 15 Coconino Panthers twice next week, first on the Eagles' home turf Tuesday, then the Panthers will host Thursday's ballgame.
"Obviously Coconino is a tough team, so we just have to come out and play well next week," DoBosh said. "I don't think our game plan really changes. We certainly can't have a day like today. So we're gonna get back and work hard on Monday and make sure we are ready to come out and compete."
Vikings 3, Spartans 1
Fourteenth-ranked 2A Northland Prep saw a late-game comeback attempt fall short against host Williams, ranked No. 3 in the 1A, on Saturday.
Spartans freshman pitcher Jordan Donahue worked six innings, giving up three earned runs on six hits while striking out six batters and issuing one walk.
Down 3-0 entering the fifth inning, the Spartans (3-4, 3-1 Central Region) received RBIs from Jerry Wilson and Connor Barta.
Northland Prep gave up a run in the first and two in the third against Williams (9-2, 7-2 North), winner of its last five outings.
Northland Prep is slated to host Sedona Red Rock for a region ballgame Tuesday at 3:45 p.m.
Golf
Senior Vincent Cortese shot an even-par 70 to claim his first NCAA individual title to lead the Stevens Institute of Technology golf team at the Rosemont Quad Event, hosted by Rosemont College on Friday.
Fresh off a second-place tie at the Spartan Invitational on Tuesday, the Flagstaff native shot 1-under on the front nine and 1-over on the back nine, finishing the round with a total of three birdies and 15 pars. That score matched the third-lowest single-round score in program history. Cortese finished two strokes ahead of Cabrini University's Sean Caspar.
"I was striking the ball well and giving myself lots of birdie looks," the Northland Prep Academy graduate said. "I had consistency with my long game as well as my short game and made a few putts."
Cortese also led his team to victory in the four-team event. Stevens shot a team score of 293, which was the lowest single-round score in program history. The team finished 17 strokes ahead of second place Cabrini University. Four Stevens players finished in the top five out of 21 players.
"Proud of our student-athletes, especially Vincent, who has made the commitment to improve, even as a senior," fourth-year head coach Charles Papendick said. "He is playing the best at the right time for us. Actually, I am very proud of our entire team, playing in upper 40-degree weather with off and on rain."
The tournament was held at the Hawk Pointe Golf Club in Washington, New Jersey, on a par-70, 6,682-yard track.
Girls tennis
Volunteers 8, Eagles 1
Junior Millicent Holliday and sophomore Abby Ball won at No. 2 doubles Friday at Thorpe Park to help Flagstaff avoid getting blanked against Lee Williams.
Holliday and Ball put Division II Flagstaff (4-6, 3-4 Section Two) on the scoresheet with an 8-6 victory. Junior Allie Thomas was the only Flagstaff athlete to avoid a straight-set sweep in singles play, falling 7-5, 5-7, 10-8 to her Lee Williams opponent at court No. 5.
Flagstaff, ranked No. 27 as of Saturday, saw 15th-ranked D-II Lee Williams (11-1, 4-1 Section III) end its regular season with the victory in Flagstaff, with the Volunteers finishing on a three-match win streak before the state team tournament begins Tuesday, April 27.
The Eagles, meanwhile, are set to wrap up the regular season with a crosstown rivalry match against the winless Coconino Panthers, who are ranked No. 59 as of Saturday, on Monday at 3 p.m. at Coconino High School.
Boys tennis
Eagles 5, Yeti 4
Basis Flagstaff came up just short and couldn't avoid being swept in the regular season by Anthem Prep on Friday at Continental Country Club. 
The sophomore duo of Daniel Korm and Jaden Zeng won at No. 1 doubles, 9-7, with teammates Brady Spinti and Colm Cawood, both juniors, claiming court No. 3 for the Yeti, who played the Eagles a total of four times this season.
The final meeting was the tightest. The Yeti dropped the first meeting between the teams, 8-1, to open the spring, then fell 6-3 just four days later. In the third meeting, Basis Flagstaff lost 7-2 in mid-April.
Zeng won at No. 1 singles and senior Aaron Jensen battled to a three-set victory, 3-6, 6-4, 10-8.
The Sun Sports Staff contributed to this roundup.