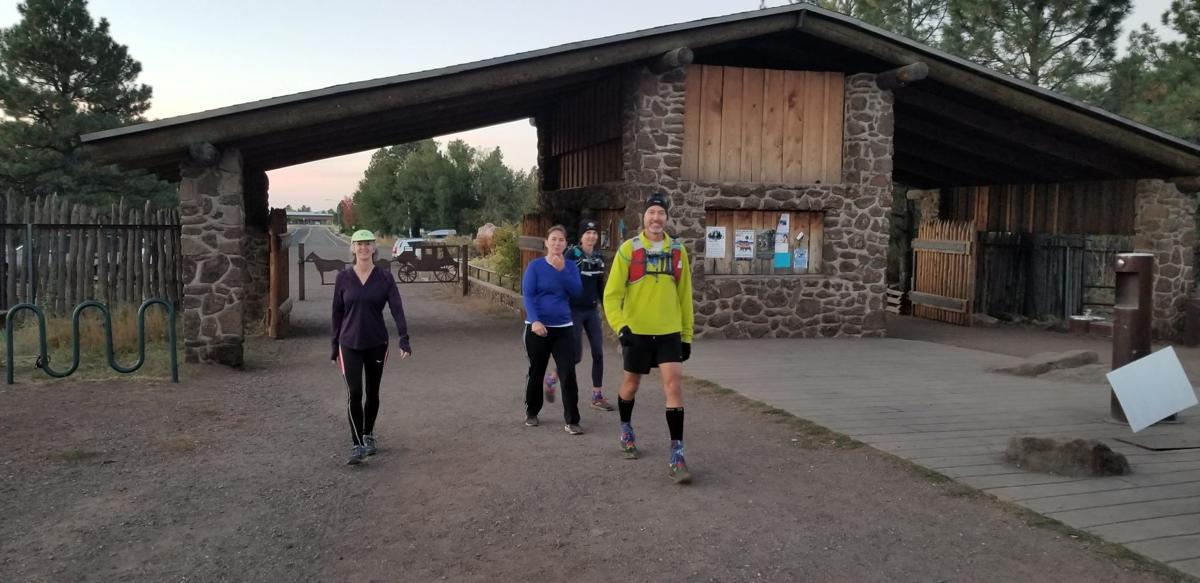 The other night, I was sitting at my computer searching for real races to enter: the kind with a finish line and aid stations and postrace parties. I appreciate the flexibility of virtual races, but I miss the thrill of measuring myself against others on the same course on the same day.
Over this pandemic summer, I've built up a solid running routine and banked some fitness. Everything has a purpose, and my feeling as I searched was that the purpose of being as fit as I was certainly had to be racing; otherwise, what's the point?
The next night, I saw a Facebook post from Neil Weintraub about our friend Larry Phoenix, who is running the Arizona Trail in segments. Neil was inviting people to join him and Larry at Buffalo Park in the morning to run the next piece of the AZT. I decided to go.
It was the perfect Flagstaff fall morning; just enough bite in the air to encourage motion, but not so cold that you had to layer up to your eyeballs. Five of us took off in the early light, taking it slow, talking as we ran. Larry and his girlfriend, Tiffany, would be doing a 20-mile day. Neil, Hannah and I would peel off after about 5 miles.
Larry laid out the rules: "We walk the uphills and the rocky parts, and there will be no falling." Good rules! He also told us he and Tiffany had seen bear tracks on seven of the past eight days. Sure enough, he was soon pointing to fresh tracks pressed into the trail's dust.
There are definite benefits to running with wildlife experts, I thought as we ran along the Dry Lake Hills. Suddenly, Larry and Neil stopped. With a grin, Larry pointed downhill to where two black bears ("a sow and cub," he whispered) were trotting through the brush.
We continued running and the next thing we knew, another bear was scrambling up a big ponderosa just ahead of us. There's a lot of crashing around and snapping of limbs when a bear climbs a tree.
Two minutes later, we were still talking about the bears when Hannah pointed out two mule deer. These wildlife experts appear to be critter magnets!
We ran on, walking the uphills and the rocky parts. We examined some plastic sheeting, possibly installed to reduce erosion after the Museum Fire. We talked about retirement, working from home and race directing. We watched sunlight race down from the hilltops as the day warmed.
And I thought to myself, this is what my fitness is for. Two days after a 13.1-mile trail run, I can go for a spur-of-the-moment run with friends and keep up with them easily. We can share the wonders of nature and celebrate the Arizona Trail, telling stories and laughing as we go.
My fitness isn't useful only for racing: being able to run with friends is a gift. I've worked hard to get here. And now I remember why.
Julie Hammonds is the coordinating editor of High Country Running, which is written by and for runners. Tell your story! Send her an email at runner@juliehammonds.com.