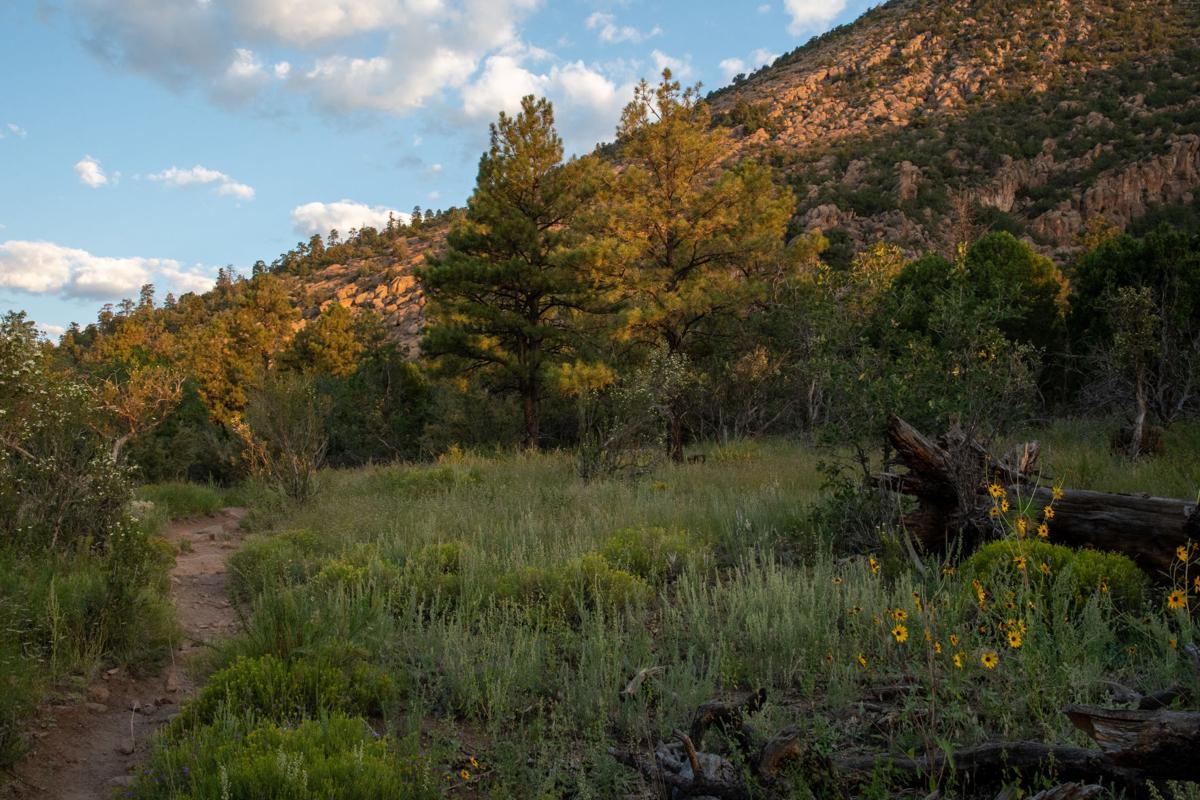 I started running the trails below the southern face of Mount Elden in 2013, when I moved to a neighborhood near one of the area's trailheads.
I had been running Flagstaff trails for three years by that point, so rocky conditions on Pipeline Trail and its many connectors didn't surprise me.
Sure, my knees and palms kissed the ground unexpectedly a couple of times in the early months, but I worked on agility. Eventually I stopped tripping over rolling white rocks and hidden roots and found the joy in sprinting up hills fartlek-style.
Two dozen overlapping trails, most unmarked, wrap themselves around the southern and western bases of Elden. At first, I followed a regular route I called the "B Train" because the trails followed the shape of a capital "B."
Eventually I figured out that it's well-nigh impossible to get badly lost in that area. Pipeline Trail and suburbia are downhill, Elden's steep slopes and the Dry Lake Hills are uphill. Now I feel comfortable just wandering at jogging speed because I know the trail crossings and road connections. I can read the features of Elden like a trusty compass that always points toward home.
When I started running these trails, I was in my 40s. I'm not anymore. I may be savvier about wayfinding and staying on my feet, but I'm less swift up the hills, more likely to stop and catch my breath while watching an Abert's squirrel clamber up a tree.
I see the passage of time in my face and feel its tracks along my muscles. Gravity is going to win eventually; my bones know that.
Time has also radically transformed these trails, particularly in this torrential summer. Water has moved dirt and rock in awesome ways. Some trail beds went from jog-able to jagged, scoured to bedrock by rushing water. And along the base of the Buffalo Park hill is the now-massive wash that has carried floodwaters destructively down from the Museum Fire burn scar into eastside neighborhoods.
On the other hand, where some trails level out there are new beds of sand, easy on the legs. And wildflowers are everywhere this September, jolts and fireworks of purple and scarlet and cream and of course, yellow and more yellow.
I run along, thinking about the power of water and time and gravity and how much has changed since my feet first traced these trails in 2013. Some of those changes are mental weights that can make my feet drag. Then I see the red flare of paintbrush and penstemon in a meadow, a timely reminder that some things stay the same.
Life's thirst to renew itself is unquenchable. If I stay open-hearted to the present moment, beauty is all around.
Even the rockiest, most water-weary trails can surprise with a sweet sandy bed for the feet. Even this aging body still responds to running's challenges by giving its best. Rounding the curve of a familiar trail, I smile to find a new vista of graceful trees and swaying grasses; a blessing from this day.
Julie Hammonds has coordinated this weekly column since May 2018. Send your running news and stories to runner@juliehammonds.com.