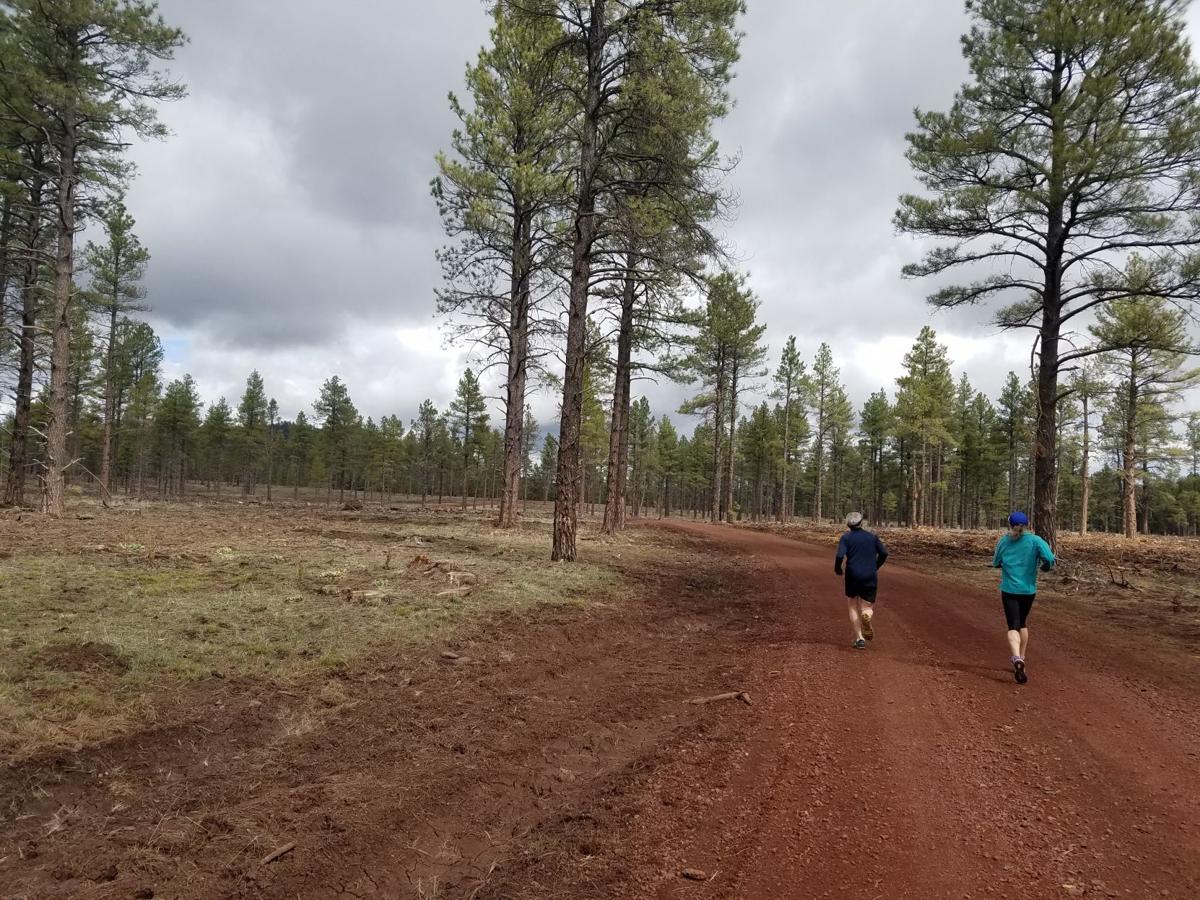 This past Saturday, while returning from running the seldom-used Rogers Lake County Natural Area trails, I was amazed to see the swarm of runners training on Woody Mountain Road. You would never catch me out there trying to battle vehicles that are often driving way too fast on that rough road. Recently I've even heard scary reports of a rogue pickup-truck driver harassing runners.
For those concerned about how the novel coronavirus might be dispersed when you're running on narrow trails with friends, what follows is a list of my favorite wide, less-traveled forest roads a short drive west on I-40 from Flagstaff. Bonus: all have posted mile markers.
Exit 185: Take the short drive west to Bellemont. Make a left (west) at the truck stop and follow historic Route 66 0.8 miles to Forest Road 171. Park along the road's edge near this junction and run north into the Coconino National Forest.
Exit 178: Another 10 minutes west on I-40 is the Parks exit. Make a left at the off-ramp and head south on Forest Road 141, aka the Garland Prairie Road. Find the nearest pullout along the paved road and run south toward Garland Prairie and its breathtaking, sweeping vistas of the San Francisco Peaks.
Exit 171: This is the next exit west of Parks. Get off on the north side of the Pittman Valley exit, where there is a pullout with an informative interpretive sign about Route 66 history. Park at the pullout (but not in front of the access road gate) and run west. The paved road soon makes a sharp turn to the north. Over the first and last 2 miles, you'll be treated to spectacular views of the San Francisco Peaks as you head in and out of the Kaibab National Forest. At mile 3.0, just past the gas compressor station, the road turns to dirt. You can follow this for many miles along the western flank of Sitgreaves Mountain. Beware of logging trucks working an active timber sale project on the east side of the road as part of the Four Forest Restoration Initiative.
Exit 165: My final insider tip is Forest Road 108, also known as the Bill Williams Mountain Loop Road. Get your kicks on Route 66 all the way to Fourth Street in downtown Williams. Make a left onto Fourth, which heads south into the Kaibab National Forest and becomes the Perkinsville Road. After about 5 miles, you'll see the junction with the east end of Forest Road 108 and a sign for Coleman Lake, a wonderful wetland to spy wildlife. Park along any of the roadside camp sites and you can run endless miles around Bill Williams Mountain to your heart's delight.
Every exit west of Williams provides endless miles of dirt roads to explore; however, I'll reserve those for another column. In the meantime, I've given you plenty of options to expand your horizons. Go west and be safe, runners!
Neil Weintraub cofounded Northern Arizona Trail Runners Association in 2001 and has voluntarily organized the Flagstaff Summer Series since its inception in 2005.
Do you have a column, tip or idea for High Country Running? Send it to coordinating editor Julie Hammonds at runner@juliehammonds.com.
Be the first to know
Get local news delivered to your inbox!