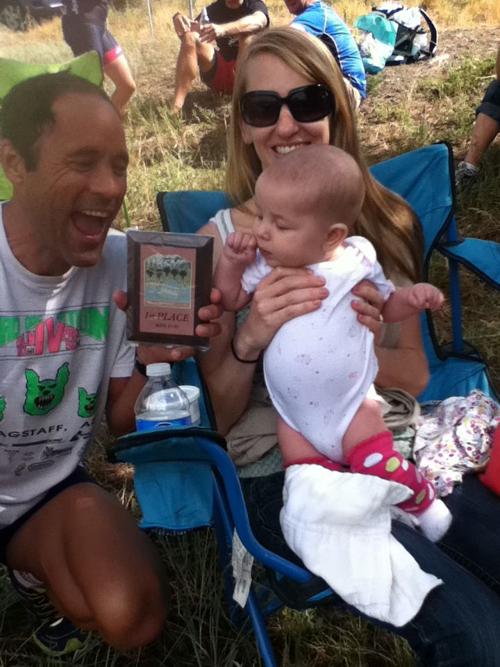 When I became one of about 70 local runners who contributed my story to the book "To Imogene, A Flagstaff Love Letter" last year, it energized me to consider doing one of the most challenging races of my life again.
It's been six years since I last raced and going on 17 years since I took fourth in the 2003 Imogene Pass Run, a run that includes about 8,500 feet of elevation gained and lost over 17.1 miles of mountainous terrain. So, how does a 55-year-old man with two young children at home find inspiration? The answers began with rediscovering what I love about running.
I started by re-reading my favorite running book, "Born to Run." It not only has a full selection of colorful characters, it goes deep into the history of running and assists the reader with establishing a running form designed to be natural and avoid injury.
During my runs, I would visualize my feet massaging the earth and the earth returning the favor to my feet, while always reminding myself to relax. If you're working too hard, it's OK to slow down. Kick those feet up behind your butt and you won't worry about tripping over rocks and face-planting. Let go of any ego associated with personal best times and recognize that whatever you have to give in this moment is enough.
The next dose of inspiration came from an unlikely source: my diet. I decided to go vegetarian after seeing the documentary "Game Changers." We joined community-supported agriculture and began a plant-based diet. My dislike for wasted food means finishing my kids' Mama Burger at times, but for the most part my wife, Natalie, and I have stayed on course.
Her homemade pizza with new potatoes, roasted onions and green chilies is my new favorite meal. A beet/ginger/apple juice at the Juice Pub gets the day off to a great start, too. What I've found is not what I expected: better sleep, better recovery and more energy. Do I walk around hungry or miss meat? Well, I don't look at our dog, Sadie, and salivate, so I would say No.
The last thing I'll touch on is the after-run reward. On a long run at 80 degrees, I picture a Piehole Porter from Historic or a Dark Sky Peanut Butter and Jelly (yes, it is a beer, and tastes exactly like it sounds).
A dip in the cool waters of Oak Creek is a beautiful and comforting end to a run when I'm in that area. Another treat is one of my wife's elbow massages. The pain of the scar tissue breaking up is always comforting to me. I guess we endurance folks just love that pain, one way or another.
Like many Flagstaffians, I signed up for the virtual Imogene on July 1, but as an older runner I would say now that the trip is more important than the destination. Happy trails!
Mike Olson has been a Flagstaff-based probation officer since shortly after graduating from NAU in 1993.
Do you have a column, tip or idea for High Country Running? Send it to coordinating editor Julie Hammonds at runner@juliehammonds.com.
Be the first to know
Get local news delivered to your inbox!