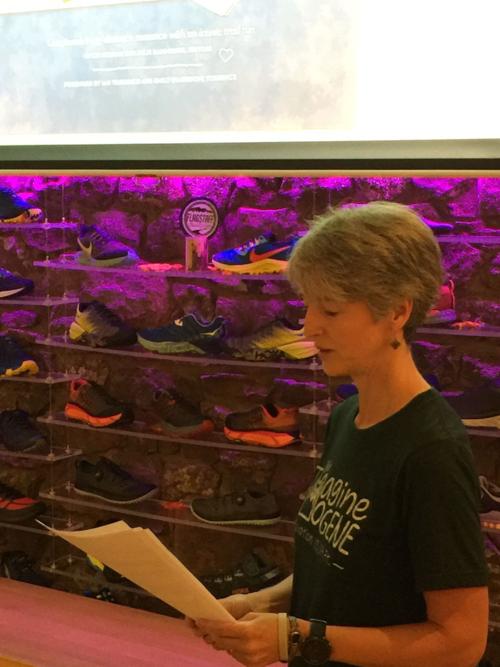 When I look back on my first Imogene Pass Run, the "hand of god" comes instantly to mind. That's the wonderful nickname Tess Siemens gave to the Colorado Search and Rescue person who helps each runner up onto the final path that leads to the pass, where sugar, salt and liquid refreshment await. Couldn't we all use a hand like that right about now?
Then I recall a kaleidoscope of colorful memories: the shoulder-to-shoulder scramble up the first hill, those alpine vistas at the pass, the salt of pretzels on my tongue, the exhaustion of the steepest climb, the terror of tackling that demonic downhill. The absolute bliss when, at day's end, I settled into the hot springs and let it all go.
I rested in the water, already thinking of "next time." Flagstaff regularly sends more people to this race than any other town, including any town in Colorado. Flagstaffians love to run from Ouray to Telluride along 17.1 miles of rocky, ankle-twisting, soul-uplifting trail. I'm a dedicated Flagstaff runner. Of course there would be a next time.
Next time, I would stay in Telluride with my friends. Next time, I would get out in front of the crowd on that first hill. Next time, I might even try to break four hours.
If you're like me, tomorrow is going to feel strange. June 1 is a sacred day among Flagstaff's Imogene runners. We set multiple alarms and crawl out of bed just before 5 a.m. to leap on that brief registration window — 20 minutes or less — so we can get into the race. Instead of rushing back to bed, we check in with friends: "Did you get in? I got in!"
I know it's silly to be sad that this year's Imogene registration date has been pushed back to July. This is a running column, though, so I hope you'll forgive me if I don't spend my 500 words on the very real, sad and challenging global pandemic. This is a column about Flagstaff's love for the Imogene Pass Run -- which I think we should celebrate tomorrow, registration or not.
Are you going to train for Imogene anyway? I think I might. After all, as Myles Schrag and I discovered when we collected stories for our book "To Imogene, a Flagstaff Love Letter," one big reason Flagstaff runners sign up for Imogene is this: "Training for it means spending summers together on our magnificent home forest's toughest and most scenic trails."
Part of why Flagstaff loves Imogene is that we have a perfect training ground right here in our backyard.
Maybe I'll set my alarm for tomorrow anyway and go for a run, remembering that extraordinary experience in Colorado and the people I shared it with.
If you're thinking of training for Imogene too, there's a new web page for Flagstaff runners who want specific advice about how to do it: soulsticepublishing.com/imogene/get-ready-to-run. It includes sage words from Imogene veterans Nat White, Walt and Nancy Taylor, Al and Sarah Hendricks, Tess Siemens, Monica Baker, Emy Tice, Elise Rumpf, Beverly Tew, Mike Olson, Emily Hoppe, Steve Sue and Liz Brauer. Check it out!
This is Julie Hammonds' two-year anniversary as coordinating editor of High Country Running. Send your kudos and columns to runner@juliehammonds.com.
Be the first to know
Get local news delivered to your inbox!