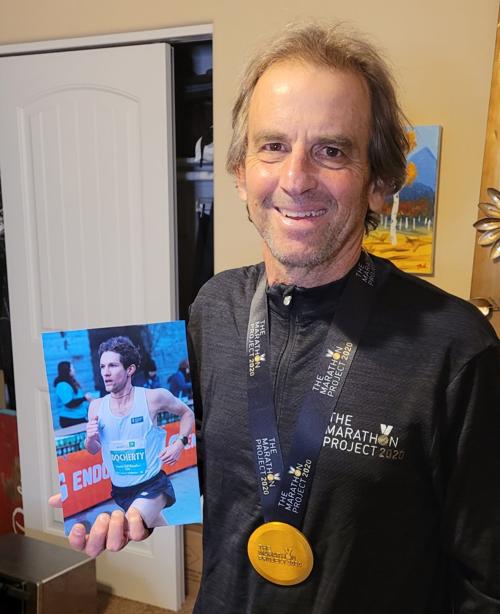 When I heard that coach Ben Rosario of NAZ Elite was organizing The Marathon Project, I was intrigued. However, when I heard its virtual challenge was open to anyone, and that participants would also receive a fashionable half-zip, I was hooked.
About 450 runners competed in the virtual Mileage Challenge. To make it more fun, there were pro-led teams we could join, including teams hosted by Flagstaff pros Stephanie Bruce, Scott Fauble, Sara Hall, Diane Nukuri, Scott Smith and Kellyn Taylor. I couldn't decide on just one Flagstaff pro, so I registered unattached to track my training miles and see how I stacked up.
I set a daily goal to stay in the top 100 runners. During the challenge's first 12 days, starting Nov. 25, 2020, it became my bedtime ritual to log my miles in the race database and frantically refresh the results until my standing was updated. I'd then strategically plan the next day's run before falling asleep.
On Dec. 7, I received the following message on my Strava app: "Hey Neil, I saw you are in the The Marathon Project virtual challenge but not on a team yet! We're trying to make it a race for the top spot with Team Kiera D'Amato, but we need help! We're about 360 miles behind right now. Think about joining the squad (Team Danny Docherty) and happy runnin!"
Surprisingly, I had just been recruited by Olympic marathon qualifier Danny Docherty (2:15:15 personal record), with whom I had no connection, to compete against Team Keira D'Amato, the American women's 10-mile record holder.
The friendly competition really heated up Dec. 9 when Danny posted on Instagram that our team was only 100 miles behind Team D'Amato. "But we ain't going down without a fight! We've got 32 runners in the fight right now and you can still hop on the train to help us make up that gap. …Here's to the race ahead."
From that day forth, I added an extra mile or two a day to my run, to help our team. I habitually followed the ever-changing standings, refreshing my screen throughout the day as we played leapfrog with Team Keira atop the standings.
The team race concluded on Dec. 20, coinciding with the in-person elite marathon in Chandler. While somewhat disappointed with his 2:18:45 race-day marathon, Captain Danny finished the virtual team challenge on top. We'd won!
He posted on Instagram Dec. 23, "The battle with Team D'Amato was one for the books to say the least. ...That was a fun challenge and kudos to @marathonproj for thinking it up and bringing it to life. There was a real connection and camaraderie in sharing the experience as a team and we went through all the ropes of recruiting, motivating, and planning to get that W."
I enjoy basking in the thought that my 153.94 miles helped carry Team Danny to our victory of less than 90 miles over Team Keira. You're welcome, Danny. Now I can't wait to see who recruits me next.
Neil Weintraub cofounded Northern Arizona Trail Runners Association in 2001 and has directed the Soulstice race since 2002.
What's inspiring you to lace up your running shoes this winter? Send your story to coordinating editor Julie Hammonds at runner@juliehammonds.com.