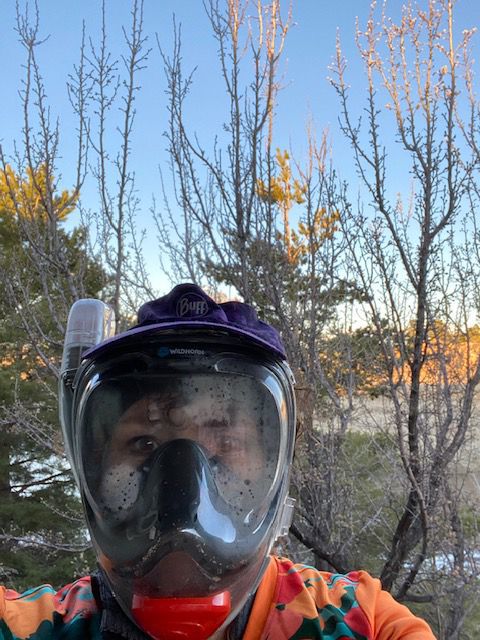 I'm a member of the Flagstaff Trail Divas, which, like all running groups here in the high country and everywhere else, is adapting to COVID-19.
The Divas usually meet on Thursday nights after work once it stays light long enough to get in a decent trail run. Of course with the stay-at-home order and social distancing, group runs are not an option right now. But we Divas enjoy a lively social life beyond the trailhead. This week, we checked in via our Facebook group to find out how we're all doing and what strategies are helping us deal with this strange new world.
Various Divas (including me) reported having cabin fever due to injuries. Emily, one of our accomplished ultrarunners, recently broke two toes. "I miss long runs and going to new trails and rushing to get to Divas runs five minutes late. Now I'm not late for anything because I have nothing to go to!"
Unlike Emily and me, most Divas were getting out on runs in the windy spring weather. A Diva named Jodi said running helps her keep her sanity, a sentiment we all shared.
Some Divas are taking part in Run Flagstaff's "Daily Virtual Challenge," which has encouraged everyone to get outside and run, walk or hike at least five days this week. We're waving to other runners and taking turns stepping aside off the trails with a rueful smile when needed to maintain social distance.
Tina, another of our ultrarunners, said she's "lost some mojo with fitness and running," but found a bright side in the fact that last weekend, her family finally unpacked boxes left untouched since they moved more than a year ago. Liz said she was "doing some artistic cleaning when inspired," explaining "my muse seems to be cat hair."
People like me who already work from home reported that our daily routines haven't changed much -- which should maybe make us look at our daily routines with a side eye if quarantine feels like "same old, same old."
For other families, the new normal feels anything but. Kids in school elsewhere have come home, and kids who were in school here are now home for the duration. That changes life in profound ways for many.
Parents or not, some Divas reported feeling understandably stressed and anxious. We all worry about those who work in essential services such as health care and the food supply, and about friends and family near and far who have fallen ill or are particularly susceptible to this virus.
But like everyone else in these strange times, the Divas are grateful for what we have, supportive of each other and looking for ways to turn lemons into lemonade. Elise spoke for many when she said, "I feel so lucky to live somewhere where we can get outside so easily." Even now, or maybe especially now, northern Arizona is a joy-giving place to be.
Julie Hammonds is the coordinating editor of High Country Running. She welcomes your columns, tips and story ideas at runner@juliehammonds.com.
Be the first to know
Get local news delivered to your inbox!