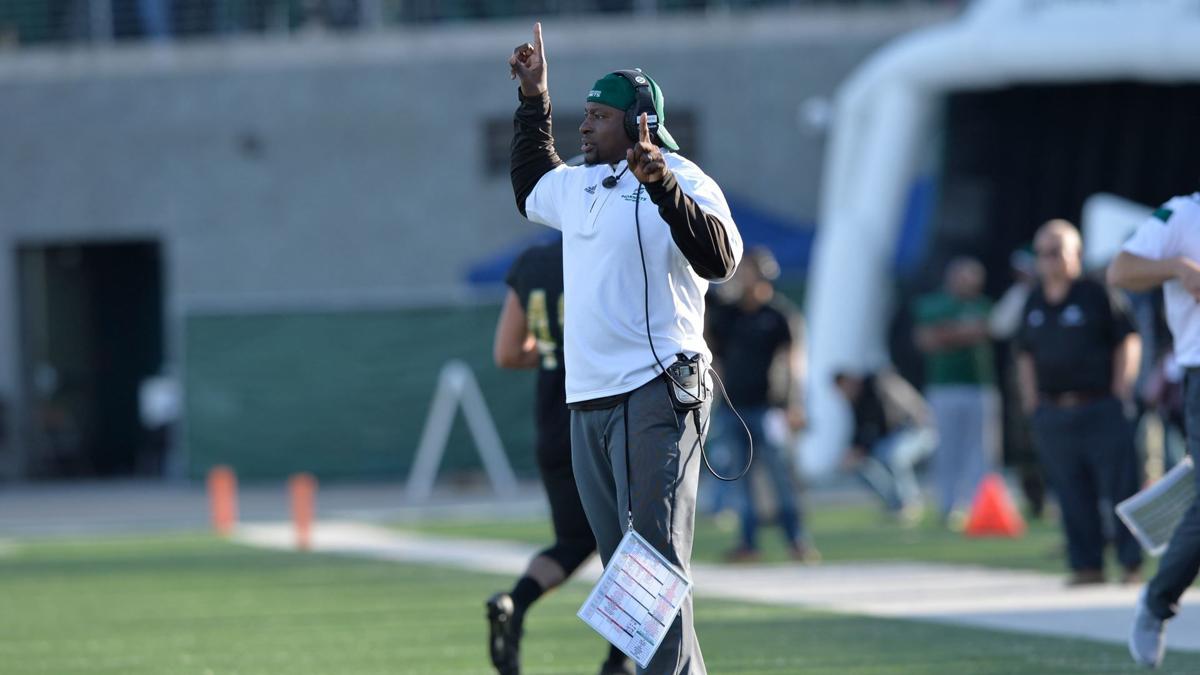 When the XFL folded in April just barely into its inaugural season, Sammy Lawanson found himself having to find a coaching job in the middle of a pandemic when many schools and teams weren't hiring.
The longtime coach had already made some connections, having worked under Northern Arizona head football Chris Ball at Arizona State. Despite some worries initially, Lawanson was confident he could find his way back into coaching after a brief stint as the D.C. Defenders outside linebackers coach.
"You always worry just because there are not a lot of college jobs that are available come mid-April," Lawanson said over the phone Tuesday. "It's a pandemic, you didn't know what was going to happen. ... I had a contract that was supposed to run through June but it got terminated. I've been doing this long enough to know when one door closes another door opens. You gotta stay patient."
With the hiring freeze that kept some Northern Arizona Athletics programs from filling coaching spots now lifted, Lawanson was officially announced as the new outside linebackers and nicklebacks coach midway through last week.
The prior connection with Ball, along with Lumberjacks offensive line coach Bob Connelly and offensive coordinator Aaron Pflugrad in 2012 and 2013, helped Lawanson get back to the gridiron after being abruptly laid off.
"At the end of the day what brought me to NAU was Coach Ball," Lawanson said, adding that Ball had contacted him before he lost his job in the XFL.
Lawanson also brings five years worth of Big Sky coaching experience to the squad. He was Sacramento State's defensive coordinator from 2016 to 2018 after he was the Hornets' running backs coach for two years. He also spent two seasons at Cal Poly -- before it was a Big Sky Conference member -- not long after breaking into the college coaching ranks in the early 2000s.
In the five games before the league folded, the Defenders defense allowed 315.5 yards per game and allowed the third-fewest total points in the league at 89 and per game at 17.8.
The position first came open when former coach Junior Tanuvasa, who spent just the 2019 season on the staff, left to run quality control and recruiting at Colorado in April.
Thoughts on roster
Fans who watched the Lumberjacks last season understand the defense struggled, but there were some bright spots within the linebackers group. Lawanson says he sees a young group that he thinks just needs to be put into successful positions.
Although the online roster doesn't specify which linebackers and defensive backs are actually outside backers and nicklebacks, Lawanson noted a few who could make a solid impact.
"Each bring something to the group," Lawanson said. "Dy'Vine Wallace is the little bit older of the group and is physically the most imposing. Matty Horne has a wealth of athletic ability but is young. We moved Cejai Parrish over there. He's done a nice job; he's a smaller guy but with his quicks and athleticism he's done some nice things. ... Each bring something different and unique to the table. 
"I kinda equate it to baseball," Lawanson added. "What does a player do good and what is his specialty and putting him in the situation and role to do that? In baseball you got a pitcher that is going to go five innings, a sixth-inning guy, a seventh-inning guy, eighth and then your closer. If someone has a really good skill they do well, I am going to ask him to do that."
Wallace, a redshirt junior, played in 12 games last season but only recorded three tackles while Parrish -- who is moving down to nickle -- played a solid amount while the backfield dealt with injuries in 2019. Others that Lawanson noted, such as Horne and Eddie McClendon were hurt the bulk of 2019 and didn't see a ton of practice time.
It is still unclear just how the football season will look for the Lumberjacks, but the team is set to start fall camp next week despite the ongoing pandemic.
Recruiting
Lawanson may get a chance to work with a solid recruit that announced his decision to join the Lumberjacks. Desert Edge 2021 outside linebacker Zach Blackwood announced last week he plans on attending Northern Arizona next year.
The 6-foot-5, 255-pound product out of the Valley, who played for 6A Conference squad La Joya Community High School in 2019, was a Southwest All-Region second-teamer as a junior and is expected to make an impact at Desert Edge -- if the 2020 season happens.
Be the first to know
Get local news delivered to your inbox!