Flagstaff senior Sage Begay said she's been stopped a few times in public -- getting groceries with the family at Target or other outings -- around the city. These people, many of them strangers, have lauded her and the Eagles girls basketball team for winning their first state championship in 31 years.
"They're like, 'Congratulations, you broke the curse,' and you can see how much it means," Begay said.
Begay is a two-year starter for the Eagles. This year she averaged 11.4 points per game, along with 4.2 rebounds, 2.2 assists and 2.6 steals. She was named to the Grand Canyon All-Region First Team.
Begay was not the highest-scoring player on the team. That was freshman Bella Burcar, who averaged 12.6 points. But Begay developed into a leader on a young 4A Conference Eagles squad as one of the few senior contributors. With the injury of fellow senior Jasmynn Tsosie in the 4A state tournament semifinals, Begay was the lone senior starting for Flagstaff in its 68-65 win over Pueblo in the title game on Thursday, March 2.
That leadership role actually began in the 2021-22 season, and increased as time passed.
"I really started that when I was a junior," Begay said. "I really looked up to the older girls like Gracelyn (Nez), and being a great friend with her, I started picking up the little things she did. And then senior year it felt normal, so it didn't feel like too much weight on my shoulders."
That work led to a solid season. The Eagles went 21-3 and won a thriller over the Warriors in the state tourney finals.
Begay was not just a vocal leader in the championship game. She scored 12 points, including 10 in the first quarter to give Flagstaff an offensive push after it had missed eight consecutive 3-pointers to open the game.
Her spark, Eagles coach Tyrone Johnson said after the championship contest, was the catalyst to victory.
"Without her scoring there, we don't win the game. Just her presence alone is huge on the court. When she's able to score and defend without fouling, we're a different team," Johnson said.
He added: "She had to be the leader tonight, she did that well. She played within what we do, didn't force anything, but still had a big game that gave the other girls confidence."
Begay said her ultimate goal as a basketball player, ever since she was a freshman, was to lead the Eagles to a state title. And while the Eagles were one of the best teams in the 4A Conference all season, Begay's role was uncertain from the start.
In the first few weeks of the year, Begay injured her ankle. Normally certain in her athleticism, she had to miss some of her normal minutes, and was cautious in how much she could trust her leg.
Even throughout the rest of the season, it "hurt pretty bad." But with the potential for a state title and college basketball in the future, she persevered.
"It was so difficult. There were some days, even in practice, it was hard for me to push myself. But I still did," Begay said. "But my family reminded me what my goal is, and they told me that no one else is going to give it to me and my team."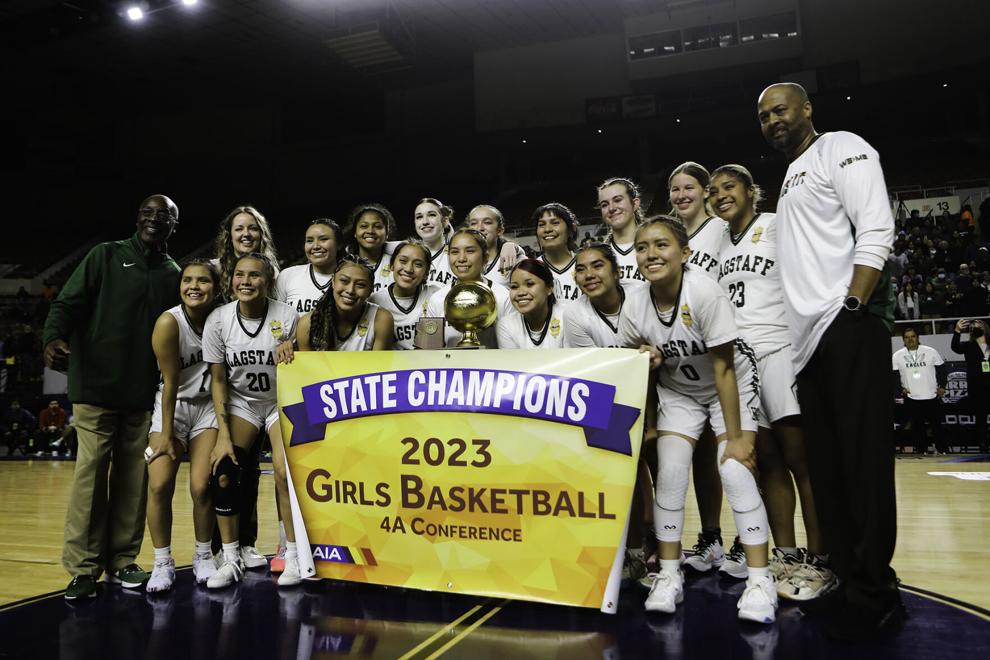 Begay and the Eagles had been to the championship game, falling to Salpointe Catholic the prior season. To get over that hump made all the hours of pain worthwhile.
"We got so close, and then senior year we got to where we wanted to be and had a successful ending. Throughout the years it feels like it's progressed, and that comes from the hard work from me and my team," Begay said.
Now, with the high school season over, Begay is looking toward the future. She wants to play college basketball, and says she's been in contact with a few coaches while weighing her options. When her leg heals more, she'll get back on the court.
For now, though, she's resting her ankle and simply reveling in winning a title with the Eagles.
The attention from the surrounding community is a bonus.