Despite 13 strikeouts and a near no-hitter by sophomore Gracie Schmitz, No. 7 Flagstaff gave up a two-run home run in the top of the seventh inning to fall 2-0 to 10th-seeded Greenway at home Saturday in the first round of the 4A Conference playoffs.
With two outs -- one away from seven innings of no-hit softball -- and a runner on first, Demons junior Amberleigh Castillo made contact with a high pitch and sent it over the fence in center field for two runs that would decide the game.
"I couldn't hit the whole game and I was kind of in the middle of the box, so I just scooted back," Castillo said. "I just threw my hands at the ball."
While Schmitz mowed batters down nearly the entire afternoon, Demons sophomore Kaitlyn Terry also pitched a solid game.
The Eagles suddenly needed two runs in the bottom of the seventh inning to extend the game and season. The Flagstaff batters appeared shocked by the sudden lead change. Senior Lily Anderson flew out, and Terry struck out the final two batters in easy fashion to seal the win and advance her team one game close to the state championship.
Terry ended with 17 strikeouts, allowing just two hits, one walk and no runs. No Flagstaff batter even got beyond second base.
"That's a really good pitcher, and we practiced to see if we could hit her, but she still threw very well against us," Eagles manager Ray Hernandez said of Greenway's pitching.
Emotions ran high throughout the contest, as both teams had to work hard to get runners on base and were precise in their fielding. It was the exact type of battle Anderson expected from a playoff atmosphere.
"I just thought that was so much fun to play, and it was a ride the whole game. It was neck-and-neck the whole time, and those are fun games to play, regardless of winning or losing. It sucks to lose, but it makes us proud to be part of a game like that," she said.
With both pitchers dominating through six innings, it appeared the trend would continue in the top of the seventh. Schmitz walked the first batter, but the next Greenway hitter hit into a double play. With one out remaining to give her a no-hitter through seven and allow the Eagles a chance to walk off in the final frame, Flagstaff issued another walk. Castillo stepped up next and hit the home run that would eventually win the game.
Hernandez said he was "incredibly proud" of Schmitz's performance, despite one misplaced throw.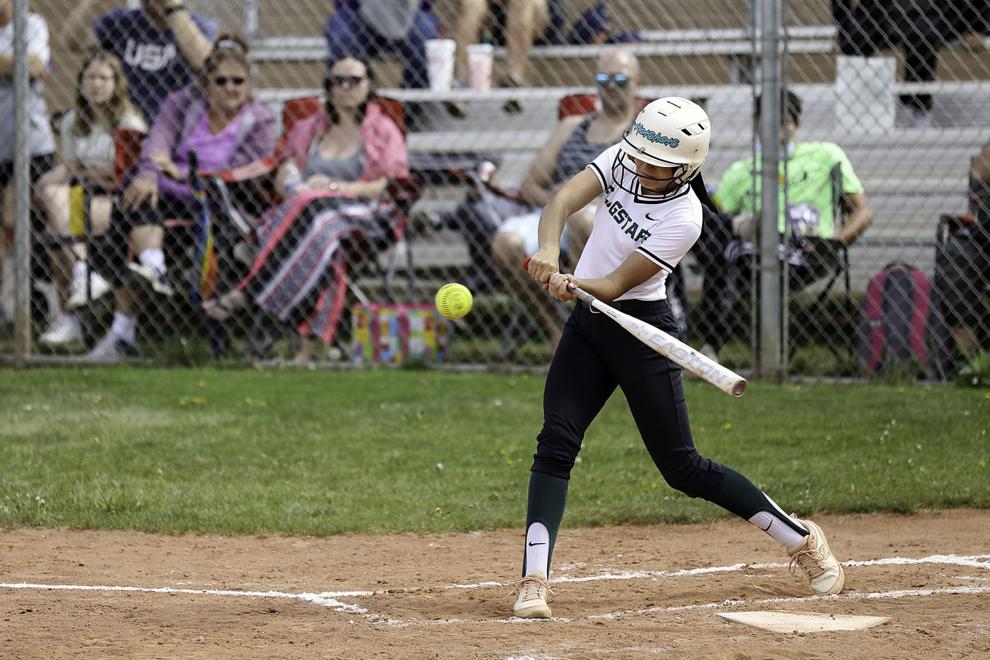 "She threw 78 pitches, and it was a great game. It was just the one pitch that the girl hit a home run off of, it went a little bit high. It happens. One just got away," Hernandez said.
It was the second time the Eagles had played the Demons this season. Flagstaff defeated Greenway 2-1 on March 24 in Phoenix in a similar low-scoring affair. This game, though, the Eagles just could not get the run support needed to pull off a tight win despite showing signs of having a dangerous offense throughout the regular season.
"It was neck-and-neck both times, and this time they just got the one hit that won it for them," Anderson said.
Greenway will visit No. 2 Vista Grande on Tuesday in the quarterfinals. The Spartans defeated No. 15 Peoria 11-1 on Saturday.
Region Honors
With 37 hits, 45 RBIs and eight homer, Lily Anderson was named the 2021 Grand Canyon Region Offensive Player of the Year.
"I'm beyond grateful. I'm grateful to play amongst COVID because we didn't get to last year. It was such an honor to be nominated and win that. I just wanted to do whatever I could to help the team win, and it happened to be my bat that did it," Anderson said.
Senior Andi Elliott and Schmitz joined Anderson on the All-Region First Team. Junior Cheyniya Thompson was named All-Region Second Team. Senior Alyssa Williams and sophomore Reese Elliott were named All-Region Honorable Mention.