The Flagstaff Eagles pushed their record to 2-0 Friday night with a 48-0 victory over the Washington Rams at the Walkup Skydome, winning their home opener in the process.
The host's dominance started with its effective defense. Flagstaff forced five turnovers in the game, had several tackles for loss and made it difficult for the
Eagles head coach Sean Manning said the defensive production began with the effective outside run stopping by his two defensive ends, seniors Nick Morrow and Spencer Smith.
"What was really important was to shut down that run game. Obviously they wanted to try to get to the edge, and Spencer wouldn't allow it, and neither would Nick on the other side. So once you stop the outside, then they've got to go inside, and they've got to deal with our threats on the inside," Manning said.
Smith led the Eagles defense, recording 3.5 tackles for loss, two sacks and two forced fumbles -- one recovered for a turnover -- and breaking up countless pass and run attempts.
He said Friday's game was the best individual performance he has had as an Eagle, in just his second game as a defensive end after playing linebacker all last year.
"I felt great today. Lots of energy and just kept it going the whole time," Smith said. "Their tackles were a little slower than normal, so I had to make sure I took advantage of that and beat them with my speed, because they were big tackles."
But, while Flagstaff played lights-out defense in the battle of the 4A Conference teams from start-to-finish, its offense took a bit to warm up. Washington, which saw its season opener spoiled Friday at elevation, ran a lot of clock in its two first-quarter drives. Flagstaff only had one possession, in which running back Marcus Salcido had a couple solid carries.
But the Eagles could not move the ball enough to get into scoring position.
Then, when the second quarter hit, Flagstaff rode quarterback Bodie Maier's connection with several big, physical receivers, moving the ball through the air.
Morrow caught a jump ball on a fourth-and-25 play to get the ball to the Washington 3-yard line. From there Salcido punched in a 3-yard score to provide his team a 7-0 lead with 10 minutes remaining in the quarter.
The score enthused the Eagles on the sideline.
"It's tough when you're in the end zone three times and walk away with nothing. And that just energizes the kids, energizes the fans and they feed off of them and feed off each other. And once we started cleaning up the mistakes and being the team that I know we are, that they know they are too, then we started putting some points on the board," Manning said.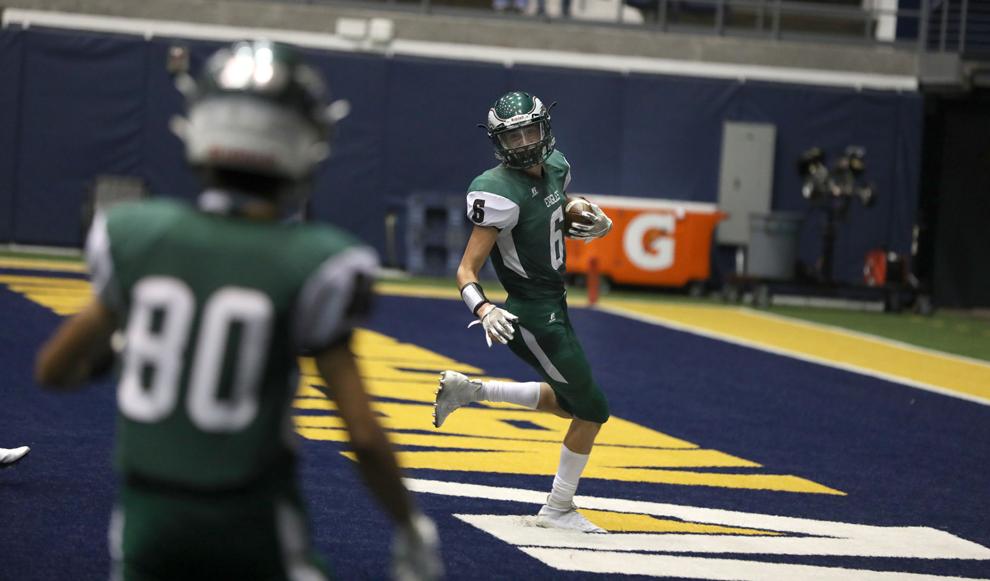 The next drive, following a missed Washington field goal that gave Flagstaff great field position, the Eagles moved the ball with the passing game again. Maier finished the drive with a 29-yard pass to junior Holden Sena for a touchdown.
"I think we just realized that we've got to kick it into high gear. We realized that we were playing down to the other team, and it was just time for us to make that change," Sena said of Flagstaff's second-quarter passing game.
Sena caught his second touchdown reception, this time on a 14-yard pass, later in the quarter. Flagstaff led 20-0 with 1:24 remaining in the half. Senior Ethan Ayup intercepted a Hail Mary attempt from Washington with just two seconds remaining to keep that score intact at the break.
The third quarter was much like the first. Flagstaff sophomore Amare Menninger intercepted a pass on the second play of the Washington drive, and Salcido capitalized with his second rushing touchdown.
The next drive, senior linebacker Collin Doucette intercepted another pass on Washington's 10-yard line. Two plays later, Sena caught his third touchdown to put the Eagles up 35-0. Then, on the next defensive drive, as if Sena had not done enough already, he intercepted a pass.
Flagstaff scored 13 more points and continued its excellent defense to increase its lead to 48-0 with 7:40 remaining in the game and forced a mercy rule running clock. From there, the backups came in and made a few solid plays, but did not add onto the score.
Sena said he was impressed with Flagstaff's all-around effort.
"Everything clicked, from our quarterback believing in all of us and our line having an amazing game, it was just all there for us, and our defense was great. So we just felt really good," he said.
Flagstaff will be the de facto road team Friday as it plays Mingus Union for a meeting of Grand Canyon Region teams. But, due to construction on Mingus's field, the game is set to be played at the Walkup Skydome.