The Comets cross country program is heading down the final stretch of becoming Coconino Community College's first-ever sports program, fueled by confidence, excitement and public support.
During the school's starting line event on Thursday at the Lone Tree campus, it was announced that site clearance from the National Junior College Athletic Association is set to take place on Tuesday, March 3, one of the final steps in making the cross cross country men's and women's teams official.
For those involved with getting the program on its feet, it's starting to feel like they are on the bell lap of a marathon effort.
Trina Painter, renowned long-distance runner and head coach of the Flagstaff Eagles cross country program, said she's been working with the other members of the planning committee for years on the project.
"It's a slow process and they want to do it right, and there are a lot of things we have to do still to get it up and going, but we are so close right now," Painter said Thursday night after members of the committee and CCC President Colleen Smith spoke to those in attendance of the event of their support of the cross country teams. "The excitement and enthusiasm is overflowing right now, obviously, and I believe it's going to happen."
Many of the speakers Thursday night echoed that they can't imagine a school without sports programs.
Of the four total community colleges Smith has worked for, CCC's the only one without student-athletes roaming the campus and filling up classrooms. She said she "understands what sports mean" to student-athletes and that she has already heard the buzz of high school students in Flagstaff over the possibility of the program coming to fruition and being a future option.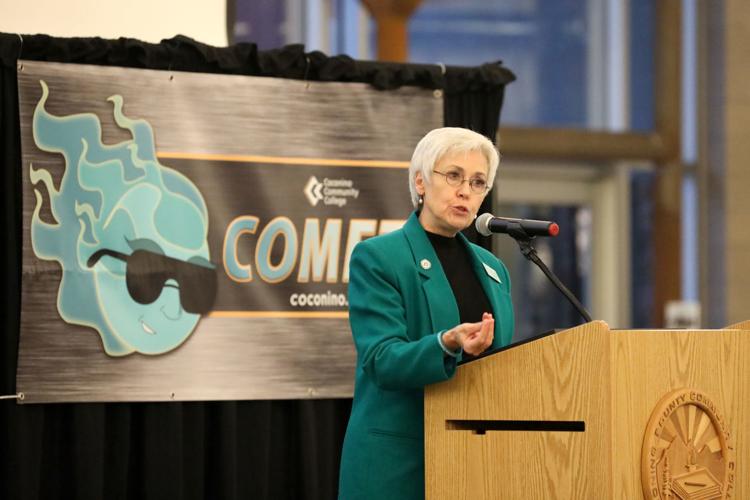 "I believe here, locally, with all the athletes involved and in love with cross country and distance running, that having a program at Coconino Community College is a fantastic stepping stone both athletically and academically to advance," Painter said.
The first class of men's and women's cross country runners will cap off at 11 total, according to the school.
For Tony Williams, the school's dean of students who is also now the first athletic director, it's an "historic" event.
Williams, also a committee member along with Painter and nine others, said during his presentation Thursday that once the site approval is finalized, the school plans to begin recruiting. He added that CCC will begin a coaching search, with the job posting expected to be listed on the school's website by Monday.
Rounding out the committee are: Bubba Ganter; Reggie Eccleston; Doug Allan; Dietrich Sauer; Kay Leum; Meghan Remington; Nat White; Steve Peru; and Ron Hurle.
By Aug. 1, the school is expected to be able to begin signing runners and be an official member of the NJCAA. By three to four years, members of the committee agreed, the program is expected to be self-sufficient, no longer dependent on public funding.
The goal Thursday was to raise another $5,000 for the program, which is estimated to cost somewhere between $35,000 and $40,000 annually. CCC announced the formation of the cross country program in September during a fundraiser, during which more than $9,000 was raised.
The Comets will not be able to compete for a title during their first year, which is a probationary trail period. That shouldn't keep athletes from showing interest, Painter and the committee members said.
Painter said she sees all of northern Arizona and even the schools in the southern parts of the state showing interest that stems from knowledge of the importance of training at altitude.
"Flagstaff is the place to be for training now," Painter said. "I mean, who wouldn't want to be here as a runner."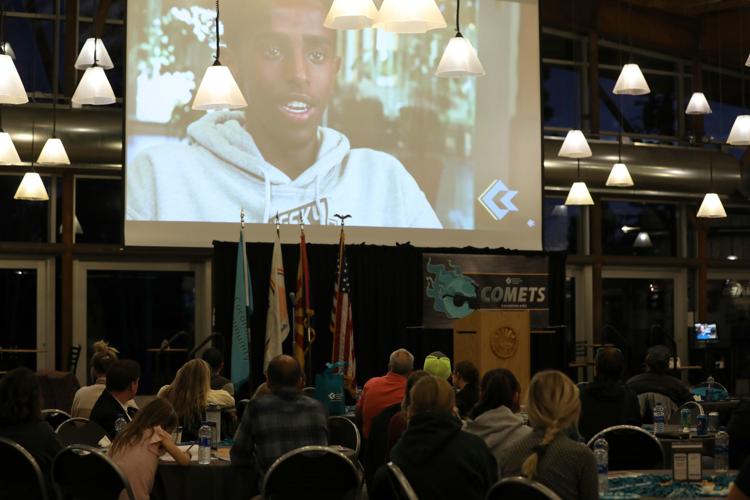 It was a stepping stone that Northern Arizona freshman runner Abdihamid Nur did not have on his journey. Nur attended CCC in order to focus on academics before making the jump to a Division I university, saying he loved the Flagstaff atmosphere and the school. During his time with the community college, he wished he had a running program at the school to be a part of in order to keep his talents sharp, his fitness up and his self in check academically.
Still, Nur's Lumberjacks career is off and running at a great pace.
Painter thinks the same will go for the cross country teams.
"I think that it will be successful fairly quickly just in the sense that there will be a snowball effect," Painter said.
Be the first to know
Get local news delivered to your inbox!