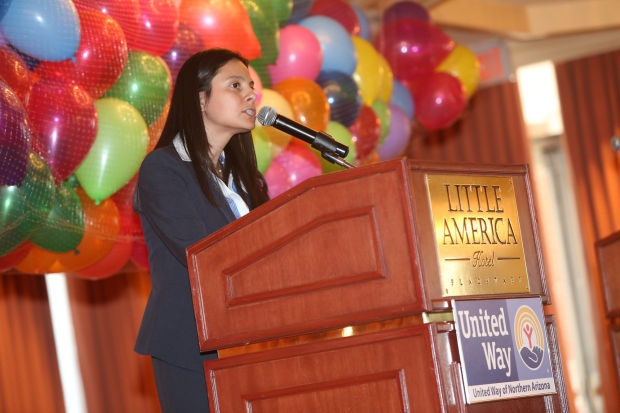 Just 66 days after deciding that Northern Arizona University's football team needed a new direction, NAU's vice president for intercollegiate athletics has left the athletics program searching for one itself.
Jumping to the University of Texas at San Antonio three days after her reported interview there, Lisa Campos is set to be announced as the new associate vice president and director of intercollegiate athletics by UTSA at on Friday, according to sources.
Out of the office throughout the week and missing the men's basketball home opener on Monday, Campos and her staff have not responded to repeated requests for comment. A Wednesday request to NAU President Rita Cheng had not been returned as of press time Thursday night.
Campos' contract included language that required her to inform the university's president before seeking or applying for other athletic director positions. The UTSA position opened Sept. 7 to seek a replacement for longtime AD Lynn Hickey. A week and a half later, and just a week after Campos announced Jerome Souers would not return to the football program as head coach in 2018, UTSA announced its search committee as well as the appointment of search firm Collegiate Sports Associates to assist in the hiring.
Formerly a senior associate athletic director at the University of Texas at El Paso from 2006-12, Campos appeared to be the frontrunner to replace her former boss, Bob Stull, after the UTEP athletic director announced his retirement on Aug. 31. However, she withdrew her name from consideration in El Paso late Wednesday night, with the confirmation of her accepting the UTSA position coming roughly 20 hours later.
Hickey joined UTSA nearly two decades ago, spending 18 years as the school's athletic director. A longtime member of the Southland Conference, UTSA joined the Western Athletic Conference temporarily before accepting an invitation to Conference USA. Hickey, who earned $245,000 annually at the time of her resignation, oversaw the creation of the school's football program, which spent a year in the FCS Independents before spending one season in the WAC.
Hired by Northern Arizona on March 30, 2012, Campos' original contract expired this past June, as did the language about repaying the university money upon her departure. Having signed a two-year extension through June 30, 2019, in April 2014, the additional years didn't explicitly state the same requirements as the original five. Originally, the president had the option to force Campos to pay $100,000 if she departed in her first three years or $50,000 in years four or five.
Campos started out making $175,000 annually, but her contract increased that to $193,532 this year.
Among the coaching moves she made while at Northern Arizona, Campos hired volleyball coach Ken Murphy, men's tennis coach Ki Kroll, women's tennis coach Maciej Bogusz, director of cross country and track and field Michael Smith, and two women's basketball coaches in Sue Darling and Loree Payne.
Additionally, Campos oversaw the extension of men's basketball coach Jack Murphy's tenure last November.
Ken Murphy, Kroll and Smith have found success with the Lumberjacks, winning conference titles -- and Smith's cross country team will run for a second straight national championship Saturday. Payne and Bogusz are in their first years, with the former replacing Darling, who was dismissed days before the opening of women's basketball practice last fall.
Jack Murphy's extension added a year to his contract, moving the expiration from May 31, 2019 to March 15, 2020, likely a week after the Big Sky Conference tournament ends and potentially Selection Sunday for the NCAA tournament. The contract also amended the liquidated damages payable to Murphy, with the university owing the annual base salary ($185,400) for two years if his contract is terminated prior to March 15, 2018 and owing the prorated remainder of his contract if terminated after March 15, 2018.
Meanwhile, Campos elected not to renew Souers' contract as football coach in September, with the last four-year extension expiring Jan. 31, 2018 while paying the coach $185,000 per year.
After stating repeatedly the timing of the announcement regarding Souers' nonrenewal was to provide the school with the opportunity to honor his 20 years in Flagstaff, Campos will apparently no longer be the school's athletic director as its football team plays for a Big Sky Championship Saturday against Southern Utah in Cedar City.